EA for Automatic Stop Loss, Take Profit, Profit Lock, and Trailing Stop (With Special Methods). SL and TP could be hidden.
Input parameters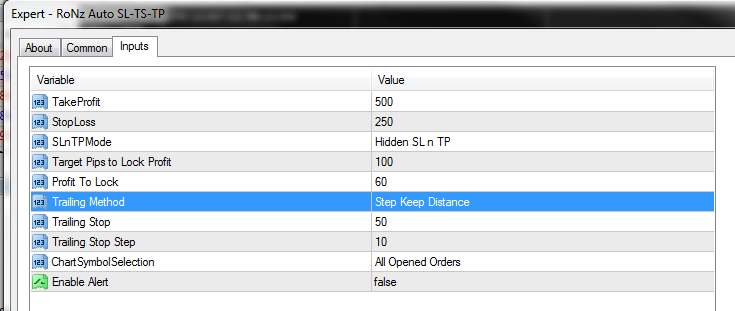 Changes
v. 1.0:
v. 1.22:
Correcting Minimum Stop Level.
v. 2.0:
Added modes for SL and TP (Hidden or Placed).
Added profit lock.
Added stepping Trailing Stop.
v. 2.01:
Added option to enable/disable alert when closed by hidden SL/TP.
v. 2.03:
Fixed initial locking profit.
Fixed trailing stop.
v. 2.04:
Fixed trailing stop step that moving against entry price.
Rearrange lock profit to a function.
v. 2.05:
Added Trailing Stop Method (Classic, Step Keep Distance, Step By Step)
v. 2.06:
Added Option to Enable/Disable Profit Lock
Note
First of all, your orders SL and TP must be set to 0, then this EA will set appropriate SL and TP.
To disable SL, TP, Profit Lock, and Trailing Stop, set its value to 0.
Credits
Dedi Sucianto for Profit Lock idea and testing.
All users who find bugs in this EA.