Indicator: Constant Range Size
Detects and displays the fixed size of the Constant Range.

Fast and easy identification of chart parameters facilitates trading efficiency.

Note: This indicator is intended for use with Constant Range (Synthetic) Bars/Candles, not Standard Bars/Candles.
Constant Range Candles and Charts are also referred to as Range Bars (RB) and Range Bar Charts.
Constant Range Bars/Candles all have the same fixed range value from high to low.
Note for newbies: A Constant Range offline charts is generated from a Scripts, or Indicators, or Expert Advisor running on a M1 chart.

Abundant additional information is available on the internet.
Constant Range size calculation: High - Low.

Gold. M2(offline): 1234.9 - 1232.4 = 2.5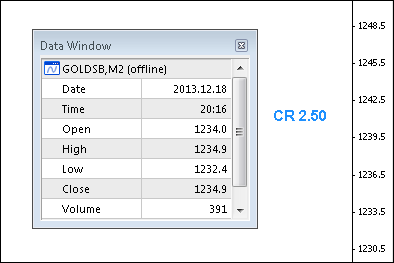 Problem: No Ticks !
Often the Constant Range Offline Chart is created by an EA.


EAs rely on ticks and when markets are closed there are no ticks.

With no ticks Constant Range Charts

will not update to new Range Sizes and other inputs.
Solution: a Tick Generator - FREE - HERE . Also helps when testing in quiet - tick scarce - markets.
Parameters
Text - CR;
Font_Color - DodgerBlue;
Font_Size - 11;
Font_Bold - true;
Left_Right - 25;
Up_Down - 150;
Corner - 1;