My broker: Roboforex
The Optimizer automatically searches for optimal parameters for the Trend Line PRO indicator
IMPORTANT!!! Before optimizing, make sure download history data in the MT4 (F2) or MT5 (Ctrl+U)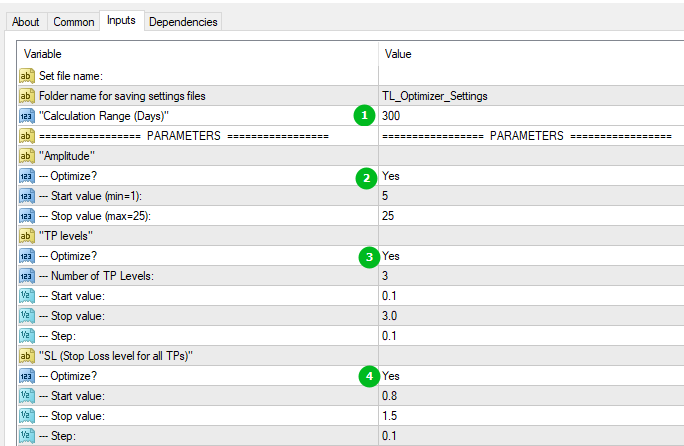 1) Set the range of Calculation Range (Days) for optimization. We recommend use 100-300 Days
2) Amplitude optimization Parameter: 5-50
3) Take Profit for 1-3 orders. The Range parameter 0.1-3.0. Some symbols (have high volatility) need to check max TP level up to 7.0 (as Bitcoin)
4) Stop Loss is calculated in the same way and optimized in a narrower range: 0.8-2.0
To save optimised parameter in the set file click the Save button on the Optimizer dashboard
Add the TrendLine PRO indicator to the same chart. Set the Use Optimizer settings = true (default)
Compare the parameters obtained in the Optimizer with the indicator settings or load the saved set file in the Files/TL_Optimizer_Settimgs
You can create set files for Trend LIne PRO indicator and Scanner Trend Line all pairs and timeframes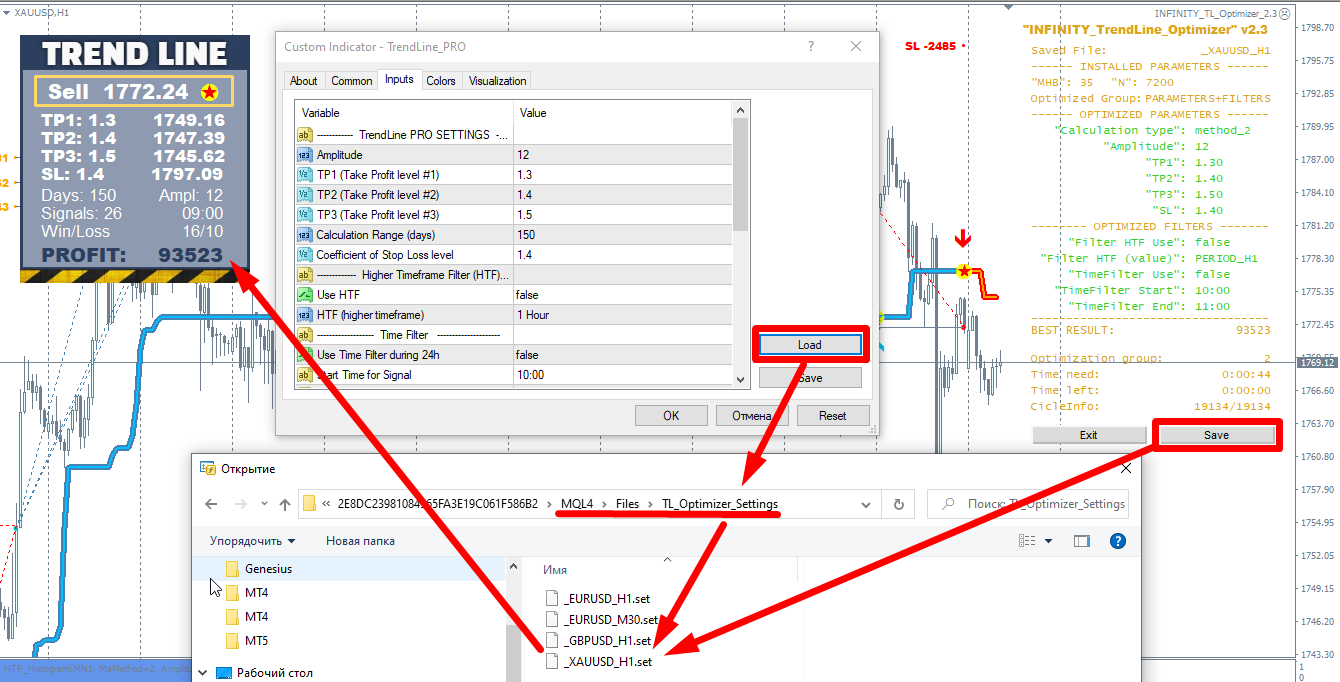 All created set files of the Optimise Utility you can find in the TL_Optimizer_Settings

If you don't want to use set file created by Optimiser and you need to change any TrendLine PRO indicator parameters manually, you have to disable the Use Optimizer Settings parameter=false

The PROFIT result on the Trend Line PRO dashboard, Optimiser and Scanner TL should be the same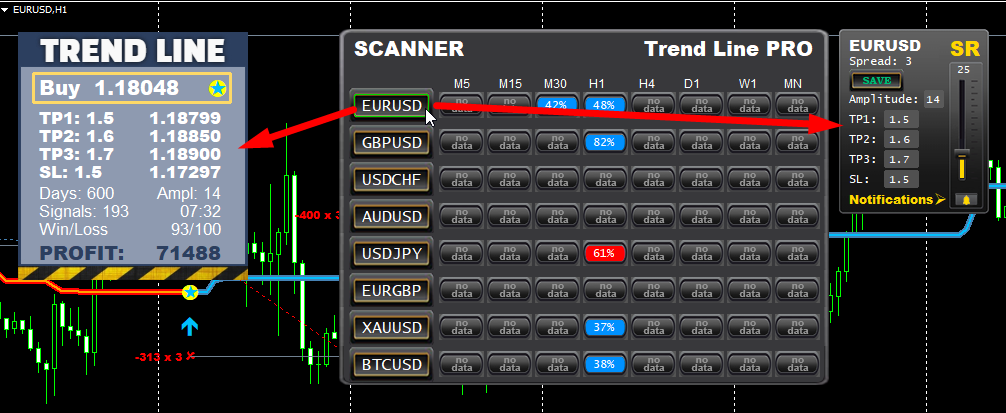 When you use Scanner + indicator + Optimizer, first you need to optimize (save set files for all time frame charts) which you want to use.
The second, you need to attache the Trend Line PRO indicator to the chart.
Finally, you should add the Scanner. You can see the color of each currents signal and the Success Rate % if you created set files properly.
The red or blue flashing button means the new signal just came (read is sell signal/ blue is buy signal)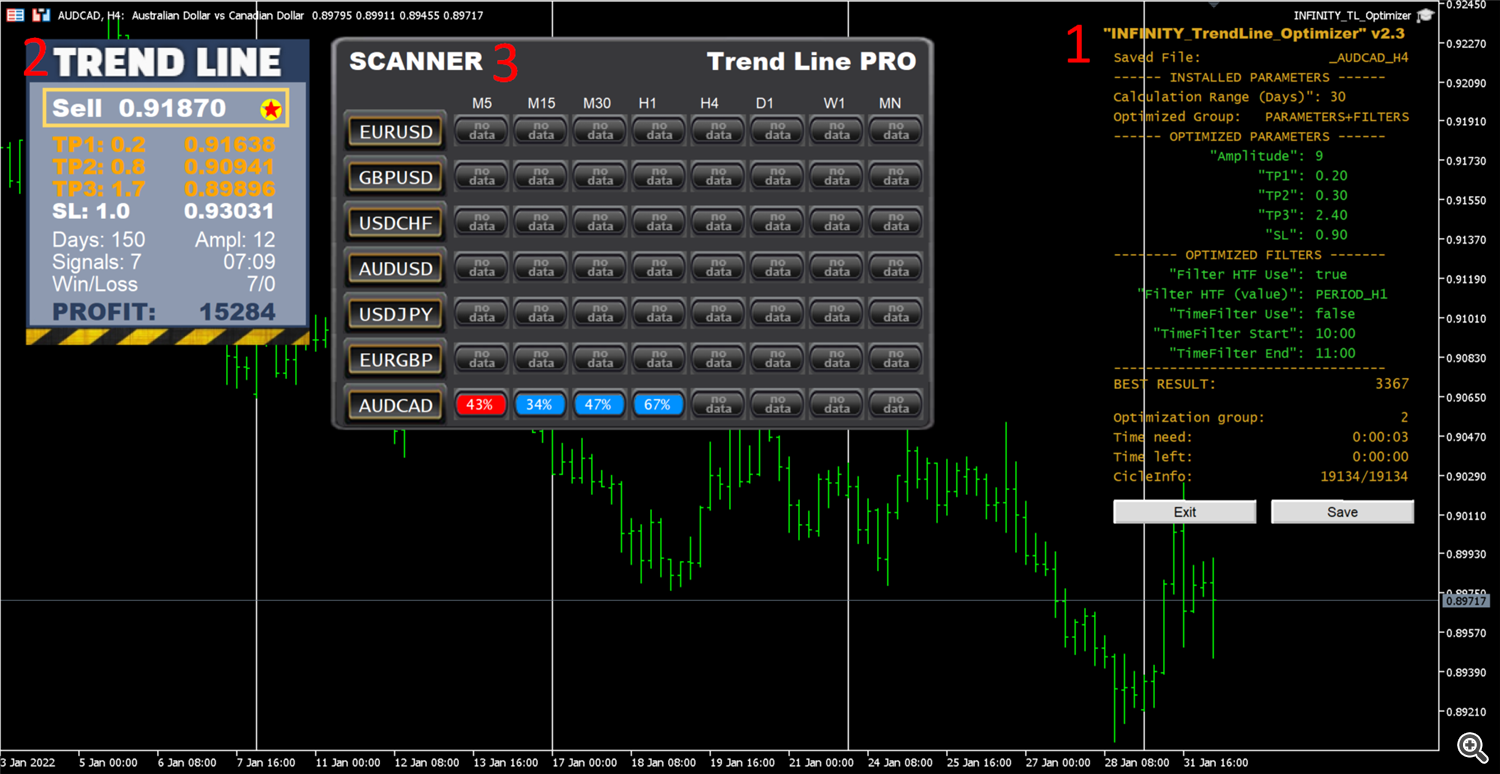 Also you can adjust the value of Success Rate to get mobile notification on you cell phone.

To open additional window you need to click pair name button.
You can set the Success Rate to your notification, Amplitude value, TPs and SL levels for each TF and pair.
Click SAVE to sate your own set file.