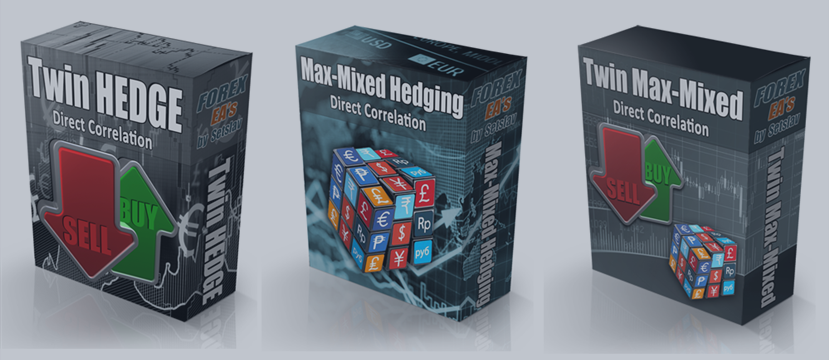 Q: Well There is only one thing, as shown in the statistics (https://www.mql5.com/en/signals/491068) there was a 55,8% max. DD. I would like to avoid such big DD. Would I have to use a smaller value for the parameter Risk_value than 1? Or is the EA now more secure since you have published the latest update?
If I would stay with Risk_value = 1 by using the latest version, what would be the max DD according to your tests/experience?
A: Now the EA is much improved compared to the early version.
The drawdown was recorded in early January, with a so-called. situation with <Apple> when almost all pairs began a sharp movement (300-600 pips in 4 digits). At that time, old orders were still using in trading using high risk and the early trading algorithm was used. But even with those parameters, the Max-Mixed_Hedging_DC coped well with the situation.
Here we need to consider the situation as a whole and take into account all aspects. In fact, the Advisor showed itself perfectly in a number of force majeure situations in the market, trade did not turn off:
nor in the period of low volatility (Christmas and New Year),
nor at the beginning of January,
nor in the decision-making period for Brexit.
And, as you can see, Mixed_Hedging_DC perfectly coped with all the situations, a big market fluctuations, sharp movements, and long unidirectional movements in some pairs.
Just in the EA uses a unique mechanism: when with the growth of the drawdown, also using the hedging method of correlation pairs, which allows you to get out of the resulting drawdown as quickly as possible (see the screenshot).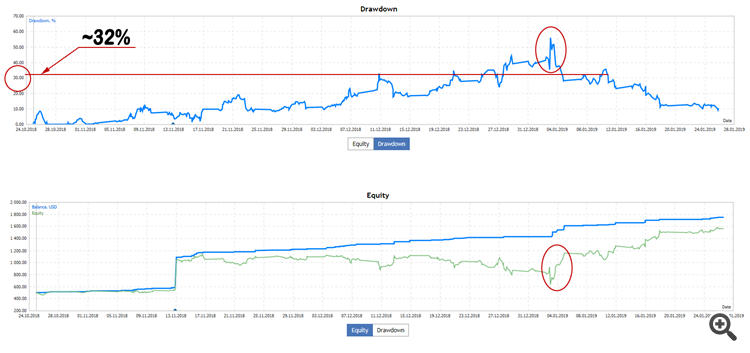 I think that with the latest version and using risk = 1, the floating drawdown should not exceed 30%. Just be sure to consider these indicators when planning your real trading. And if you want to trade with less risk and have a low floating drawdown, you can reduce the risks. When reducing risks, you should also decrease the parameter <GLOBAL_Profit>, for example, while reducing the risk by 2 times:
Risk_value = 0.5
GLOBAL_Profit = 0.2 (before 0.3)
With these settings, you can expect a profit of about 10% per month with a floating DD of no more than 15%.

Updated: Feb-22 '2019
Pay attention to the results of real trading, we already can already notice how the floating drawdown with the latest EA update was normalized: https://www.mql5.com/en/signals/491068
and this when using:
that is, it confirms that when using less risk <Risk_value = 0.5>, the floating drawdown should not exceed 15%.
Answers to reviews:
---
EA is very dangerous when market is volatile or goes one way in a short period of time. 10% DD just today alone. lucky market bounced back but if it didn't, it would've been a disaster. Hedging? what hedging... this is no hedging. I had high hopes but sorry I can only give 2 stars. Would've been 5 stars if it could better handle violent market conditions.
This is simply not possible, send me the results of trading, or a screenshot. The Expert Advisor is completely safe, since it opens two orders at once in two different instruments in different directions, this completely hedges all trade and does not allow large DDs.
What you describe simply should not be.
I am surprised by the fact that you did not even try to understand what the problem was, - you just leave a bad review...
You see my results and there are no such situations which you describe.


---
#
Not recommend to use because of the pair can stuck for few weeks and you wont be able to run away unless you cut loss. Selling price is too high, you cant get back what you invest in this EA so not worth for me. $1000 account profit monthly maybe just few % but you may stuck into high DD over 10% easily i have stop using it with cut loss 20%
Yes, over time, EA is almost always in the trade. Even at the today om my public account have trades (one ligament) from the month of November 2018, but they practically do not affect the trading result, because at the time of opening the balance was $500, now it is more than $2,000. These trades will be closed at the expense of profits from other pairs, either at their own profit due to the currency reversal, or at the expense additional orders for this ligament.
Please see on my public account: https://www.mql5.com/en/signals/491068

As you can see from my real trading, floating drawdown is almost always present and this is normal. On average, with default settings it fluctuates around 10% -20%. If you are not ready for such a drawdown, then you need to adjust the settings to suit your requirements. To do this, just contact me. EA can be configured in such a way that the drawdown will not exceed 10%, and if desired even 5%. I do not see any problem in this.


---


Very bad Ea. Look at the draw Down of the signal. Currently -240 USD. No Stars. Also never trust someone who keeps posting in the comments sections. All the real comments "drowns" in all the spam. By the way. NO ea is worth more than 400-500 usd
That's right, a floating drawdown on my account is $240, with a balance of $2,213 - this is a drawdown of 10.8% - and this is normal, the usual working situation. As already said (and this can be seen from the real trade) floating drawdown is almost always present and this is normal. On average, with default settings it fluctuates around 10% -20%.
More details about the maximum drawdown on the account, as well as the possible risks are described in this comment: #442


---

I have used this EA for last two months. one months i have used in demo account and one month real account. i am not happy with this EA at all. It generate about $80 in $1000 real account. but at the same time it had 20 position opened which is in big minus for last 20 days. total minus positioned opened is $265 which is 26.5% of drawn down. and it is still going down. it means it is in loss after wasting one months. i can not recommend this EA to buy and waste time. the main problem I found in this EA is entry in trade. i can not understand what strategy EA is using when it open trade. its always goes in minus. sometime, i had seen that currency pairs is oversold and can not goes down any more and EA open sell trade. as a result, big minus, now wait until it can come back, may be one week, one month or one year. if any one have any question please send me message from my account in mql5. i can show you all evidence with photos to prove it. this is not a smart EA. please please don't waste money behind this EA.
basically, how this EA works: it open and two position at the same time randomly and put it in one basket and there is on stop loss so there is no exit until it gives you 0.35% profit. do you think it works.... no.
please don't trust on other reviews ....
What two months are you talking about, if, based on our correspondence with you, it became clear that the EA was not used correctly, which led to duplication of trades. Plus, you some times manually closed the all positions in trading. You say such big words: do not trust, do not work, do not buy, - and it all without having tested normally a system during, at least one month. We with you in personal correspondence found out that you used the EA not correctly...


---
I can answer with confidence in what a problem of dissatisfied users:
they want to quickly, earn and a lot, and do not delve into some parameters, risks, drawdowns. Them need here and right now. They increase a size of risk, without understanding that at the same time it is necessary to correct also other parameters also.Hurrying with the installation, while making a lot of mistakes (installed on the VPS and home PC), which leads to duplication of orders. Manual closing of orders without understanding how to close the order and what can happen if close only one order from ligament. And all this results in bad results.
I think out nothing and I do not compose. I just show how the EA's trades using the example of my real accounts, which already has a history of almost 7 months. And the majority of clients who do not make unnecessary movements and adhere to the logic of the system, have the same results as in my accounts.
*****
Dear friends, really it is simpler to you to leave a bad review, than to contact me and to understand a problem and also to begin to get the same results as me?
Please, on any question, on any problem, non-compliance of trading results - IMMEDIATELY contact me (via PM), I will help solve any problem related to the EA trade.


Q
: I want to change my broker, can you recommend any good brokers?
A: Any from my EA's will work perfectly with any broker.
But I can not say anything about other brokers, very many now scammers and just not honestly working brokers. I have been using only one broker since the beginning of my career - it's Alpari and so I can only recommend it to you. Also, if you use this broker, your trading will completely coincide with mine, as the liquidity provider and broker will be the same.
If you'll be change the broker to Alpari, only open the ECN Pro accounts, like mine.


Q:
I was thinking if there was a way to be able to have the EA take profit on individual ligaments if they were to reach a certain % and not as a global %?
A: Then we will not have such a scale of security as now. Here it is just the logic that in different phases of the market our trade is protected, and not designed only for profit from certain ligament. This is well felt during the hectic market.


Q:
I was just wondering if you could explain what you mean with: "grid, (but only with hedging)" how does this work?
A: In fact, this is indeed a very complex mechanism, but I will try to explain: A regular grid simply adds orders if the price moves oppositely from open positions and depends only on the grid step.
Our systems take into account many factors of interaction between two correlated pairs, and not just from one pair in a opened ligament.
+ That is, additional orders are opened not by one pair, but also by two at the same time, which interact in combination.
+ The plus takes into account not just the step from the last open position, but all the condition under which the correlation pairs must continue to diverge.
+ Plus the step is calculated taking into account the movement also from each pair in a ligament.
Q:
Why I can't attach Max-Mixed_Hedging_DC on chart?
A:
EA with settings Set-N1, must be set on chart: EURUSD
EA with settings Set-N2, must be set on chart: AUDJPY
EA with settings Set-N3, must be set on chart: AUDNZD
Carefully follow the instructions described here: https://www.mql5.com/en/blogs/post/722518
Q: If my broker use suffix or prefix in quotes, for example EURUSD.pro, will EA working?
A: Yes of course, for it just add suffix for each parameters Symbol_1--Symbol_8 in setting:
and so for all pairs of each set.


Q:
How can set the fixed lot size?
A: For this use the following settings:
MoneyManagement = false
Lots = 0.10 (select the size you need).
or you can limit the lot size by one parameter:
Q:
As you know US brokers only have 1:50 leverage and no hedging allowed. Your EA name suggests hedging might be used. I just want to make sure it will work on my account and be OK working under 1:50 leverage.
A: Yes EA will be works with US brokers. Any from my EA's will perfect works with FIFO and ESMA rules. Moreover, the settings allow you to use the EA even with a 1: 1 leverage


Q:
I just download a demo copy. In the settings, I see both "BUY" & "SELL" are "True". Is this correct for Oanda? Oanda will not allow both "BUY" & "SELL" on the same symbol.
A: The EA does not open both <BUY> and <SELL> trades on the same symbol at once. Trade is carried out not on one pair, but on different. Therefore, you can not worry, I have a lot of clients who work with US brokers.


Q:
I was looking to increase risk but I didn't have idea of associated DD. Please advise your thoughts on increasing risk.
A: Still, I am not a supporter of fast / risky trading, but more stable and safe, and I try to implement this principle in my products. Usually, fast and big profits lead to the same rapid loss of everything (both earned and invested). Max-Mixed_Hedging is mainly designed for long-term stable trading with low risk and I strive to realize this as much as possible with each update. Nevertheless, the EA can easily be customized to any style. And you can experiment in trading with completely different combinations and create your own style that will be convenient to you.
I will try to describe everything in more detail:
You can increase the frequency of opening positions (market entry). That is, the conditions for opening the ligament will be less stringent.
You can increase the size of the risk, opening orders will be with a large lot size.
You can increase the risk (the size of the lot to increase), but not increase the amount of profit-taking. This means that less distance is needed for profit.
You can make the system more long-term and allow the profit to grow by setting a higher profit-taking level.
_________1_________ Parameters affecting the frequency of opening positions:
To get more opened orders, you need change the following parameters:
Trading_MODE = Risky
Step_between_Orders_MODE = Small_High_Risk
For even more increase opening of orders (will increase also risk):
Trading_MODE = Custom
_ Custom = 0.35 (the smaller the value, the more often the opening of orders)
Step_between_Orders_MODE = Custom_
Custom_step = 0.35 (the smaller the value, the smaller the step of the hedging grid)
_________2, 3_________ Parameters affecting the risk / lot size:
Risk_value = 1.5 (the higher the value, the more lot size in opened orders)
_________3, 4_________ Parameters affecting profit taking:


GLOBAL_Profit = 0.35 (value in% of balance)

========================
Attention! This description shows how to increase risk and the frequency of opening orders and is not my recommendation for changing any parameters. This is just an description / explanation of which parameters affect the risks and the frequency of market entries, by changing which you make your trade individual, suitable only for your requirements and style.
I strongly recommend testing your selected (changed) settings on a demo account for some time!


Q
:
Hi, I have questions regarding Max Mixed Hedging EA, when a pair goes into bigger DD, how does the EA try to recover or exit it? Does it have SL or open more pairs to average it? Thanks.
A: The system doesn't allow to leave in deep DD as, even the algorithm of addition uses a method of hedging and opens also two correlation couples thereby continuing to hedge even the drawdown period. If desired, it is possible to establish the stop size for all open line items in case of achievement of a certain level.
Q: DD on my account has gone up. Is this not supposed to be hedging each other and keep the DD down at all times?
A: It is very important to understand the concepts of hedging and drawdown. What is hedging in this system - and the fact that even if a strong movement in currencies starts now, for example 100-200-300-even 2000 pips (in 4 digits) - this movement will not greatly affect the drawdown, since the whole trade is hedged by different correlation pairs.
I hope everyone understands that there will be floating drawdowns and this is normal. But the system is universal, and all risks are completely customizable. And you can choose the parameters at which even a floating drawdown will not exceed 10%-15%, while the profit will be about 10% monthly.
Q: It 's had been two days and still no trade?
A: This is normal, this phrase means that there is no signal to open a position. EA will not open orders as soon as you run EA to the chart. All orders are opened by specific signals. And as I mentioned, with each update I try to make the system as secure as possible when trading and take into account all market factors and therefore all opening positions have become more accurate. And this can be seen from the results of real trading.
Nevertheless, the frequency of market entries (opening positions) in this EA is very easily regulated, and if you want the Expert to open positions more often, you can change the following parameters (keep in mind floating drawdown may also increase):
Tradind_MODE = Custom
_Custom = 0.7 (the smaller the value, the more often entry in the market, but and the trade will be more risky)
Q: So obviously your EA is not setting any TP and SL for individual trades; which for every professional trader is a nightmare. Imagine a pair crushing 1000 pips? what would happen? Which of the variables are controlling the Basket TP or SL? Or how do I set TP SL for the correlated baskets of n1, n2, n3?
A: The system uses non-standard trading methods. SL and TP are not set separately for each pair, since the logic of the whole system is not to trade one currency pair - this needs to be understood. EA open several pairs at once, and if you install SL or TP for work pairs, you simply break all the logic. The system calculates a loss / profit for all open orders. For close all orders (fixing of loss/profit) are used these parameters:
GLOBAL_Stop
GLOBAL_Profit
All parameters are absolutely customizable and the drawdown is completely controlled. You can choose the optimal settings for yourself (risks) and minimize as much as possible even a floating drawdown. Also determine for yourself the maximum allowable drawdown of the account and limit it to the GLOBAL_Stop parameter.
For example, with the settings that are used in my trading (all 3 sets: Set-N1, Set-N2 and Set-N3), the profit per month is about +15% with a floating drawdown of about 20%. But all these indicators are absolutely controllable, for example, you can reduce the risk by 3 times, then the expected profit per month will be about +5%, with a drawdown of only 7%, and even less.
Very important! When adjusting risks, there are several nuances that need to be taken into account when reducing or increasing risks, so be sure to contact me and I will help you to optimally adjust the Expert Advisor to your needs.
And once again I want to repeat! Even a movement of 2000 pips (by 4 digits) is absolutely not scary for the system, since each order has a hedging order in a different currency and if strong movements occur in any of the pairs, they are compensated by a hedging order. Plus, this trading method does not allow to quickly and deeply go into a drawdown, which allows you to think about the situation and take the necessary measures. Already in my live trade there was a movement of more than 3000 pips on several pairs, and as you can see, even with my settings (risks), this does not affect the results so much.
But even more! - I also monitor all such situations and constantly improve the logic and algorithm of the trading system.


Q: but 100 for gl stop? what does it mean?
A: I have already said that each trader chooses for himself the level of loss with which he is ready to trade with his investments. Also, much depends on the chosen risk and style. Here I can not limit all traders to one parameter. Someone is willing to risk 20% of the capital, someone 50%, and some only 5%. And with this Expert, you can meet the needs of each and I have already mentioned this. You just need to decide what risk is optimal for you, and I will help you customize EA for any needs.
I show a completely open my real trading and, based on my results, you can understand this trade suits you, or you want to reduce the risks, or a set of increase.
There is always a risk of loss in trading, and this needs to be understood. But in order to have a complete loss (100%), these direct correlated currencies should turn into an inverse correlation, which in principle is impossible and cannot happen instantly.
Since two correlation pairs are involved in trading at once, the drawdown cannot be fast and strong. There is enough time for other pairs to fully compensate for the current drawdown. But even if there is a further divergence, on each wave of such a divergence, two more orders are added for the same correlation pairs. With current setting, the discrepancy of 7 figures (700 pips by 4 digits) will be a drawdown of about 8%. But this is almost an inverse correlation, which is very unlikely.
And once again: you can reduce the risks and reduce this figure to 7-8 figures, which will be practically impossible for directly correlated pairs.
Q
:
Swiss franc jumps 30 percent after Swiss National Bank dumps euro ceiling(1/15/2015). Can an account balance of $1000 survive?
A: In trade, currency pairs with direct correlation are used, and if there is any strong sharp unidirectional movement in one currency, correlated pairs also react to this and thus do not allow the account to go deep into a drawdown.
Q
:
I'm running a EUR-based account and per set files "Lot_size_by_Deposit_Currency = false". Do I have to change it to "true" in order to calculate lot sizes from my EUR account?
A: Not necessarily, you can leave "Lot_size_by_Deposit_Currency = false"
I recommend using Lot_size_by_Deposit_Currency if the account currency is not USD, or EUR. For example, if the currency of your account is GBP, or CYN, or RUB, or JPY, then you should definitely use <Lot_size_by_Deposit_Currency = true>
Q
:
I noticed that the trading results of different traders may differ, although in general everyone has a positive dynamic, what is the reason?
A: The uniqueness of this EA is also in the fact that by applying special instructions that significantly expand the EA capabilities, the trading of each trader becomes an individual, unlike the trading of traders using the same EA. Also, the synchronism of trade strongly depends on the start time of the use of EA.
Therefore, the results may vary.
Q
:
Curious to know how the system takes trades? Is it because one pair reaches a certain point on an indicator and so the opposing trade is automatically taken or do both pairs within the ligament need to be at certain values. Also, how does it get its self out of drawdown. Say one pair within the ligament has a large movement and the corresponding pair doesn't move as much, how does the EA work to get it out of drawdown?
A: The trading algorithm is inherently associated with and interacts with the correlation pair, therefore, of course: both pairs within the ligament need to be at certain values. At a drawdown is calculated, on how many the divergence between pairs is large, and also, when both pairs interact, the adviser will look for a point for opening additional orders. In essence, the drawdown periods for this system are, on the contrary, good moments to earn.
I think with practice, you will understand some of the nuances of trading this system, and be able to apply them in your trade and will fully trust EA.
Q: With the risk value of 0.5 and global profit of 0.2 - what would you estimate with regards of profit? will it be your signal profit divived by two or something like that? could you make a small list for me where Risk value of X = global profit of Y. Maybe like fill it in like this:
Risk value: 0.1
Global profit: ?
Risk value: 0.3
Global profit: ?
Risk value: 0.5
Global profit: ?
Risk value: 0.7
Global profit: ?
Risk value: 1
Global profit: ?
A: There is no strict framework here, since the system is realistically flexible in trading. For example, even with risk = 1, you can use the value Global profit = 0.5
Here are the settings that I would use in my real trading with different risks:
Risk value: 0.1
Global profit: 0.07
Risk value: 0.3
Global profit: 0.15
Risk value: 0.5
Global profit: 0.25
Risk value: 0.7
Global profit: 0.3
Risk value: 1
Global profit: 0.35
Q
:
To close all orders to "get out" and take a break we use the panel and click "close all trades" or something like that?
A: As you noticed there are two types of closures.
- closing only orders in a specific ligament (the button is located between pairs in a ligament).
- close all orders of EA (the button in front of the phrase <Current total>).
But these buttons does not disable the work of the adviser, if a signal arrives, the adviser will enter the market with new orders. If you want the adviser not to open new orders after closing all positions (that is, to pause EA in trading), then before closing all orders, disable trade for each pair (click on the green circle in front of each pair, they will change color to red).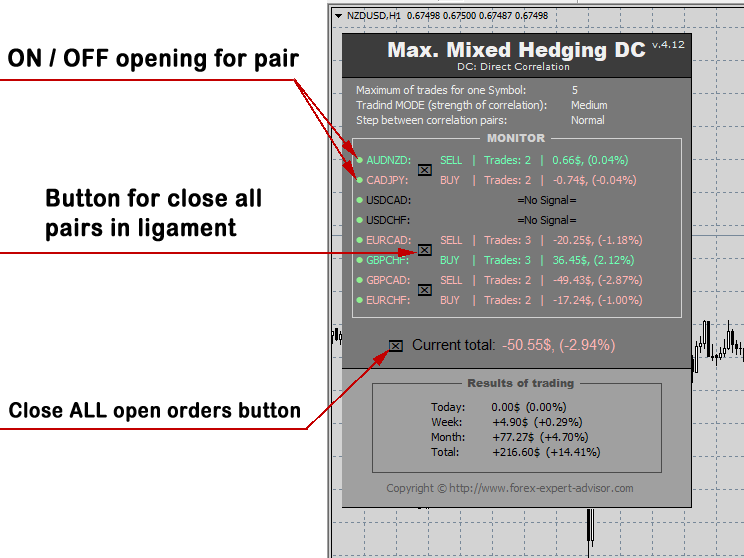 Q
:
I am wondering about each ligament pair. I'm not sure if it is your secret or not. But each pair e.g EURUSD + GBPJPY, seems not hedging each other when EA open position buy one and sell another one.
A: Here the hedging logic is very complicated. The pair trade of correlation pairs is taken as a basis, and the correlation should not be very strong otherwise when hedging, the opposite trades will simply hang open for a very long time. In general, the algorithm is not as easy as it seems at first glance, since the main work begins when a drawdown occurs and the correlation pairs continue to be divergence.
Q
:
I have no idea what to expect with regards to trading frequency :) Is it like.. scalping.. day trade... or swing over a days / weeks?
A: Usually, when a market is low volatile, the adviser is practically inactive, and opens positions only when the market is active. It all depends on the behavior of currencies. It can be both as scalping (and fast and a lot in a short time), and as a day trade, and as swing over a days/weeks.
Q
:
How many trades could be expected with Twin_HEDGE_DC?
A: Twin_HEDGE_DC does not open many trades, since only one ligament works in one set. And only if the maximum number of deals opens on this ligament (by default, this is 3 for a currency pair), then activated the multi-level function of adding a new ligament with currencies not associated with drawdowning, in order to eliminate the factor of repeating currencies in two ligaments.
Q
:
Will the trades closed before weekend? How does the EA manages big gaps?
A: All opened orders are not closed for the weekend. Gaps are absolutely not scary, because for every order there is a hedging order in the correlation pair.
Q
:
Does this EA use some kind of spread filter? I'm asking you because my broker isn't ECN.
A: You can not worry! The system uses professional trading methods and the principle of trading is not built on profit taking over short distances from opening a position. Therefore, such a value as the spread does not affect the trade at all, and when choosing a broker you can not even pay attention to it. The system will work equally well with any spread.
I will even tell you more - even if your broker expands the spread several times (and this happens often, especially before important news) - this also does not affect the trading system. As positions open, all values, such as
... spread,
... broker commission,
... swap
they are immediately recorded by the EA and taken into account when accompanying each trades and when calculating and taking profits.
Q
:
I already have a VPS where latency is 130 ms. Is that sufficient? Is this EA "heavy", as it needs to have 24 charts open, or do you suggest to use a certain VPS type with regards to CPUs and RAM?
A: As for the "heavy" - the EA in this regard is not picky, he does not require any specific conditions, works equally well on any type of account of any broker. Also does not need fast VPS and ultra-fast performance or any other specific conditions for trading. The EA also does not depend on the:
spread,
requotes (spread expansion)
quick execution
gaps
slippages
broker commissions
swaps
Regarding 24 charts, I recommend updating each working pairs, only before first installing EA, or after rebooting the terminal, so that the correct history of the last bars is loaded. In normal mode, it is enough to have 3 open charts with attached EA for each set.
Q
:
I still have a small issue, the display is bottched for me, is there a way to make the font size smaller?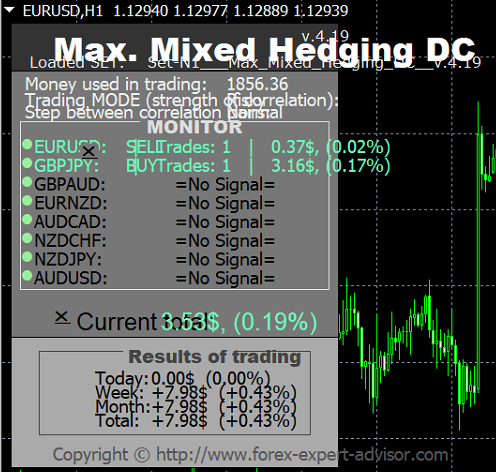 A: Yes of course, just change font size in setting, click F7 on chart with EA ---> Inputs
and scroll to the end of the settings and there you will find the parameters to changing.
Q
:
What's about swap? Can it be a problem, when there are many different trades for longer time?
A: No, this is not a problem. Even if we accumulate a negative swap, this value is taken into account in the trade.
Q
:
I see your signals is in floating drawdown now? Is that maybe trades taken some time ago?
A: Yes, over time, EA is almost always in the trade. I have deals even from the month of November, but they practically do not affect the trading result, because at the time of opening the balance was $500, now it is $1,800. These trades will be closed at the expense of profits from other pairs, either at their own profit due to the currency reversal, or at the expense additional orders for this ligament.
I can only say one thing: the longer you will be use any of the hedging EA's I have presented, the less you will worry about your trading and less often look at your account.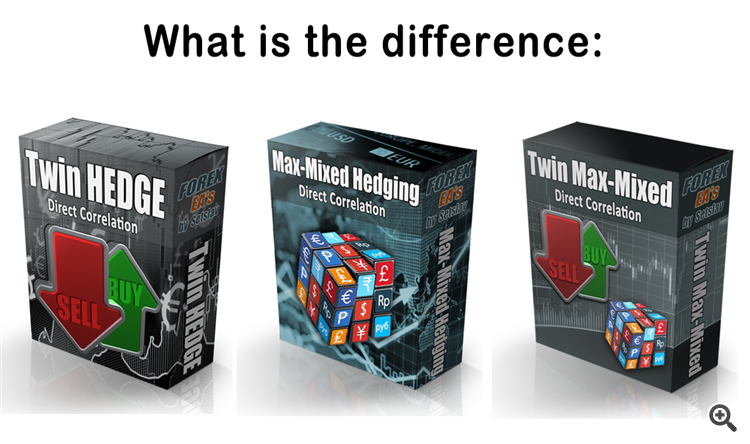 What is the difference Twin_HEDGE_DC between Max-Mixed_Hedging_DC and Twin_Max-Mixed_DC:
1. Twin_HEDGE_DC is calmer with less drawdown. It uses several factors to enter the market, and also calculates a multidirectional divergence in the correlation pairs and, when a signal arrives, opens only one ligament of pairs. Next comes the calculation in the course of the open pairs and, if necessary, adds orders (also with a pair/ligament, for complete hedging and minimizing the drawdown), but not more than 3 per currency pair. But, even if the open correlated pairs will continue to diverge, for security, the adviser will open another ligament of pairs, but with currencies completely different from those used in trading.


2. Max-Mixed_Hedging_DC is more active, the drawdown may be slightly larger, but the profit is much larger. Here several ligaments can be opened at the same time, according to different instruments, and they are in no way connected with an already open positions. The signal is calculated for each ligament individually and fairly unidirectional divergence of one of the correlated pair. But here, more stringent conditions are used to add orders with a further divergence of the correlation pairs involved in trading. The advantages of this Expert can also be noted that the safety and minimization of drawdown is achieved by simultaneously several ligaments in the trade, which allows one ligament of pairs to pull the entire trading series on all open orders out of drawdowns, since the profit (for closing orders) is summaized.
Plus: special instructions (tactic) can be applied that significantly expand the capabilities and potential of the Expert.


3. Twin_Max-Mixed_DC this is a mixture of two different trading styles of two systems: Twin_HEDGE_DC and Max-Mixed_Hedging_DC.
I want to note that not association of two systems / strategy in one, is absolutely new individual system in which are used an algorithm and logic of all trade as at Max-Mixed_Hedging_DC, but calculation of a signal on an entrance and also the principle of addition of Orders as at Twin_HEDGE_DC. Also, all 24 trading pairs (all ligament) are completely different from those used in Twin_HEDGE_DC and Max-Mixed_Hedging_DC, which makes this EA completely individual in all areas, not only in the algorithm, but also in the working Symbols.
Plus: special instructions (tactic) can be applied that significantly expand the capabilities and potential of the Expert.


________________________
P.S. Only for owners of all 3 EA's:
---

PLUS

: MMH_Special Strategy N1 -

Absolutely new system/strategy (based on

Max-Mixed_Hedging_DC

) for trade in separate account.

---

PLUS

: TMM_Special Strategy N1 - One more absolutely new system/strategy (based on Twin_Max-Mixed_DC) for trade in separate account.
---

PLUS

: Special instructions (tactic) that greatly enhance EA's capabilities (Max-Mixed_Hedging_DC, Twin_Max-Mixed_DC, MMH_Special Strategy N1 and TMM_Special Strategy N1).
________________________
Any questions - just contact me.
Sincerely, Stanislau.
http://forex-expert-advisor.com