As you know, President Donald Trump on Friday approved a 25% import duty on Chinese goods worth $ 50 billion. After that, representatives of the Chinese authorities said that they would introduce reciprocal tariffs of the same scale on American goods.
World stock markets and commodity currencies are declining at the beginning of a new week. The aggravation of trade disagreements between the US and China negatively affects the demand of investors for risky assets.
Prices for raw materials also fall in the face of aggravation of trade contradictions, which leads to a decrease in the quotations of commodity currencies relative to the dollar.
The situation can lead to a trade war between the two largest economies in the world.
China is Australia's largest trade and economic partner. Negative information on the Chinese economy leads, as a rule, to a decrease in the quotations of the Australian dollar.
China is also the largest buyer of primary commodities in Australia, primarily iron ore, so necessary for China's industrial potential.
Concerns about the fate of the North American Free Trade Area (NAFTA) and the fees that the Trump administration imposed on the European allies also increase concerns in the markets.
In this situation, the demand for the US dollar, which plays the role of refuge in this situation, is growing.
Also, the decision of last week's Fed meeting contributed to the growth of the dollar, following which the Fed raised the target range of interest rates by 0.25% to 1.75% - 2.00% on Wednesday, and also signaled the possible acceleration of the rate of monetary tightening policy this year to maintain a sustainable recovery of the country's economy.
On Tuesday (01:30 GMT) the protocol from the recent meeting of the RBA, at which the bank kept the current monetary policy at the same level, will be published.
Also at the same time (01:30 GMT) on Tuesday housing price indices in Australia (for 1 quarter) will be published. The RBA is positively considering the slowdown in housing prices.
At the same time, market participants believe that the RBA will not raise interest rates until mid-2019. Salaries continue to grow slowly, and households' debt has risen to a record high, which also includes raising interest rates to a more distant future.
According to the head of the RBA Philip Lowe, "there are no serious arguments in favor of tightening monetary policy in the short term". In his opinion, "before the rate increases, some time will pass".
In any case, on Tuesday, at the time of the publication of the minutes of the RBA meeting and the Australian housing price index, volatility in the Australian currency trading is expected to grow.
At the same time, the different focus of the monetary policies of the Fed and the RBA remains the main argument in favor of further weakening of the AUD / USD.
*)An advanced fundamental analysis is available on the Tifia Forex Broker website at tifia.com/analytics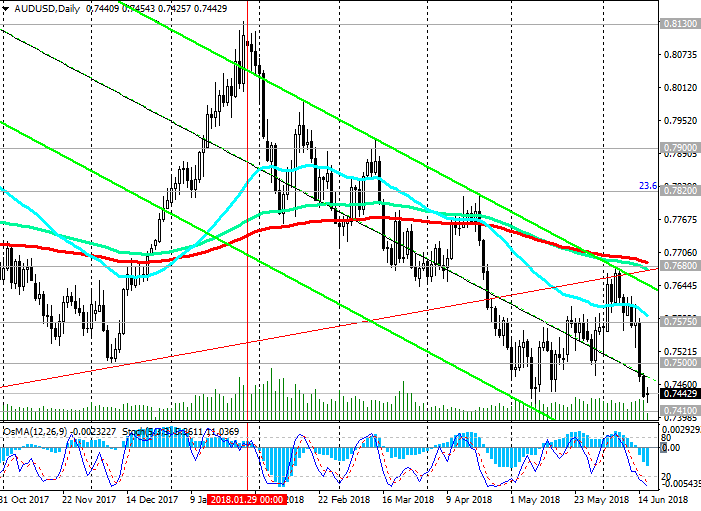 Support levels: 0.7410, 0.7330, 0.7270, 0.7155
Resistance level: 0.7500, 0.7575, 0.7680, 0.7820, 0.7900, 0.8000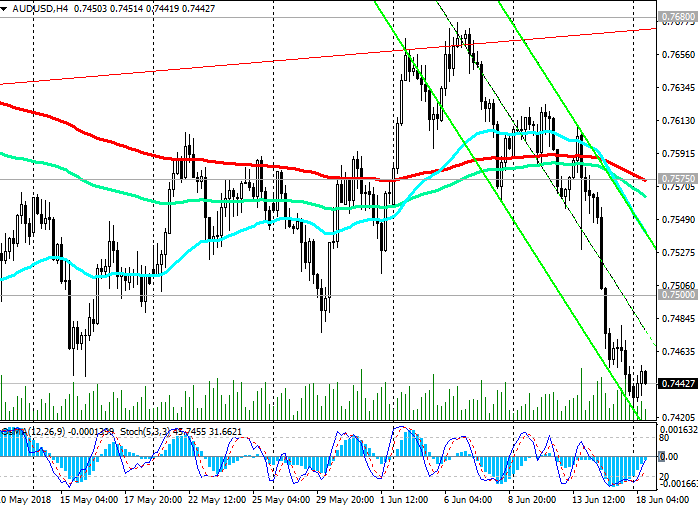 Trading Scenarios
Sell ​​in the market. Stop-Loss 0.7490. Take-Profit 0.7410, 0.7330, 0.7270, 0.7155
Buy Stop 0.7510. Stop-Loss 0.7460. Take-Profit 0.7575, 0.7680
*) For up-to-date and detailed analytics and news on the forex market visit Tifia Forex Broker website tifia.com