During his speech today before the parliament, the Reserve Bank of Australia's Governor Philip Lowey said that he "would prefer a lower exchange rate". In his opinion, "there is no reason to raise rates in the short term". Lowey noted that "inflation remains low", although "business sentiment is improving".
Approximately the same statements Lowey did before. Therefore, his today's speech did not bring surprises.
The Australian dollar reacted with restraint to Lowey's speech. Nevertheless, the Australian dollar is rising against the US dollar, justifying Lowey's view that "the strength of the Australian dollar reflects the weakness of the US dollar".
And, indeed, the US dollar remains under pressure, continuing to decline against its major counterparts. The dynamics of the dollar is not affected even by the macro statistics coming from the US, indicating an increase in inflation. So, on Thursday there were one more data, indicating the growth of inflationary pressure.
The producer price index (PPI), reflecting changes in prices for goods and services of American companies, in January rose by 0.4%, which is the best result since April 2017.
The consumer price index (CPI) released on Wednesday also surpassed expectations. The growth of consumer inflation in January was 2.1% (in annual terms). The CPI base index increased by 1.8% compared to the same period in 2017. According to economists, inflation will be above the target level of 2% this year already.
The growth of inflation against the backdrop of a strong labor market and a stable state of the US economy gives the Fed a reason to tighten monetary policy more rapidly. At the December meeting, the leaders of the Federal Reserve planned 3 rate increases in 2018. Now many investors believe that the Fed can implement a 4-time rate increase this year. So, according to the CME Group, investors estimate a 21% chance of 4 rate increases this year. Earlier this week, such a probability was estimated at 17%.
Nevertheless, the US dollar continues to scale down. The dollar index DXY, reflecting its value against the basket of 6 other currencies, fell on Friday to 88.18, the lowest level since December 2014, and at the beginning of the European session is near the mark of 88.35.
Of the news for today, it is worth paying attention to the publication at 13:30 (GMT) of data on the housing market in the US for January, which may increase volatility in the US dollar. However, this statistic will not have a significant impact on the dynamics of the US dollar.
The US dollar remains under pressure due to profound fundamental changes in the global financial market. Investors seem to opt for more interesting and growing financial markets outside of the US, which forces them to buy assets and the national currency of countries with a fast-growing economy, in particular the Eurozone and Japan.
*)An advanced fundamental analysis is available on the Tifia Forex Broker website at tifia.com/analytics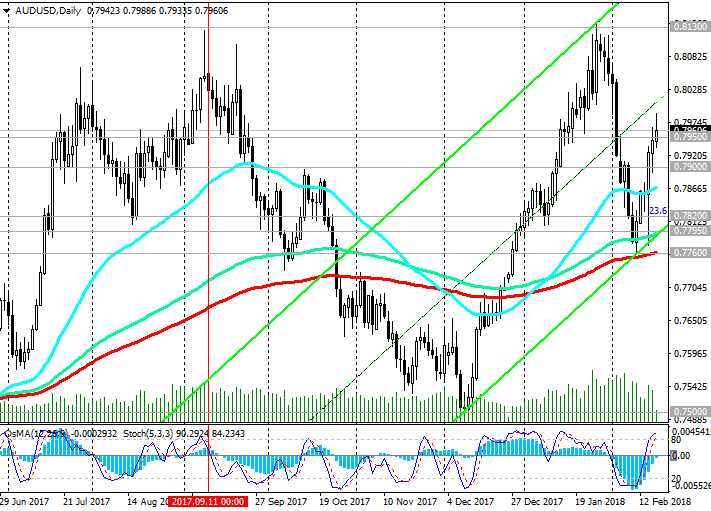 Support levels: 0.7950, 0.7900, 0.7820, 0.7795, 0.7760, 0.7620, 0.7500, 0.7330
Resistance levels: 0.7990, 0.8000, 0.8100, 0.8130, 0.8200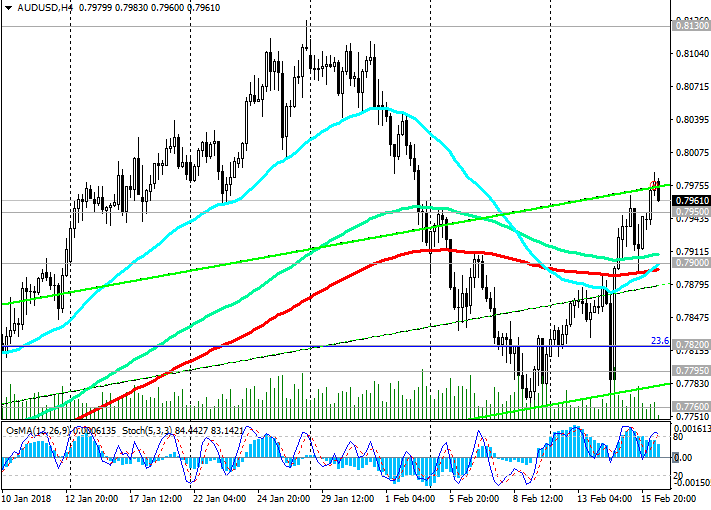 Trading Scenarios
Sell ​​Stop 0.7940. Stop-Loss 0.8000. Take-Profit 0.7900, 0.7820, 0.7795, 0.7760
Buy Stop 0.8000. Stop-Loss 0.7940. Take-Profit 0.8100, 0.8130, 0.8200
*) For up-to-date and detailed analytics and news on the forex market visit Tifia Forex Broker website tifia.com