SFT Fractal Support and Resistance
The levels of support and resistance are one of the main components of all technical analysis.
They are used both by professional traders and by beginners. Prices usually move within the price channels
The upper limit of such a channel is called resistance, and the lower support.
This indicator builds support and resistance lines at the highest and lowest local price values ​​(in fractals).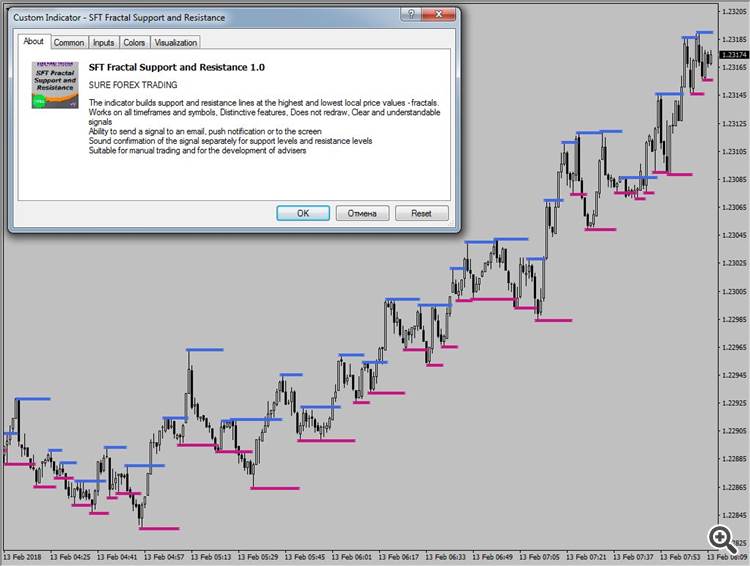 Distinctive features:
Does not redraw;
Clear and understandable signals;
Ability to send a signal to an email, push notification or to the screen;
Sound confirmation of the signal separately for support levels and resistance levels;
Works on all timeframes and symbols;
Suitable for manual trading and for the development of advisers.
For more accurate inputs and additional confirmation of signals can be used in conjunction with other indicators.
Indicator settings:
BarCount - the number of candles (bars) for which the indicator counts;
UseAlerts - turns on and off alerts (signals) about the appearance of new levels. True - the signals are on. False - signals are off;
SoundAlerts - use sound confirmation of the signal;
EmailAlert - sends signals to the mail, instructions for setting up here;
SendPushAlert - sends a Push notification of the signal, a setup instruction here;
SoundResistance - sound when a new resistance level appears;
SoundSupport - sound when a new level of support;
In places of accumulation of support / resistance zone levels, stronger ones
At new and single levels, support / resistance zones are less strong
You can trade with two methods:
1. Inside the channel - between the support and resistance levels on the quiet market movement in the flat.
In this case, it is necessary to trade from the support and resistance lines to the inside of the channel
Pending orders Sell Limit from resistance and Buy Limit from support
TP in the middle of the channel, SL = 1..2 TP
2. On the way out of the channel - the breaking through of support or resistance on the strong trend movement of the market.
In this case, it is necessary to trade from support and resistance lines to channel breakdown
Put pending orders Buy Stop from resistance and Sell Stop from support
TP half of the channel, SL = 1..2 TP
There are other options for trading, in the process of trading, you can develop the most convenient tactics for you.
We wish you a stable and profitable trade. Thank you for using our software!
In order not to miss the release of new useful trading programs - join friends: SURE FOREX TRADING