Dollar index DXY rose on Tuesday to 89.45, however, at the beginning of today's European session again decreases, approaching the level of 88.80. The value of US bonds continued to decline. The yield on 10-year bonds rose on Tuesday to 2.725% (the highest level in almost four years) from 2.695% on Monday. Nevertheless, this did not help the dollar and did not allow it to consolidate the upward correction, which turned out to be very short-term.
And today, against the background of the declining yield of 10-year US bonds, the dollar is becoming cheaper again. Market participants are preparing for the main event of today - publication of the Fed decision on rates (19:00 GMT). It is widely expected that the interest rate will remain unchanged at 1.5%. Nevertheless, volatility may increase if market participants find something new in the texts of comments by the Fed regarding further plans to tighten monetary policy. In the dollar quotations, there are already 2 increases in interest rates this year. The Fed outlined three increases. More bold predictions suggest 4 increases in the rate, i.е. quarterly. The bearish trend of the dollar at the moment may be break, perhaps, just by such a scenario.
The dollar is falling, as investors expect faster economic growth rates outside the US, which will contribute to a more aggressive tightening of monetary policy by the world's largest central banks. This, in turn, will lead to the growth of national currencies against the dollar.
It is noteworthy that the dollar continues to fall even today against the yen after the Governor of the Bank of Japan Haruhiko Kuroda confirmed during today's Asian session that the Japanese central bank will continue to pursue a soft monetary policy in order to further accelerate inflation. "We are striving to achieve the target inflation rate of 2% as soon as possible, and this is facilitated by the further implementation of monetary easing", Kuroda said in a speech at the country's parliamentary committee. Thus, he tried to cool down the recent assumptions about tightening the policy. Talks about a possible increase in rates in Japan later this year contributed to the strengthening of the yen recently. "... There is a long way to go to achieve the target inflation rate of 2% ...", said one of the board members at the meeting held on January 22-23, when the Bank of Japan kept its ultra-soft monetary policy unchanged, and also kept its forecasts on inflation and GDP growth unchanged. The central bank still expects to achieve an inflation rate of 2% only by March 2020.
*)An advanced fundamental analysis is available on the Tifia Forex Broker website at tifia.com/analytics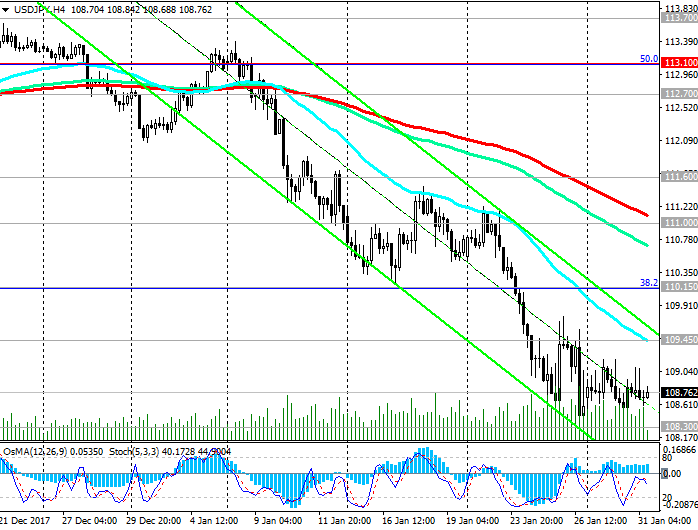 Support levels: 108.30, 108.00, 107.30, 107.00, 106.50, 106.00
Resistance levels: 109.45, 110.15, 111.00, 111.60, 112.70, 113.10, 113.70, 114.00, 114.40, 115.00, 116.00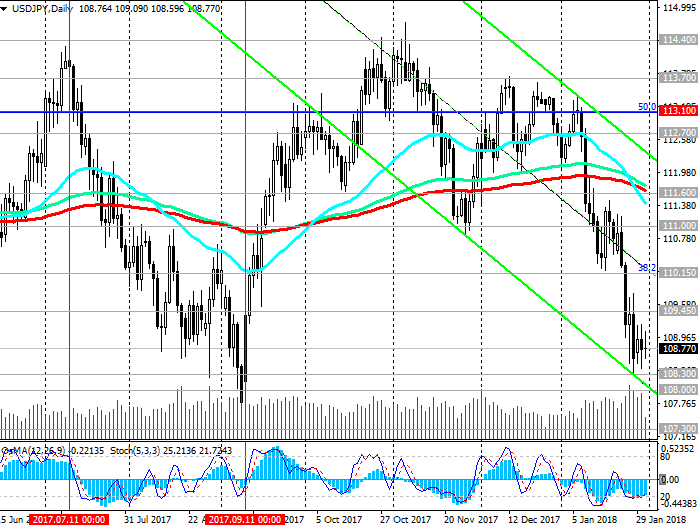 Trading Scenarios
Buy Stop 109.30. Stop Loss 108.50. Take-Profit 109.45, 110.15, 111.00, 111.60
Sell ​​Stop 108.50. Stop Loss 109.30. Take-Profit 108.30, 108.00, 107.30, 107.00, 106.50, 106.00
*) For up-to-date and detailed analytics and news on the forex market visit Tifia Forex Broker website tifia.com