The explosion of the oil pipeline in Libya caused an increase in concerns over possible interruptions in oil supplies, which led to a sharp increase in oil prices. As indicated on the site of the Libyan National Oil Co., the reduction in oil production in the country due to the accident is likely to be up to 100,000 barrels per day.
Earlier it was reported about the continued suspension of the operation of the Forties pipeline system in the North Sea, as a result of which the market will not receive 450,000 barrels of oil daily.
As a result, prices yesterday reached a maximum for two and a half years. On Tuesday, WTI futures rose above $ 60 per barrel, gaining 2.6% to a maximum since June 2015. The spot price for Brent crude at the end of yesterday's trading day was close to $ 66.20 per barrel, which is $ 1.7 higher than the opening price of the trading day. Today there is a decline in oil quotations.
On Thursday, the publication of data on oil reserves in the US is expected. It is expected that the report submitted by the US Energy Ministry will demonstrate the fifth week decrease in reserves in a row (-3.925 million barrels against -6.495 million barrels in the week before last).
As is known, at the end of November, OPEC, Russia and a number of other large oil-producing countries agreed to further reduce oil production by about 1.8 million barrels a day, or about 2% of the world's oil production. The deal was extended until the end of 2018.
Thus, several factors will support oil prices in the short term. This is the extension of the OPEC deal, the reduction of US oil reserves, the weakening of the dollar, and, again, the recently manifested factor, like the risks of oil supply disruptions in different regions of the world.
Despite the fact that the supply of oil from the United States and other countries not participating in the deal is likely to continue to grow, the positive dynamics of oil prices remains.
*)An advanced fundamental analysis is available on the Tifia Forex Broker website at tifia.com/analytics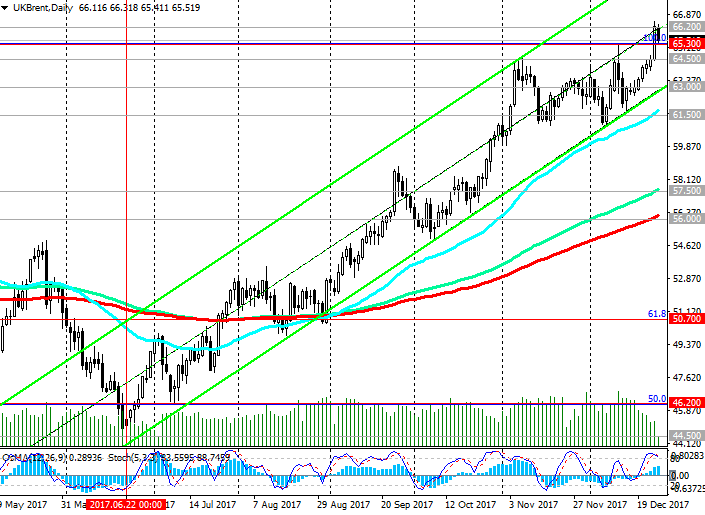 Support levels: 65.30, 64.50, 63.00, 62.00, 61.50, 61.00, 60.00, 59.00, 58.80, 57.50, 56.00
Resistance levels: 66.20, 67.00, 68.00
Trading scenarios
Sell Stop 65.20. Stop-Loss 66.30. Take-Profit 65.00, 64.50, 63.00, 62.00, 61.50, 61.00, 60.00, 59.00, 58.80, 57.50, 56.00
Buy Stop 66.30. Stop-Loss 65.20. Take-Profit 67.00, 68.00
*) For up-to-date and detailed analytics and news on the forex market visit Tifia Forex Broker website tifia.com