This month, the main US stock indexes are closing in a positive territory, with a decent increase. On Friday, the indices reached new highs after the US received strong macro data. According to the Ministry of Trade, the gross domestic product, the most comprehensive indicator of all goods and services produced in the US, grew by 3% in the third quarter (the forecast was +2.5%). The growth of GDP was not hampered by hurricanes, because of which a number of large enterprises were closed.
Last week, many US companies reported good financial results. Outstanding results of activity of many large corporations contributed to the growth of the stock market. So, the Dow Jones Industrial Average grew by 0.1% to 23434.19 points. Strong growth in the technological sector helped Nasdaq Composite to increase by 2.2% to 6701.26 points, and the S & P500 - by 0.8% to 2581.07 points. Nasdaq has already reached the 61st new maximum this year, the last time such a number of record marks was recorded in 1999.
American stock indexes continued to grow actively after earlier this month the US Senate and Congress approved a draft budget submitted by the presidential administration. Now Republicans will be able to carry out their plan for reforming the tax code, suggesting significantly lowering taxes for companies and many individuals, without the support of democrats. The proposed measures will support economic growth.
In general, the positive dynamics of US stock indices, including the DJIA index, remains. About the reversal of the bullish trend is not yet talking. Probably further growth, not excluding descending, but short-term corrections.
Data on retail sales, industrial production, orders for durable goods and company sentiment, as well as strong GDP, coupled with positive reports from companies and the success of the presidential administration in implementing economic reforms in the US contribute to maintaining the positive dynamics of the stock market.
From the news for today, we are waiting for publication at 12:30 (GMT) of inflation indicators (spending on personal consumption, personal income / spending of Americans) for September, which will cause the growth of volatility in financial markets.
On Wednesday, the meeting of the Committee on Federal Open Market Operations will take place. The decision on the interest rate will be published at 18:00 (GMT). It is expected that the rate will remain at the same level of 1.25%. Apparently, the Fed leaders will again note the rapid recovery of economic data after the hurricanes, which will also positively affect the stock indices.
*)An advanced fundamental analysis is available on the Tifia Forex Broker website at tifia.com/analytics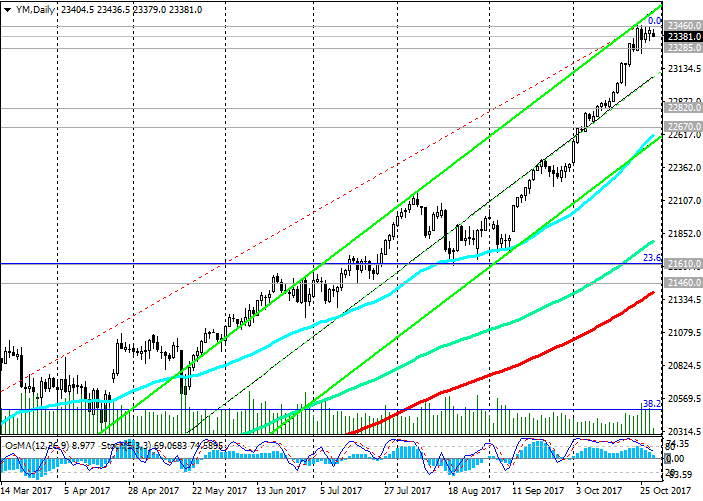 Trading Scenarios
Buy Stop 23490.0. Stop-Loss 23300.0. Take-Profit 23600.0, 23700.0, 24000.0
Sell Stop 23300.0. Stop-Loss 23490.0. Take-Profit 23285.0, 22820.0, 22670.0, 22410.0, 22140.0, 22000.0, 21610.0, 21460.0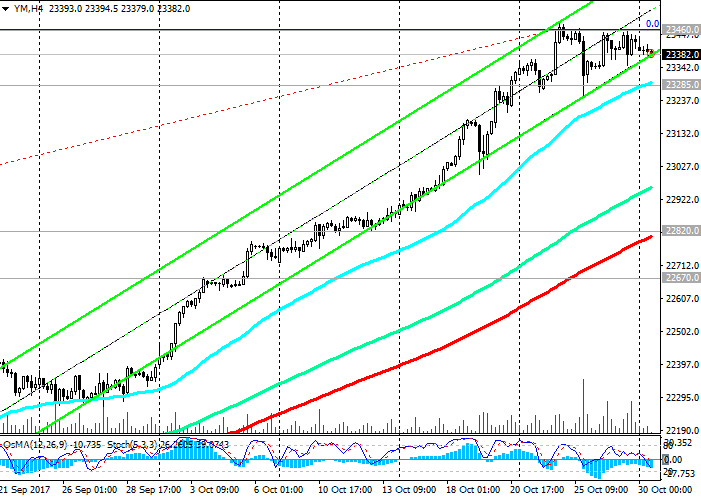 *) For up-to-date and detailed analytics and news on the forex market visit Tifia Forex Broker website tifia.com