This week there will be meetings of the Fed, the Bank of England, the Bank of Japan and the Swiss National Bank. However, the most attention of market participants will be focused on the meeting of the Fed (June 13-14). As most market participants believe, the Fed on Wednesday will raise the interest rate. Higher interest rates usually support the US dollar, making it more attractive to investors.
So far, the probability of an increase in the Fed's interest rate this Wednesday (18:00 GMT) is almost 100%. And, basically, the price has already taken into account this decision of the Fed. If the Fed makes unexpected statements or goes on sudden decisions on interest rates, it will cause a surge in volatility throughout the currency market. The US dollar will receive strong support if the Fed signals a possibility of one or two more rate hikes this year.
In recent years, the US has received generally positive, but ambiguous macroeconomic data. Thus, as a result of publication earlier this month of weaker than expected data from the labor market in the US, the dollar fell significantly in the foreign exchange market, despite the fact that investors' confidence in the rate increase in June did not fall below 90% of the probability of such an increase.
Meanwhile, despite the support from the results of the elections in France, held this Sunday, the euro is trading lower with the dollar.
After pushing away from support level 1.1180 (the bottom line of the uplink on the 4-hour chart), at the beginning of today's European session, the pair EUR / USD is trading near the 1.1217 mark, through which the short-term resistance level passes (200-period moving average on the 1-hour chart).
In case of breakdown of this level, the pair EUR / USD will go within the upward short-term channel on the 4-hour chart towards the recent annual highs near the 1.1280 mark (Fibonacci level of 23.8% corrective growth from the lows reached in February 2015 in the latest wave of global decline Pairs from the level of 1.3900).
In the alternative scenario, only after the decline to support level 1.1100 (200-period moving average on the 4-hour chart), you can seriously start to consider short positions in the EUR / USD pair.
So far, the positive dynamics of the pair EUR / USD remains.
Support levels: 1.1180, 1.1155, 1.1120, 1.1100, 1.1080, 1.1000, 1.0950, 1.0890
Resistance levels: 1.1217, 1.1280, 1.1340, 1.1600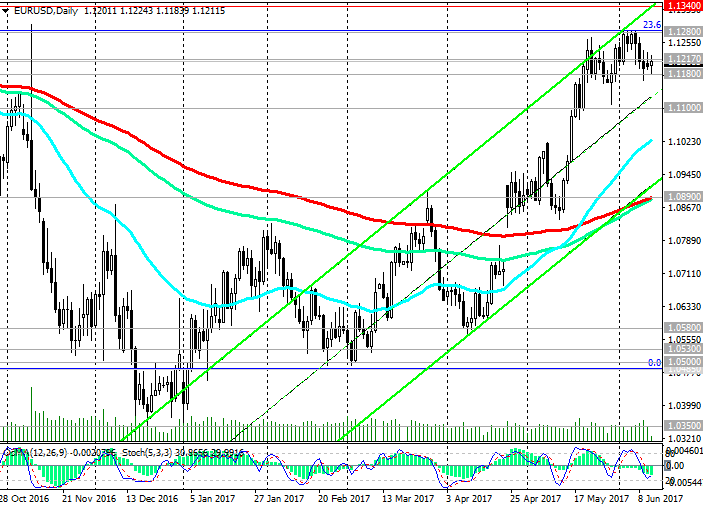 Trading recommendations
Sell ​​Stop 1.1175. Stop-Loss 1.1225. Take-Profit 1.1155, 1.1120, 1.1100, 1.1020, 1.1000, 1.0950, 1.0900
Buy Stop 1.1225. Stop-Loss 1.1175. Take-Profit 1.1280, 1.1300, 1.1340, 1.1400, 1.1600