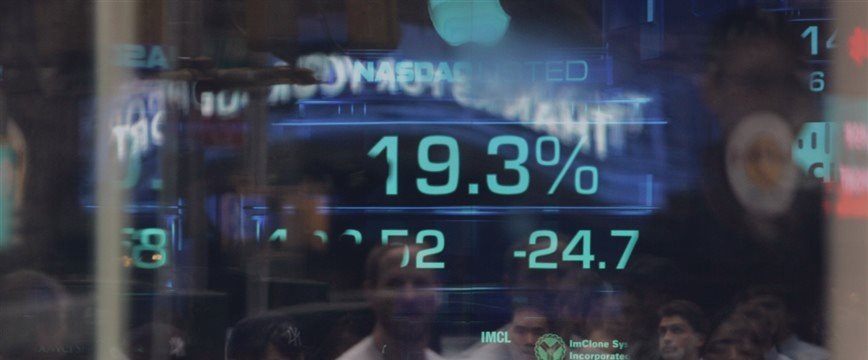 On Monday U.S. stock index futures opened in the green territory as investors digested reports on factory activity from China and the euro area, ahead of U.S. manufacturing data and earnings reports.
Dow Jones was up 0.26% at open; S&P 500 also climbed 0.26% and Nasdaq added 0.19%.

On Friday, U.S. stocks closed lower after a mixed bag of quarterly results, but ended October with their strongest monthly performance in four years.
Asian stocks declined after China's official factory data on Sunday showed activity dropped for a third straight month in October, though the contraction was modest. A private survey showed on Monday that the pace of decline in factory activity has slowed. The Shanghai Composite closed down 1.70% and Japan's Nikkei was 2.10% lower at close.

European shares pared early losses after better-than-expected data on manufacturing activity in Germany. London's FTSE 100 dipped 0.26% while the rest of Europe stayed in the green territory with German DAX 30 up 0.79% and France's CAC 40 up 0.33%.

Investors will now wait for U.S. economic data and the earnings reports for a clearer picture of the state of the economy leading up to the Federal Reserve's meeting in December.
Data on U.S. manufacturing activity is expected to show factory activity fell to 50.0 in October from 50.2 in September. The data is due at 10:00 a.m. ET.
Fed Chair Janet Yellen is scheduled to attend a meeting of the Financial Stability Oversight Council in Washington along with Treasury Secretary Jack Lew.
Movers

Shares of Dyax jumped 31.26% after Shire PLC announced a $5.9 billion takeover of the biopharmaceutical company.
Coty Inc. rose 1.62% after it said it would buy Hypermarca's beauty and personal care operations for around $1 billion.
TreeHouse Foods Inc. said it would acquire ConAgra Foods Inc.'s private-brands business for $2.7 billion.
Chipotle Mexican Grill Inc. shares slumped 3.92% after the restaurant chain said it has closed 43 of its Washington state and Oregon locations over an investigation into an E. coli outbreak.
Energy companies will dominate this week's earnings news. The sector's earnings are expected to contract 65% from a year earlier, which could hurt the stock market.
Noble Energy Inc. share added 1.42% before falling 2.4% after the company reported a 37% decline in third-quarter revenue amid slumping energy prices, and the company posted a deeper adjusted loss than analysts had expected.
Pioneer Natural Resources Co. will report after the close. Its shares dipped 0.69%.

Estée Lauder Cos. shares jumped 8.58% after the cosmetics company raised its quarterly dividend 25% to 30 cents a share and posted a 36% jump in its first-quarter profit, led by a bump in makeup sales.
Visa Inc. said it would buy Visa Europe in a deal valued at up to 21.2 billion euros, or $23.4 billion. Visa just missed earnings estimates as it reported ahead of the bell on Monday. Shares fell 2.48%.