I need a dashboard and signal ea/indicator to assist me in trading. It will not be a fully automated ea where it will place orders, it will merely be a signal based program. This is a smaller part in my trading, but will help me significantly so I don't always have to look at my computer, only when certain events happen. It will incorporate the H4 and M15 time frame.
We will start by examining the H4 time frame and looking for a "valid" macd signal which is 1) A "mountain" is formed or "valley" or 2) From last Macd and current macd the change is <3%. This signal will only be produced once until a new signal in opposite direction is formed. If a signal is produced an email will be sent out (you can use print function for testing purposes). Now, on the chart I need a button that when clicked will be changed to true or false (starting will be false obviously). When i receive the signal i will look at my chart and decide whether or not the H4 chart shows a promising turning point. For example: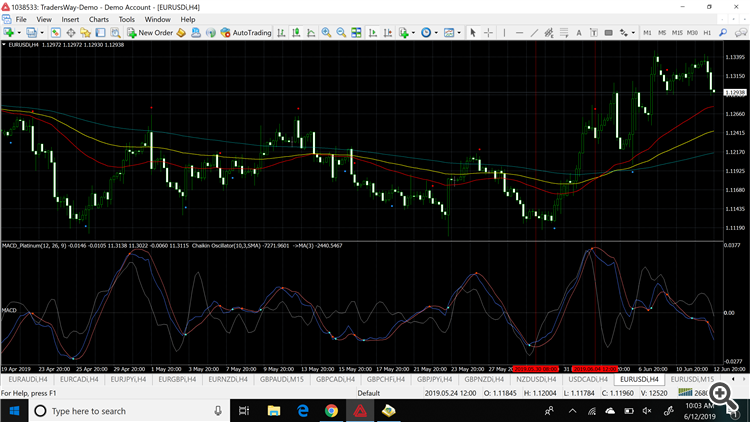 Looking at 5.30 08:00 Macd signal was produced from the change being <3% and below 0. A signal should be sent out and signal for buy = true all the way until 06.04 when there is a new turning point. Now if there was a button and I hit it to true, we are going to look at m15. For this example keep in mind we found a valley point (which is buying only). On m15 i want a signal sent out if:
we have the same valid macd criteria for a valley (since our buy = true on h4);
MA of CHO is sloped upwards on H4 and m15.
The signal for m15 resets when there is a new turning point, but will look for new signals based on our H4 criteria. If the macd criteria is valid for m15 and cho for m15 or H4 doesn't slope in the right direction, it will have to wait until it does WHILE the signal is valid and a new turning point inst formed on m15. If there is a new turning point reset m15 signal to look for new criteria based on H4. Thats pretty much it. If i get a signal on H4 and i dont select TRUE, nothing will occur until a new macd signal is produced on H4 and I look at it again. Picture below shows where signals should have been sent out on m15 based on what we had for H4.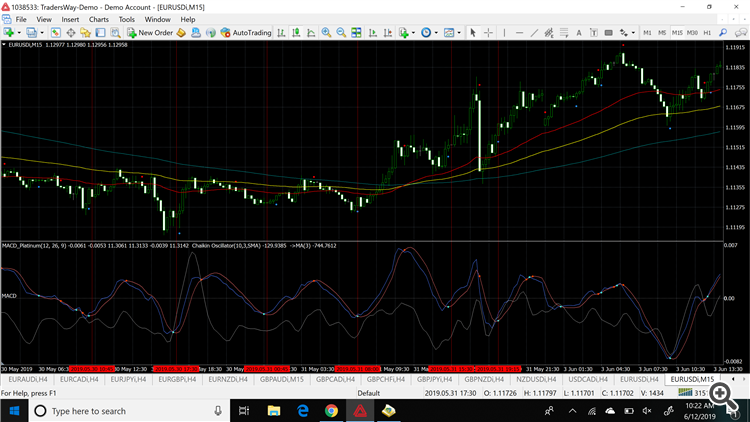 There are some other features i want added to help me calculate position size and another signal if a qmp dot is formed, but these are simple and i want to prioritize the above first and make sure its possible. I know it can be confusing but if you're interested send me a message and ask me any questions. Who ever i choose i would like to skype or something as the instructions arent as clear as id like them to be. I am a programmer myself, but dont have time for this so you can ask my questions pertaining to that as well.