Interesting script?
So post a
link
to it -
let others appraise it

PivotPoint - indicator for MetaTrader 5
Published by:

Views:

115643

Rating:

votes: 130

Published:

2010.04.01 16:17

Updated:

2016.11.22 07:32
You are missing trading opportunities:

Free trading apps
Free Forex VPS for 24 hours
Over 8,000 signals for copying
Economic news for exploring financial markets

If you do not have an account, please

register
Pivot Points are always very useful for trading, this is a simple way to have some idea of where the market is heading during the day.

The indicator also provides the first three supports and resistances.
The formulae I used are:
Resistance 3 = High + 2*(Pivot - Low)
Resistance 2 = Pivot + (R1 - S1)
Resistance 1 = 2 * Pivot - Low
Pivot Point = ( High + Close + Low )/3
Support 1 = 2 * Pivot - High
Support 2 = Pivot - (R1 - S1)
Support 3 = Low - 2*(High - Pivot)
It uses the data from the bar of the previous day.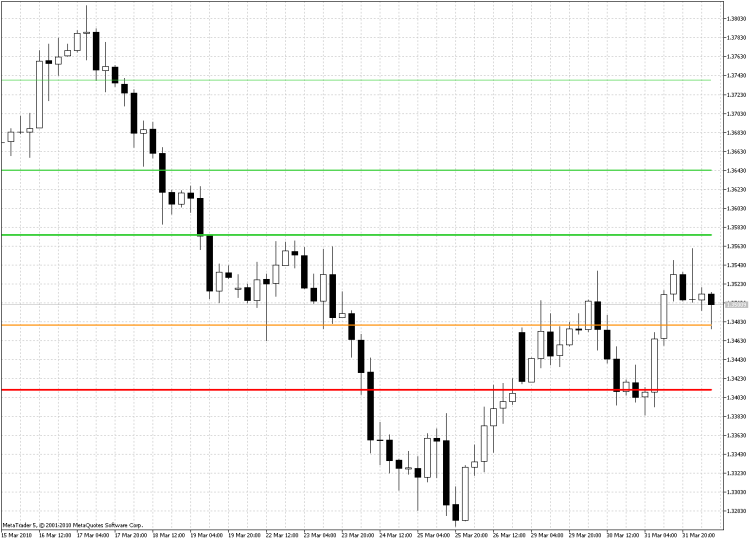 The orange line is the pivot point of the day, the red lines are supports and the green lines are resistances.

AdoSuite v 1.0
Classes for working with databases through ODBC and OLE DB interfaces

WoodiesCCI
Indicator for Woodie's CCI trading strategy.