The MQL5 Wizard provides an opportunity to create a strategy using different modules. For example, the main module can be written by developer, the other modules (money management, trailing stop) can be developed by other programmers.
The strategy, implemented in this module is following: when outside bar appears, it checks the fact of the inner bar breakthrough in trend direction and generates a signal to open position. The outside (outer) bar is the bar with High price, greater than High of the previous bar and Low, lower than Low price of the previous bar. The "breakthrough" means the extremum crossover of the inner bar.
The trend direction depends on the color of the outer bar. Position is opened after completion of the bar with a signal.

Example of a signal to open a long position: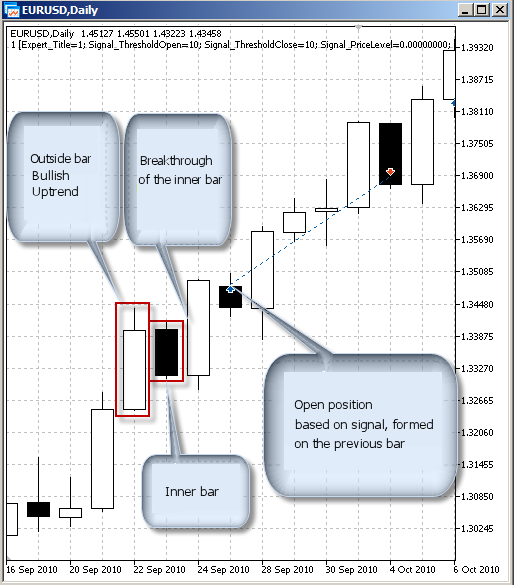 Description of signals

To use the module, copy innerbarsignal.mqh to the MQL5\Include\Expert\Signal\Mysignal.

After restart of the MetaEditor, the module will appear: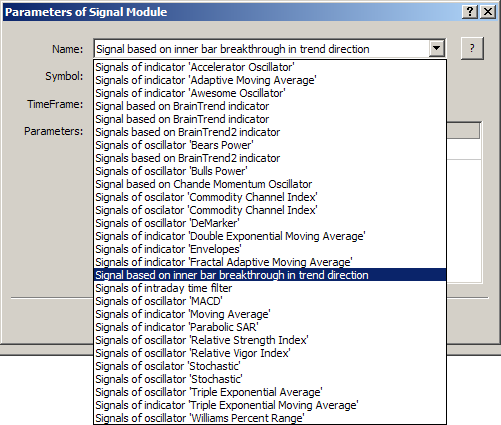 Module of trade signals in MQL5 Wizard

History backtesting results (EURUSD ,D1, 2010-2011):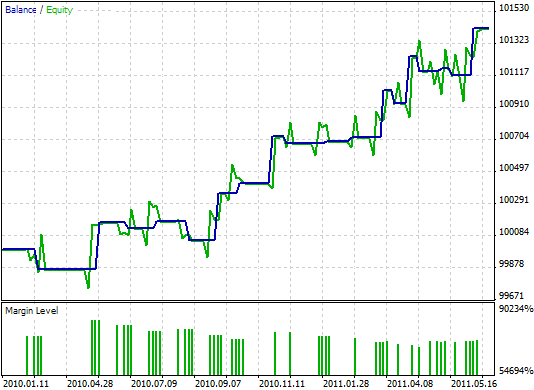 Testing results

Input parameters:
TakeProfit = 300;

StopLoss = 300;

Trailing Stop = 100.