Interesting script?
So post a
link
to it -
let others appraise it

SCT - The Overall Percent Risk - MT4 - script for MetaTrader 4
Views:

5780

Rating:

votes: 13

Published:

2021.05.30 20:31

Updated:

2021.08.22 20:20
You are missing trading opportunities:

Free trading apps
Free Forex VPS for 24 hours
Over 8,000 signals for copying
Economic news for exploring financial markets

If you do not have an account, please

register
INTRODUCTION :
Most newbies and immature traders keep losing money because they don't know how important to calculate and see things in terms of percentage. Seeing in terms of percentage is a good trading habit that must be developed; despite the fact that small accounts differ from larger accounts, it will allow the trader to treat small accounts the way they treat bigger accounts.

THE STORY BEHIND THIS TRADING TOOL:
The story behind developing this trading tool was to build a good trading habit, which is to always think in terms of percentage rather than amount of money. This way will allow us to treat small accounts as we are treating bigger accounts, which will allow us to switch from small accounts to bigger accounts smoothly.
HOW TO USE IT :
You can check the following video that will explain how to use this trading tool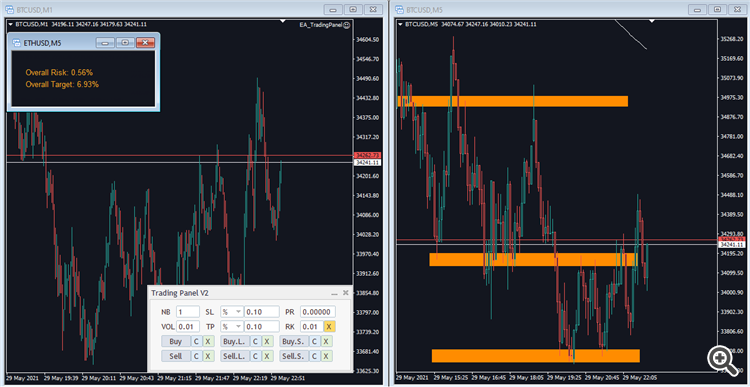 Tipu MACD EA
Tipu MACD EA is a simple EA created to automate buy/sell orders based on the MACD indicator. You can automate entries and manage trades. This EA comes with many useful functions that can used to by anyone to create their own EA.

Trading Panel
I started to create a simple trading panel to switch between pairs and timeframes. and next version, I will add trading features and manage orders.
Logging library for mql4
A customizable logging library with Debug,Info,Error logging levels.

moving average
candle cross 3 moving averages