Interesting script?
So post a
link
to it -
let others appraise it

EA - The Simple Trading Panel - MT4 - expert for MetaTrader 4
Views:

16980

Rating:

Published:

2021.03.22 19:23

Updated:

2021.05.14 13:41
You are missing trading opportunities:

Free trading apps
Free Forex VPS for 24 hours
Over 8,000 signals for copying
Economic news for exploring financial markets

If you do not have an account, please

register
INTRODUCTION :
The simple trading panel is a trading tool that is very interesting because it will allow you to predefine your StopLoss and your TakeProfit in term of pips. You can also predefine the number of trades, the position size and which tradable instrument you want to trade. This trading tool can be used for scalping, day-trading, swing trading & investing.
THE STORY BEHIND THIS TRADING TOOL:
The story behind developing this trading tool is that I struggled a lot when I use to scalp so I wasn't fast enough to place my StopLoss and TakeProfit especially when the market was super volatile. Besides, many times my computer crashed the moment I clicked on Buy/Sell and I couldn't also place my SL/TP. Let's not forget about Internet provider; I also faced difficulties because I had problems with my Internet provider. So that is why I've decided to create this simple trading panel to avoid these technical problems.
HOW TO USE IT :
You can check the following video that will explain how to use this trading tool

PARAMETERS :
This EA has 5 inputs, which are
NB: number of trades
SL: stop loss in terms of pips
VOL: position size
TP: take profit in terms of pips
SYM: choosing the symbol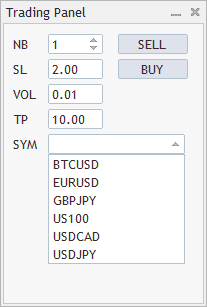 Pivot_Points_Lines_v1.3 MT4
Draws Pivot Points Formulas

Braid Filter indicator of Robert Hill stocks and commodities magazine 2006
Braid Filter indicator of Robert Hill stocks and commodities magazine 2006

2 MA Crossing
For the purpose of learning to create an EA, I will share how to make an EA that uses 2 cross moving average indicators as a trading position entry signal.

Trailing Stop with MagicNumber
Add on tool to support our trading by shifting stoploss (SL) to the profit area