Interesting script?
So post a
link
to it -
let others appraise it

Account Watch - Control entries - indicator for MetaTrader 5
Views:

9488

Rating:

votes: 14

Published:

2020.08.06 01:09

Updated:

2020.08.20 12:02
You are missing trading opportunities:

Free trading apps
Free Forex VPS for 24 hours
Over 8,000 signals for copying
Economic news for exploring financial markets

If you do not have an account, please

register
If you can't watch your statistics and your game plan at all time, your emotions will take control and you will start taking ENTRIES such as revenge trade especially when you lose it. So that is why I wanted to keep an eye on my stats and my game plan at all time, in order to control my emotions.
I came up with this indicator that will allows me to keep an eye on my statistics and my daily target.

This indicator has three input that will allow you to specify:
FontColor: the color of the font,
Start Date: identify the range of date that you want to see its statistics. So you need to set a start date and the indicator will keep calculating your stat since this starting date till now.
Daily Target in %: identify your daily target. For example, if you daily target is 2%, type 2
As you can see in the image above
Date Range: from Start Date till now
Target: represent your daily target in % and will calculate it in amount over your account balance
Expectancy:
CLOSED POSITIONS (20): 20 trades during this date range
Net Profit: Net profit during this date range [total amount win / total amount lost]
% win/loss: [total number of win / total number of loss] [% win / % loss]
Avg win / loss: [Avg win / Avg loss]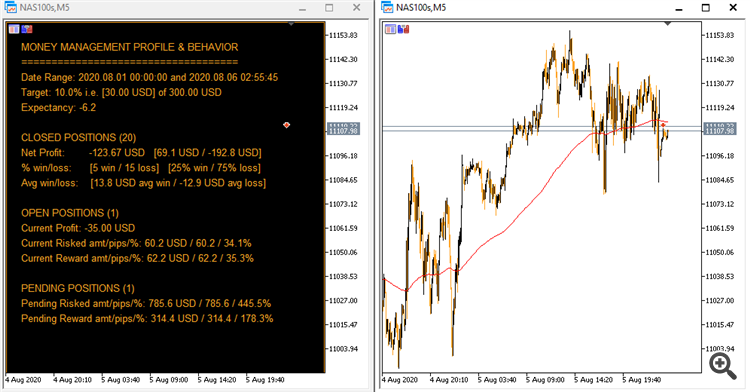 Design patterns - Prototype (creational)
Create objects by copying a prototype
Design patterns - Factory Method
An interface for creating an object that defers instantiation to subclasses. They decide which class to instantiate.

EA potential entries
I want to share with you this story. When I started trading, I learnt the scalping strategy in a volatile market. I really loved scalping especially when I see the price is moving fast. However, scalping for a long period of time is exhausting to me especially in a volatile market; volatile market requires fast analysis, actions and reactions; that is why I always reach a point that I loss concentration, focus and I start making those really stupid mistakes. That is why I created this EA, that is based on the indicator Identify potential entries, that helped me to automatically identify these potential entries (based on the formation of candlesticks) instead of doing all the work myself and it will trade these potential entries for me. I know there are plenty of Metatraders who also suffer from this and that is why I would like to share this EA with you, hopefully it will be beneficial. Do not forget to send you comments as well as rate these scripts. Happy trading!

Correlation trend indicator
Correlation trend indicator