Kijun Sen Candles Two Colors: Also available for MT5

This Indicator draws different colored candles above and below a Kijun Sen (KS) line.
The user is required to ensure that the Kijun Sen period on both the present Indicator and the user provided Kijun Sen match each other exactly.
This indicator has been updated to automatically change the the chart to a Line Chart and set the Line Chart to color None before drawing the the Kijun Sen Candles.
Steps 1 to 7 are therefore no longer necessary.
Open a new chart.

Change the chart price graphic to Line Chart - Press (Alt + 3) or locate 'Charts' on top menu and select 'Line Chart'. Make sure that 'Bar Chart' or 'Candlesticks' is not accidentally selected.

Open the Chart Properties window - press (F8) or right click anywhere on the chart and select 'Properties'.
Select the Colors tab.
Select 'Line Chart:', now select the '▼' and change color to 'None'. The chart should now have no graphical price displayed and is referred to as the blank chart.

A template of the blank chart can be made for further use with other currency pairs or instruments.
Attach Indicator Color Candles cross Kijun Sen to the blank chart.
Kijun Sen Indicator: Predefined Kijun Sen Indicators of periods 21, 34, 50 and 100 are included in a zip file above.

Image: 25-Sept-2013
First vertical Line - London Open 08:00 (03:00 ET). Second vertical line - London 13:30 (08:30 ET - US News Release). Session Open V-Line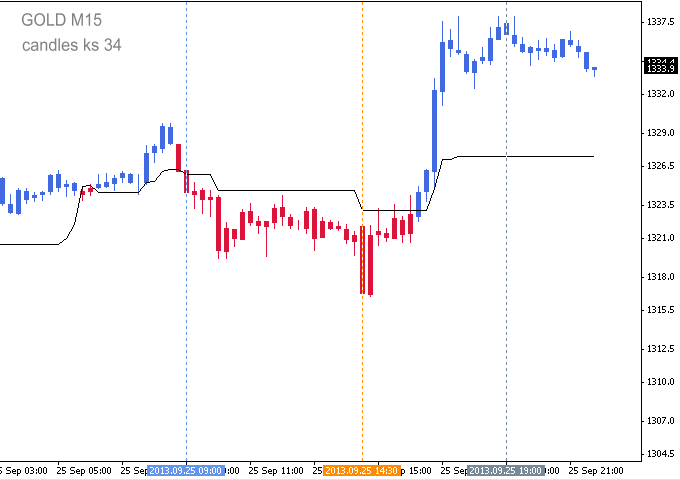 Candle Accuracy: Although the standard chart price graphic is hidden it is not disabled and Open, High, Low and Close prices are available in MT4 Data Window (press Ctrl+D or View → Data Window). Accuracy of the Indicators Open, High, Low and Close can be checked against Open, High, Low and Close in MT4 Data Window. When cross-referencing the cursor point must be on the relevant colored candle:

Interpretation of the the Data Windows:

The hidden candle Open: 1318.6

The hidden candle High: 1321.1
The hidden candle Low: 1317.3

The hidden candle Close: 1319.8
The indicator candle H, L, O and C are listed in Columns R up, R dn, B up and B dn (Red up candle, Red down, Blue uo candle, Blue down candle).
The hidden candle open is less than the close so the candle is a up candle. The indicator Red up candle in column 1 corresponds to the hidden up candle.
R up L: 1317.3
B up H: 1321.1
R up O: 1318.6
R up C: 1319.8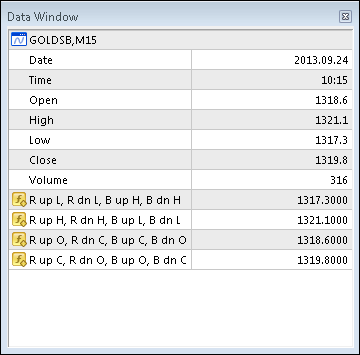 All Inputs parameters and options can be changed and will save automatically. If after changing Inputs or Color parameters a Reset is used the Color Candles will display as Bars. To revert to Color Candles switch to a different timeframe and then back.

Input and Parameters
Candle_Kijun_Sen - 35;
Candle_Shadow_Width - 1;
Candle_Body_Width - 3;