Setup 1HR chart
Indicators: Weis Pip Wave, Weis Wave with Alert (+Speed Index) and No Demand No Supply ( https://www.mql5.com/en/users/takisd/seller)
EURGBP - Is it going to Break Daily Support? The answer is that up to now all signs during the ranging period are noting that EURGBP will break down.
Let's read our waves with Speed Index
1. We have touched Daily Support several times
2. High Speed Index of 263.2
3. High Speed Index of 352.2
Further more no High volumes at support level.
Suggested entries: Enter on an hourly Fib retracement or after it breaks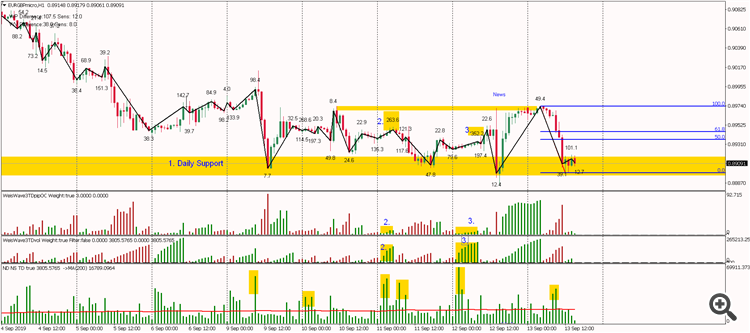 to be continued...
Saturday 14/9/2019 13:30
Forecast Correct : Broke Daily Sypport - 35pips so far.