As reported by the Swiss Federal Bureau of Statistics this morning, the import price and producer prices index rose by 0.4% in April (+ 2.7% in annual terms), mainly due to higher oil and equipment prices. The forecast was +0.3% and + 3.0%, respectively.
This has not yet led to an increase in consumer prices; annual consumer inflation in Switzerland is 0.8%. Nevertheless, the current weakening of the Swiss franc and the increase in producer prices can increase inflationary pressures and provoke the acceleration of consumer inflation in the coming months.
This, on the one hand, can contribute to changing the NBS rhetoric about the current monetary policy. On the other hand, the NBS already almost traditionally considers the franc overbought and conducts an extra-soft monetary policy aimed at reducing the relative value of the franc.
As you know, in mid-March, the Swiss National Bank left its negative interest rates unchanged. The deposit rate remained at the level of -0.75%, the range for the 3-month LIBOR rate also remained unchanged, between -1.25% and -0.25%. The NBS traditionally stated that the franc rate is still too high, which indicates that the NBS still intends to keep rates in the negative territory.
"The bank still considers it necessary to have a negative interest rate and is ready to intervene in the foreign exchange market, if the situation requires it", the NBS said.
At the moment, the USD / CHF reached the levels of October-November last year, near the mark 1.0030, from which the weakening of the pair began. Beginning in February, when the USD / CHF reached its 3-year lows near the 0.9200 mark, then the pair almost weekly grew.
During this period, the dynamics of the USD / CHF was determined, basically, by a large-scale strengthening of the dollar.
A cheap franc is beneficial to Swiss exporters. It will be interesting now to listen to the opinion of the head of the NBS, Thomas Jordan, about the current weakening of the franc. Will his performance strengthen the franc and reduce the USD / CHF from current levels, or the NBS will be tolerant of further weakening of the franc and the growth of the pair USD / CHF to the resistance level of 1.0300. From this level twice in the last 3 years (in November 2015 and December 2016) another wave of USD / CHF decline began.
Speech by Thomas Jordan is scheduled for Wednesday (16:00 GMT).
So far, the difference in the direction of monetary policy in the US and Switzerland is the most important argument in favor of the growth of the pair USD / CHF.
*)An advanced fundamental analysis is available on the Tifia Forex Broker website at tifia.com/analytics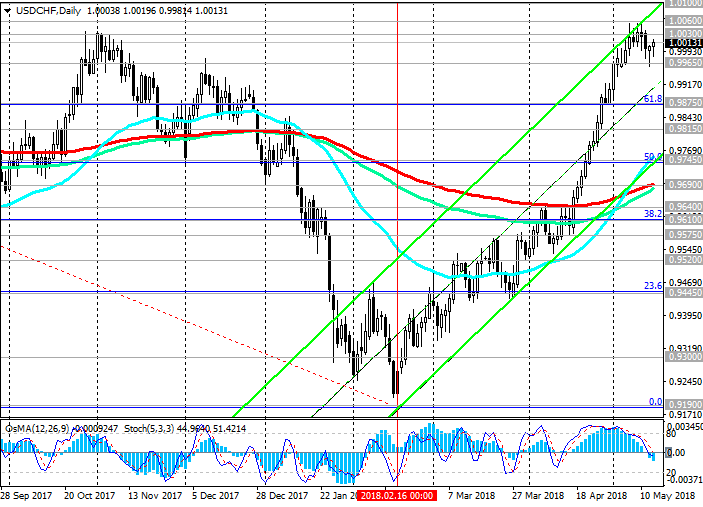 Support levels: 0.9965, 0.9900, 0.9875, 0.9815, 0.9745, 0.9690, 0.9640, 0.9610
Resistance levels: 1.0030, 1.0060, 1.0100, 1.0300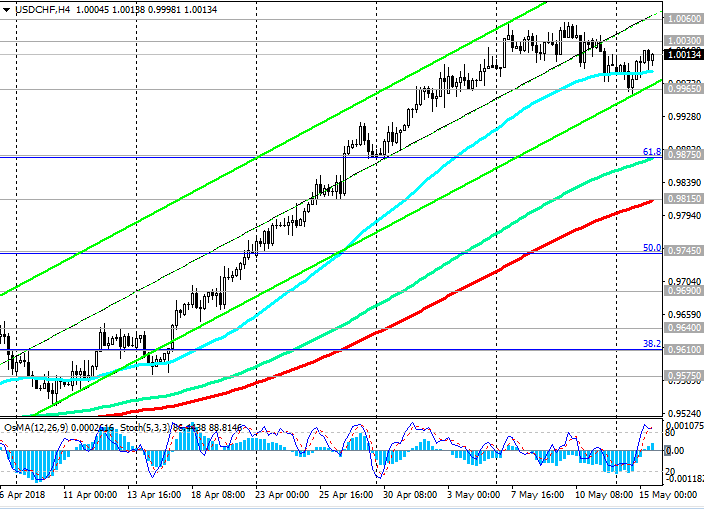 Trading Scenarios
Buy Stop 1.0040. Stop-Loss 0.9960. Take-Profit 1.0060, 1.0100, 1.0300
Sell ​​Stop 0.9960. Stop-Loss 1.0040. Take-Profit 0.9900, 0.9875, 0.9815, 0.9745, 0.9690, 0.9640, 0.9610
*) For up-to-date and detailed analytics and news on the forex market visit Tifia Forex Broker website tifia.com