I am bullish on gold based on a longer term view looking into Q4 2018 onwards. We could see gold reaching $1550/oz in early 2019 and even get to $1700 by the end of 2019 by studying the chart patterns.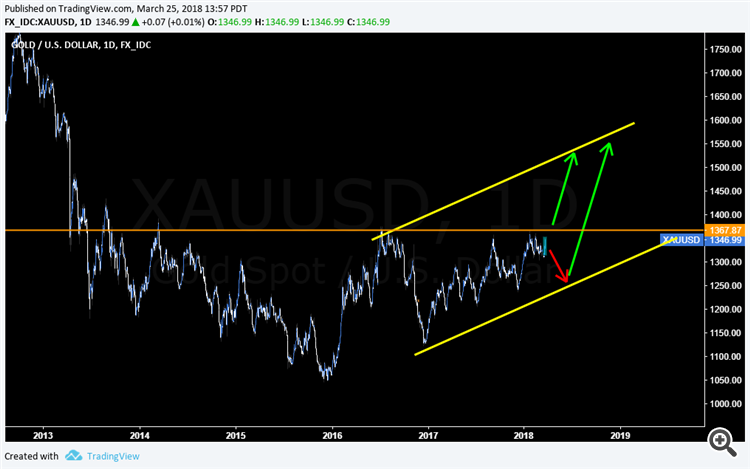 So, I wouldn't short gold (as bullish trend is in play) but will wait for the next pullback and then buy to give you a risk free trade to hold for the next 1 to 2 years.
As a value investor, I would prefer to buy after a major pullback when that opportunity would arise.
Can we get the pullback and at what price level?
I had mentioned this before in my recent article that if we get a pullback, gold could reach down to 1250 or even slightly below 1200 for a better buying opportunity.
Since January, gold price movement has been choppy and extremely difficult to trade on either direction. And from March 20, Gold price has moved up sharply, taking sellers by surprise amid selling pressure started from 1365 peak on Jan 24.
Is now the turning point for Gold to resume the bull trend? Will the buying impulse kicks off from here?
Before I can say this is the start of bullish trend, I have to see the following 2 scenarios to play out:
1. The price has to break above 1368 high (July 2016)
2. The next 3 daily candles must close above 1368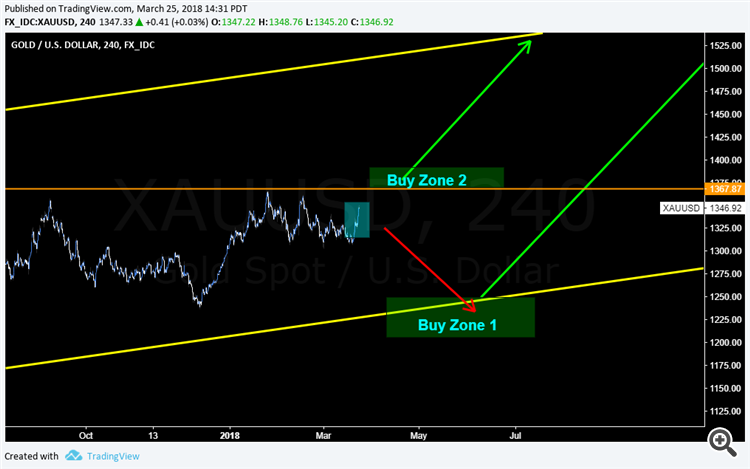 Only when I see these criteria are met, then only I would confirm the bull trend has started right now to gun 1550.
$1368 will be the zone (Buy zone #2) I would enter any long position for the next up move if the $1200 pullback I am expecting did not materialize.
If I don't see ANY of Condition 1 and Condition 2 happening near term, a pullback to 1200-1250 (Buy zone #1) will be presented for the best buying opportunity. When that present, seize it.
About the Author
Ramesh is an active trader producing over 200% gain in 2017 and author of 3 trade strategy development books sold on Amazon. He is the creator the10/20/30 Rule™ that could transform a mediocre trading system to become a top performer by following a systematic and thoughtful approach on strategy development.
website: www.forexnewrulebook.net