During the US trading session on Thursday, US President Trump, in an interview with CNBC at the International Economic Forum in Davos, said that "the dollar will become stronger and stronger, and I want to see a strong dollar after all". This statement by Trump goes against his last year's statements about the usefulness of a cheap dollar for the more successful promotion of American goods to the foreign market. This, in particular, and the US Treasury Secretary Stephen Mnuchin said on Wednesday. In his opinion, "a weaker dollar has a positive effect on trade".
After yesterday's statement by Trump, the dollar jumped sharply in price, and the EUR / USD pair decreased by 120 points in a moment. Nevertheless, during the Asian session on Friday, the pressure on the dollar resumed, and its decline continued with renewed vigor.
The dollar index of the Wall Street Journal, which tracks the rate of the US currency against the basket of 16 other major currencies, fell 0.5% at the beginning of the session on Friday. Since the beginning of the year, the dollar index DXY fell by 3.3% to 88.3 points, to a three-year low (from December 2014). At the beginning of the European session DXY is near the mark of 88.70.
According to market participants, the large-scale decline in the dollar will continue. The reasons for the reversal of its bearish trend so far there.
At the same time, the US stock market continues to grow. This is facilitated by both a weak dollar and positive corporate reporting by US companies.
Rally on the US stock market continues. On Friday, the main US indices reached new record highs, having successfully started in 2018.
Investors also continue to assess the impact of the recently adopted tax bill on the US economy.
Traders are preparing for the performance of Trump in Davos, which will be held today at 13:00 (GMT).
Market participants are also waiting for preliminary data on US GDP for the 4th quarter. According to the forecast of economists, GDP growth in the 4th quarter was 2.9% - 3.0% per annum. This will be another high indicator. Data on US GDP will be published at 13:30 (GMT).
Strong growth in the US economy will be another factor in favor of further growth of US stock indices.
*)An advanced fundamental analysis is available on the Tifia Forex Broker website at tifia.com/analytics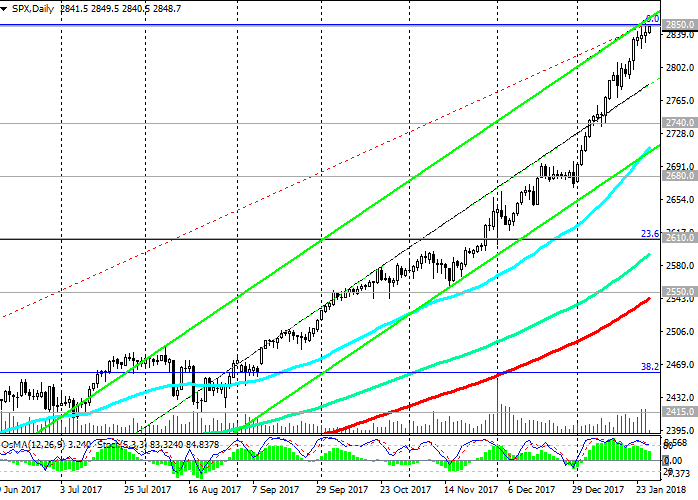 Support levels: 2800.0, 2740.0, 2680.0, 2610.0, 2550.0
Resistance levels: 2850.0, 2900.0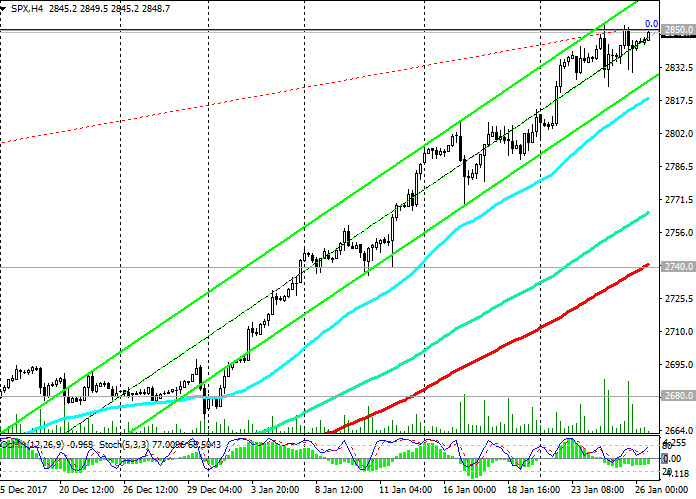 Trading Scenarios
Sell ​​Stop 2795.0. Stop-Loss 2855.0. Objectives 2740.0, 2680.0, 2610.0, 2550.0
Buy Stop 2855.0 Stop-Loss 2795.0. Objectives 2900.0
*) For up-to-date and detailed analytics and news on the forex market visit Tifia Forex Broker website tifia.com