The House of Representatives of the US Congress extended government funding until February 16. This is the fourth resolution on the provisional financing of the federal government. The issue of the suspension of the US government for the time being removed from the agenda.
If the Senate and the House of Representatives can not agree on the procedure for financing the government, then state institutions will be closed, and their employees will go on temporary unpaid leave. So it was already in 2013 because of the budget crisis.
The dollar received a temporary respite. Nevertheless, investors are following developments. On the second half of the trading day, the economic calendar is empty, there is no important news.
Therefore, the dynamics of the dollar will, in the main, be determined by technical analysis.
And on most charts of dollar currency pairs, the dollar is oversold. In the middle of the European session, there is already a technical correction, and the dollar is growing against most of the competing currencies, including against the pound.
After today (09:30 GMT), the UK National Statistics Office presented updated data on retail sales for December, which were worse than the previous release and forecast, the pound fell in the foreign exchange market.
In December, according to the report, retail sales in the UK fell by 1.5% with a forecast of a decrease of 0.8%. Reduction of retail sales in December was the strongest since June 2016, when the referendum on withdrawal from the EU was held. It also became the sharpest for December in seven years. This is a bad sign for the pound and the British economy, focused mainly on the domestic market. In the fourth quarter of 2017, retail sales, according to the National Bureau of Statistics, failed to make almost no positive contribution to GDP growth.
Until now, the large-scale weakening of the US currency contributed to the active growth of the GBP / USD pair after the referendum on Brexit.
The negative attitude of investors to the dollar remains, despite the adoption of new tax laws in the US and the Fed's determination to further tighten monetary policy. Most likely, after the "working off" of the upward correction, the dollar will resume its decline. And for the pound, more important than today's publication on retail sales, will be the publication of data on the wages of the British, expected next week.
*)An advanced fundamental analysis is available on the Tifia Forex Broker website at tifia.com/analytics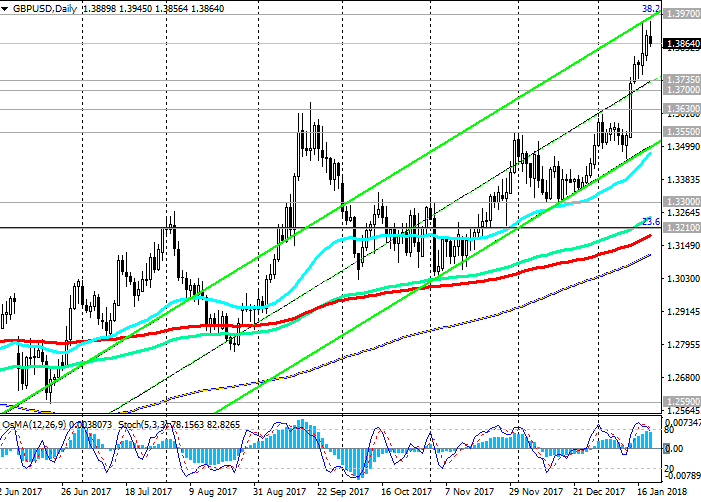 Support levels: 1.3800, 1.3735, 1.3700, 1.3630, 1.3550, 1.3420, 1.3300, 1.3210
Resistance levels: 1.3900, 1.3970, 1.4050, 1.4250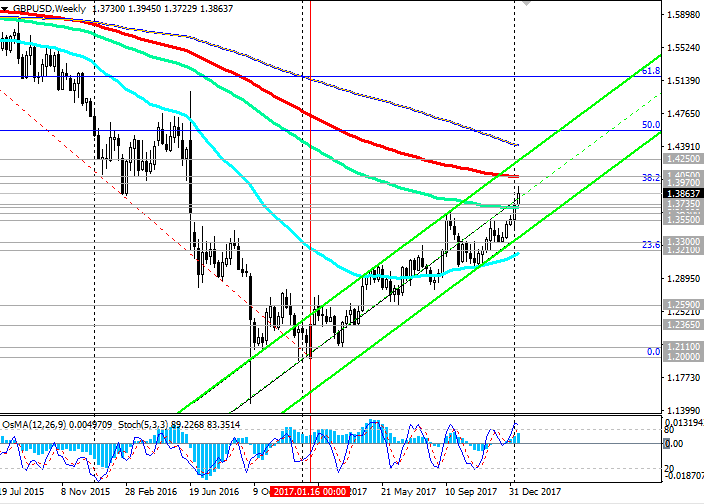 Trading Scenarios
Sell ​​Stop 1.3820. Stop-Loss 1.3910. Take-Profit 1.3800, 1.3735, 1.3700, 1.3630, 1.3550, 1.3420, 1.3300, 1.3210
Buy Stop 1.3910. Stop-Loss 1.3820. Take-Profit 1.3970, 1.4050, 1.4250
*) For up-to-date and detailed analytics and news on the forex market visit Tifia Forex Broker website tifia.com