While the dollar continues to scale down, the rally in the US stock market continues. On Friday, the main US indices reached new record highs, having successfully started in 2018.
Against the backdrop of the continued confidence of investors that companies will report again on the strong profit growth for the last quarter of 2017, the American stock market continues its rapid growth, which began in January 2016.
According to FactSet, the profits of companies from the S & P500 in the fourth quarter increased by about 11%. JPMorgan Chase & amp; Co. and Wells Fargo & amp; Co., part of the financial sector S & P500, today the first of the leading US banks will report on quarterly results. Economists expect profit growth.
Investors also continue to assess the impact of the recently adopted tax bill on the US economy.
Today, investors will follow the publication (at 13:30 GMT) of US consumer inflation data. According to the forecast, retail sales in the US are expected to grow by 0.5% in December (+ 0.8%, according to the previous release, and + 0.2% in November), CPI grew by 2.1% (in annual terms).
Nevertheless, signs of a sharp increase in inflation are still few. So, the US producer price index (PPI) for December, published on Thursday, decreased by 0.1%.
The threat that the current state of inflation may become a catalyst for the reversal of the bullish trend in the stock market is not yet relevant.
The Fed said about 3 rate increases in 2018. Nevertheless, the Fed may slow the rate of rate hikes if inflation continues to be weak and macroeconomic indicators will deteriorate. Soft monetary policy will contribute to the further growth of the US stock market. Thus, soft monetary policy, expectations of economic growth amid the new tax policy, and strong reporting by US companies continue to stimulate purchases of US stock assets.
*)An advanced fundamental analysis is available on the Tifia Forex Broker website at tifia.com/analytics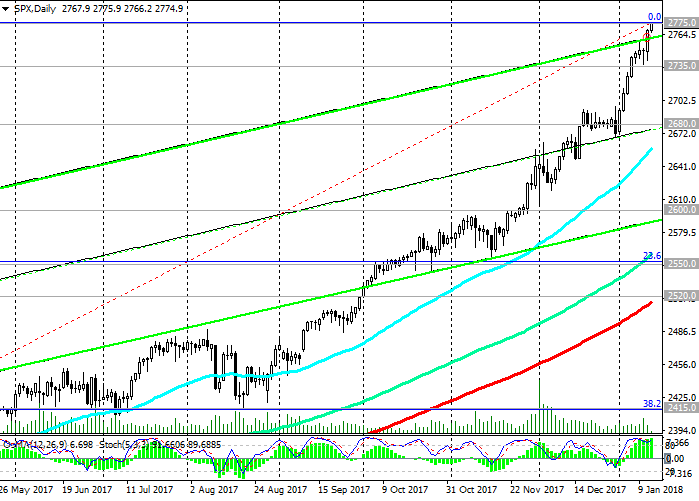 Support levels: 2735.0, 2680.0, 2640.0, 2600.0, 2550.0, 2520.0
Resistance levels: 2775.0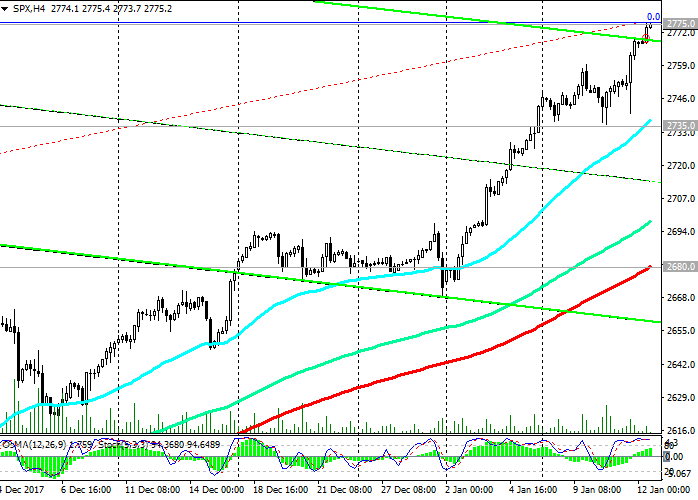 Trading Scenarios
Sell ​​Stop 2730.0. Stop-Loss 2780.0. Objectives 2700.0, 2680.0, 2640.0, 2600.0, 2550.0, 2520.0
Buy Stop 2780.0 Stop-Loss 2730.0. Objectives 2800.0, 2900.0
*) For up-to-date and detailed analytics and news on the forex market visit Tifia Forex Broker website tifia.com