TOOLS
Prometheus Trade Engine https://www.mql5.com/en/market/product/18302
Prometheus Smart Money https://www.mql5.com/en/market/product/16768
TRADE RULES & SETUP
1. WAIT for price to touch the Reversal Zone, you can set the pop up screen alert on Prometheus Trade Engine. The closer the price is to the Reversal Zone the better the entry. I personally wait for price to close inside the Reversal Zone before taking this HIGH PROBABILITY trade setup.
2. Take a REVERSAL BOUNCE trade when price has bounced off the SHORT/LONG Reversal Zone based on HIGH PROBABILITY CONFLUENCE from Prometheus Trade Engine & CONFIRMATION from Prometheus Smart Money which shows LOW smart volume cluster on retracement as well as retail volume in favor of the current trend with at least average probability to support the move. Price MUST close INSIDE/BELOW the SHORT reversal zone for a PUT OR INSIDE/ABOVE the LONG reversal zone for a CALL.
3. Below is the simple criteria that MUST be met before taking a trade:

4. Example I: REVERSAL BOUNCE - SHORT TRADE
TRADE ENTRY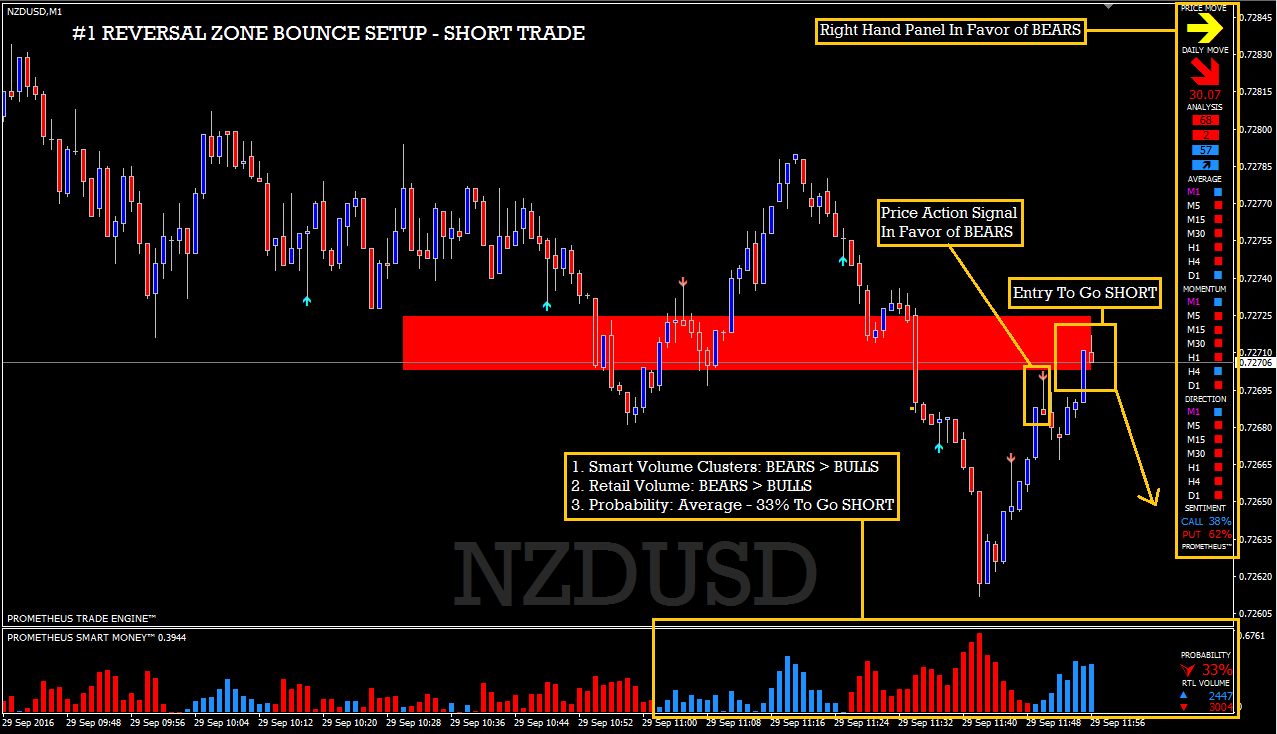 TRADE OUTCOME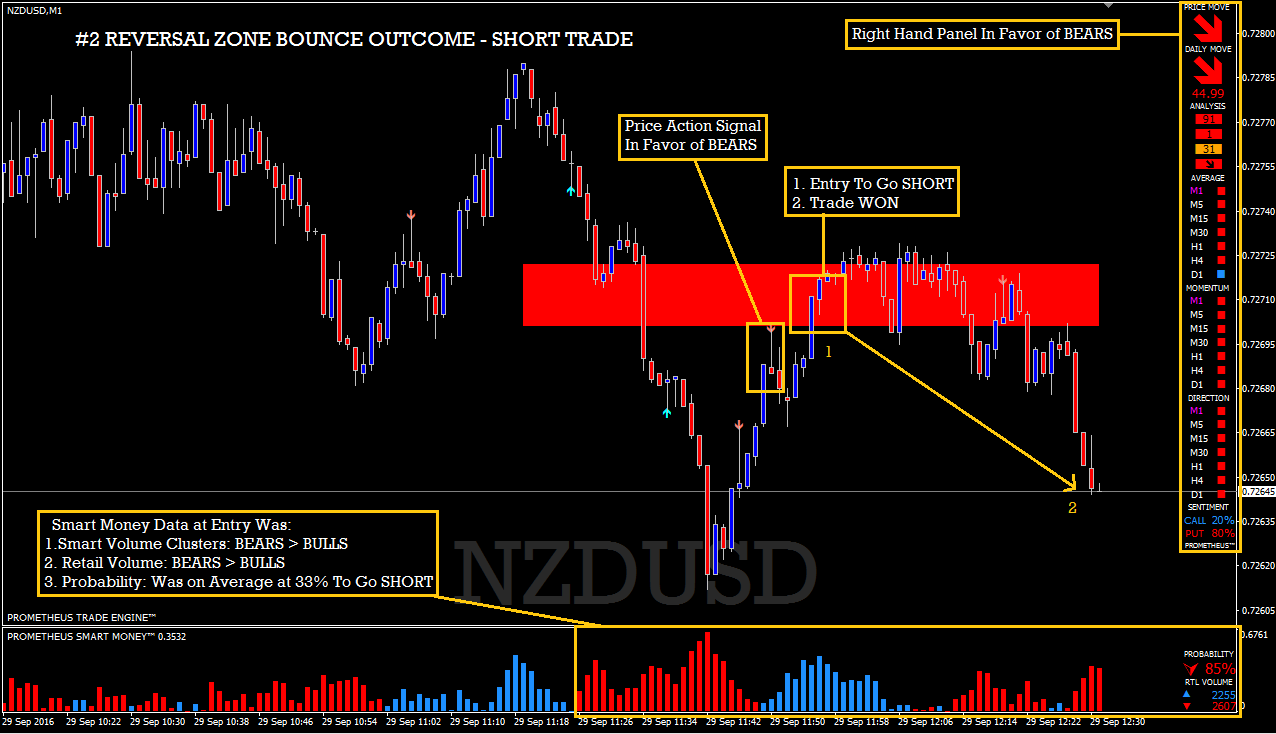 5. Example II: REVERSAL BOUNCE - LONG TRADE
TRADE ENTRY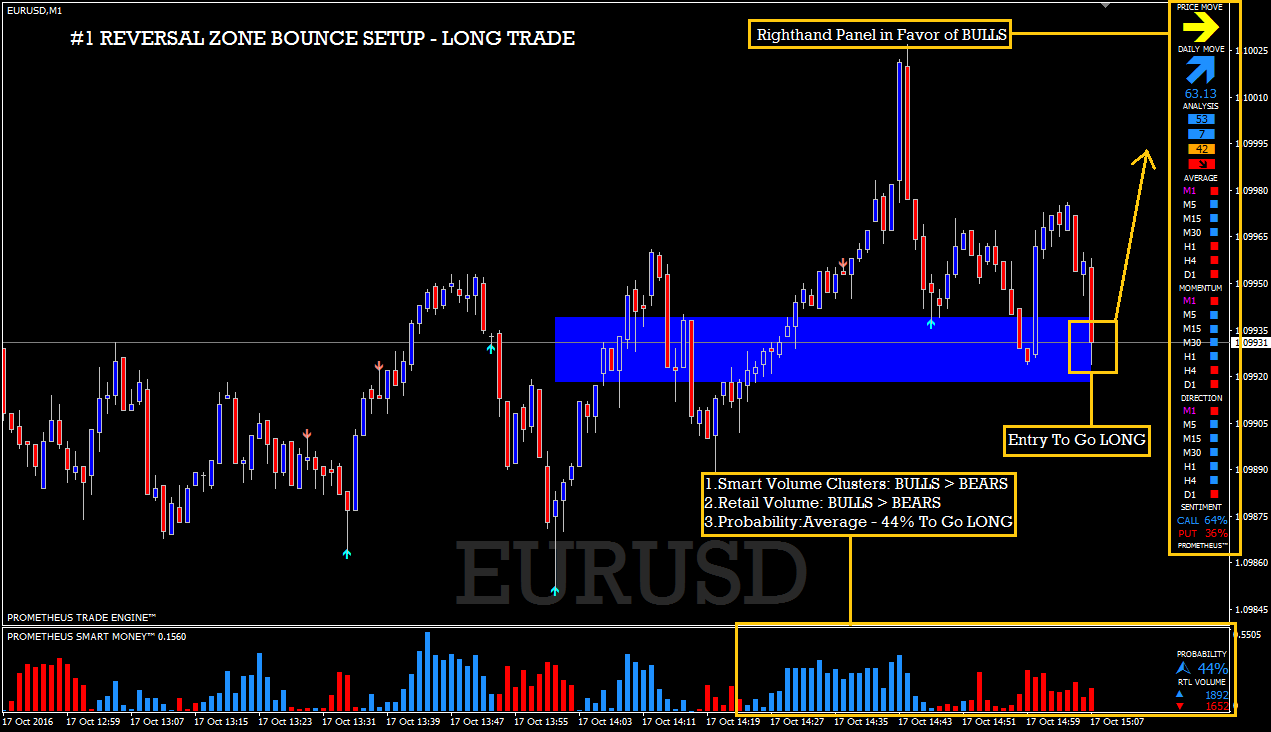 TRADE OUTCOME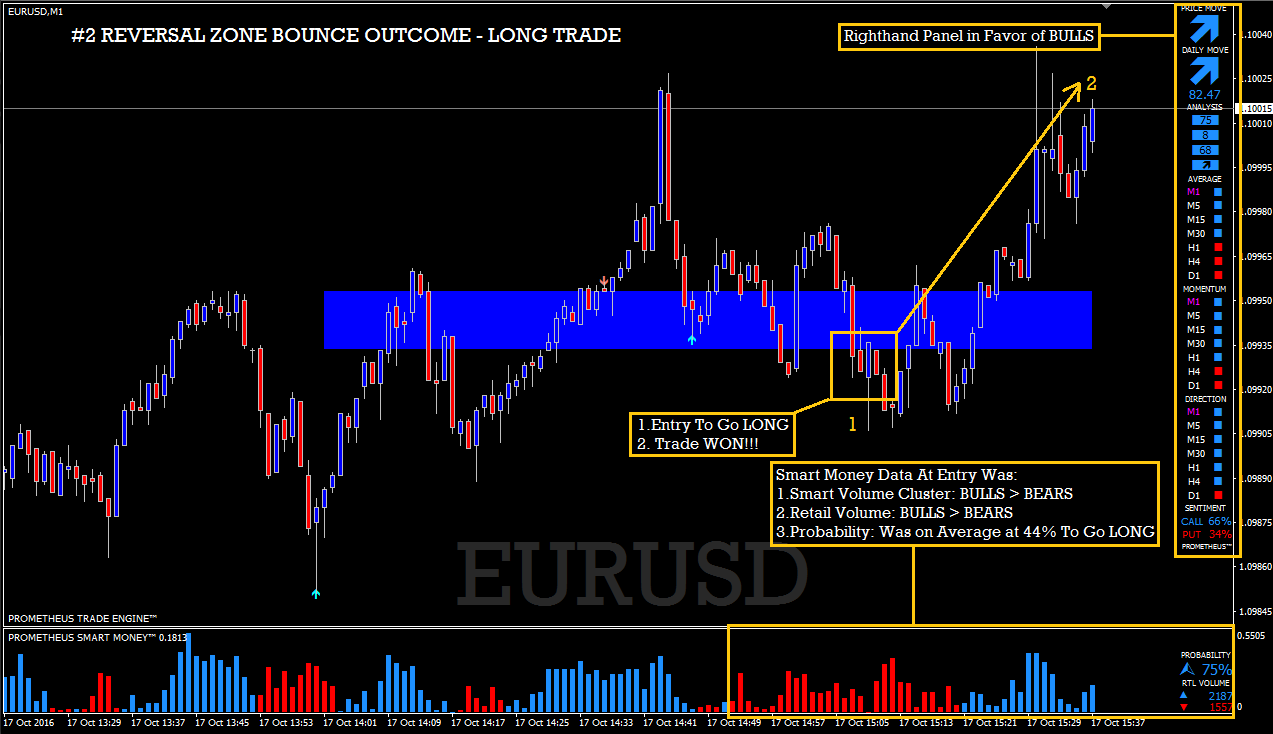 6. IDENTIFY the setup, PREDICT the next price move, DECIDE if it meets the criteria & EXECUTE the trade without hesitation.
7. If it DOES NOT meet the criteria, then DO NOT take the trade. DO NOT try to take from the market before it makes an offer but rather WAIT for the market to make an offer at the Reversal Zone and if it meets the criteria then that is when you take the trade. You will not win all setups but if you are patient to wait for ONLY this HIGH PROBABILITY trade setup then you can dramatically increase your win rate consistently over time. Past performance is not indicative of future results.
8. AVOID the Asian Session. AVOID Sideways/Choppy Market. AVOID taking trades 30 minutes before/after any MAJOR News Event, UNLESS you know how to use fundamentals to your advantage.
9. If there is NO Reversal Zone then STAY OUT of the market, this usually happens when there is a MAJOR News Event that creates spikes on your chart giving you new high and low on a single bar over the analysis period of 100 bars.
10. Ensure you have good risk management & money management in place.
NOTE: If Prometheus Smart Money DOES NOT support Prometheus Trade Engine, then DO NOT take a trade.