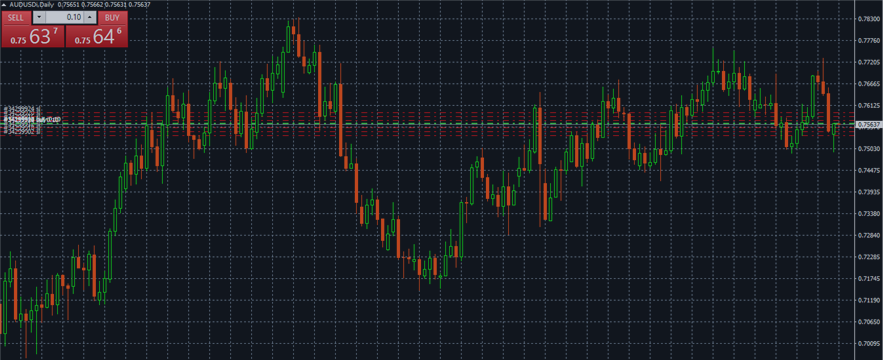 AUD/USD jumped above the 0.77 line last week, but was unable to consolidate at these levels. The pair ended the week with small losses, closing at 0.7539. This week's key event is Employment Change. Here is an outlook on the major market-movers and an updated technical analysis for AUD/USD.
The ISM Non-Manufacturing PMI sagged to 51.4 points, its worst showing since 2010. The Australian dollar briefly gained ground after the RBA maintained the benchmark interest rate. Australian GDP expanded 0.5%, close to forecast of 0.6%.
RBA Assistant Governor Christopher Kent Speaks: Monday, 22:30. Kent will deliver remarks at an event in Sydney. A speech that is more hawkish than expected is bullish for the Australian dollar.
NAB Business Confidence: Tuesday, 1:30. The indicator slipped to plus-4 in July, compared to plus -6 a month earlier. Will business confidence reverse directions and move higher in the August release?
Chinese Industrial Production: Tuesday, 2:00. Chinese key releases can have a strong impact on the Aussie, as the Asian giant is Australia's largest trading partner. The indicator dipped to 6.0% in July within expectations. The estimate for the August release is 6.2%.
Westpac Consumer Sentiment: Wednesday, 00:30. Consumer Sentiment gained 2.0% in September, after two straight declines. The markets will be hoping for another gain in September.
RBA Assistant Governor Guy Debelle Speaks: Wednesday, 9:50. Debelle will speak at an event in London. The markets will be looking for clues regarding the RBA's future monetary policy.
MI Inflation Expectations: Thursday, 1:00. This indicator helps analysts predict actual inflation numbers. The indicator dropped to 3.5% in July, down from 3.7% a month earlier.
Employment Change: Thursday, 1:30. Employment Change is one of the most important indicators, and an unexpected reading can have a sharp impact on the direction of AUD/USD. Australia added 26.2 thousand jobs in July, crushing the forecast of 10.2 thousand. The August reading is expected to be softer, with an estimate of 15.2 thousand. The unemployment rate is expected to remain at 5.7%.
AUD/USD Technical Analysis
AUD/USD opened the week at 0.7564. The pair dropped to a low of 0.7532 early in the week and then posted strong gains, climbing to 0.7732, testing support at 0.7692 . AUD/USD ended the week with sharp losses and closed the week at 0.7539.
Technical lines from top to bottom:
We start with resistance at 0.7938.
0.7835 has provided resistance since April.
0.7692 was tested last week as the pair posted strong gains before dropping sharply.
0.7597 remains an immediate resistance line and could see action early in the week.
0.7513 was a cap in May and June.
0.7438 is the next support level.
0.7334 was a cap in December 2015.
0.7192 is next.
0.7105 is the final support level for now.
I remain bearish on AUD/USD
Despite some soft Q3 data of out the US, there is a reasonable chance that the Fed will raise rates in December, so sentiment towards the greenback remains bullish.