Talking Points
JPMorgan beats top and bottom line estimates in second quarter earnings report

The outlook for the banking sector's earnings has significantly improved with the first release

Fears of ongoing Brexit fallout for banks has cooled, adding to risk appetite
Having trouble trading the US Dollar? This may be why.
The United Kingdom's Brexit vote created concerns for financial markets heading in to the 2Q US earnings season. After a strong JPMorgan earnings print, fears surrounding US banks and abroad have cooled. JPMorgan reported a revenues of $25.2 billion versus estimates of $24.16 billion and an EPS of $1.55 versus the $1.44 analyst estimate.
While most United States banks still have to report their earnings, the positive showing from this particular industry leader helps bolster the perceived strength in the sector; and their share prices reflected as much. Through Thursday's close, Citigroup (C) jumped by 3 percent; Morgan Stanley (MS) rose by 2.5 percent; Goldman Sachs (GS) and Bank of America (BAC) grew by 2.1 percent; U.S. Bancorp advanced (USB) 1.5 percent; and Wells Fargo (WFC) ended up by 1.4 percent.
| | | | |
| --- | --- | --- | --- |
| Report Date | Report Time | Company | Estimated EPS |
| July 15, 2016 | Before Market Open | Citigroup (C) | $1.10 |
| July 15, 2016 | Before Market Open | U.S Bancorp (USB) | $0.80 |
| July 15, 2016 | 08:00 am ET | Wells Fargo (WFC) | $1.01 |
| July 18, 2016 | Before Market Open | Bank of America (BAC) | $0.33 |
| July 18, 2016 | Before Market Open | Charles Schwab (SCHW) | $0.30 |
| July 19, 2016 | Before Market Open | Goldman Sachs (GS) | $3.08 |
| July 20, 2016 | Before Market Open | Morgan Stanley (MS) | $0.60 |
With this strong boost in the outlook for the U.S. banking sector, fears surrounding spillover risks from inEurope and the U.K. may cool for the time being. Recently, the UK's vote to withdrawal from the European Union set off global contagion concerns. That has been further exacerbated by reports that some Italian banks are facing worryingly large holdings of bad loans that could also set off a global fallout. Strong U.S. earnings helps to soothe those fears. It further improves the appeal for U.S. markets and perhaps even the Dollar. Furthermore, if this creates a positive outlook for investors near-term, we may see a higher appetite for risk taking; which can lift higher-yielding currencies like the Australian dollar.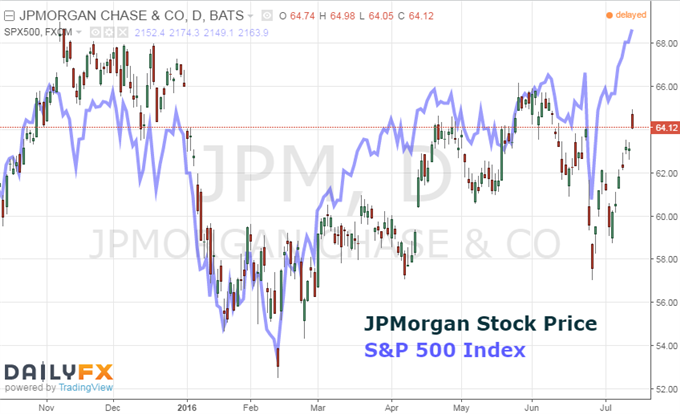 The banking and financial sector are particularly important in current market conditions given the list of global concerns that have surfaced. However, the broader US corporate earnings session will offer an important health check for the economic health of the world's largest economy. Major corporations from the staples, technology, biotechnology and other key sectors will prove a report card for both general fundamental health as well as the fuel for speculative appetite in the investment community that has charged benchmarks like the S&P 500 to record highs this week. Some of the most headline-familiar companies earnings report dates and times along with earnings-per-share (EPS) estimates are listed below.
| | | | |
| --- | --- | --- | --- |
| Report Date | Report Time | Company | Estimated EPS |
| July 26, 2016 | 2:00 p.m. / 5:00 p.m. ET | Apple | $1.39 |
| July 28, 2016 | N/A | Amazon | $1.14 |
| July 28, 2016 | After Market Close | Google Alphabet | $4.93 |
| July 19, 2016 | Before Market Open | Johnson & Johnson | $1.67 |
| July 22, 2016 | Before Market Open | General Electric Co | $0.46 |
| Aug 18, 2016 | Before Market Open | Wal-Mart Stores | $1.02 |
| Aug. 02, 2016 | Before Market Open | Proctor and Gamble | $0.74 |
| July 29, 2016 | Before Market Open | Exxon Mobil Corp. | $0.65 |
| Aug. 02, 2016 | Before Market Open | Pfizer | $0.63 |