EUR/USD Forecast: Nearing a Bearish Breakout
The EUR/USD pair ends in the red for a fourth consecutive week, as hopes of an upcoming US rate hike next June continued dominating market's sentiment. Macroeconomic releases coming from the world's largest economy have been generally positive, although suggesting growth in the country is still tepid, and not enough to guarantee a FED mode next month.
Nevertheless, the common currency has lost its charm, and when the greenback weakened, investors preferred to put their bets somewhere else. During the upcoming week, both economies will release multiple reports that can shed some light over the their health, and therefore the market may become a bit more interesting than this previous days, when trading was utterly choppy.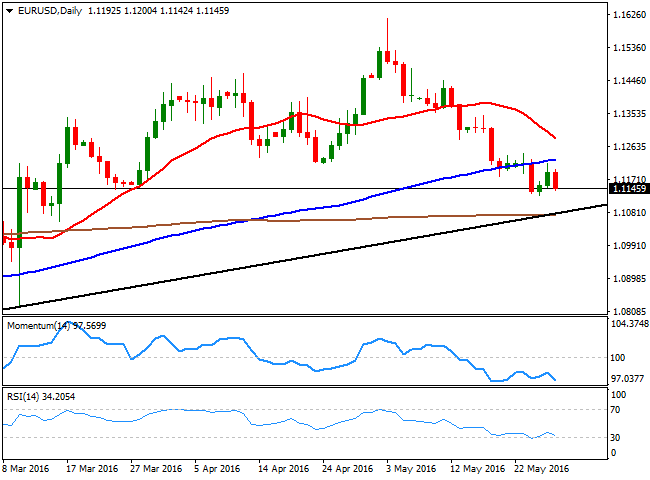 The technical bias is bearish, as in the weekly chart, the pair retreated further lower after topping around its 100 SMA, whilst its now poised to end the week below the 20 SMA for the first time since late January. In the same chart, the Momentum indicator is flat around 100, but the RSI heads south around 49, indicating an increasing downward momentum.
In the daily chart, the pair developed below its 100 DMA pretty much since the week started, while the 20 SMA heads sharply lower far above the current level. Technical indicators in the mentioned chart have turned back south within negative territory, but lack enough momentum to confirm a steeper downward move. In this last time frame, a daily ascendant trend line coming from November 2015 low converges with the 200 DMA around 1.1080, making of the level a critical support, as a break below it should fuel the decline and see the pair extending to 1.1000 during the following sessions. Is not yet clear that the pair can break below this last, but in the case it does, it has scope then to extend its decline down to 1.0860.
The upside is being limited by selling interest at 1.1200, but it will take a break above the 1.1280/90 region to see the upward movement extending up to 1.1360. Selling interest however, seems strong on spikes and extreme cautious is advice when aiming to go long.