EUR/USD Forecast: Dollar Gains, but Can it Last?
The EUR/USD pair fell for a second consecutive week, extending the retracement from the year high at 1.1615, down to the 1.1300 region. The common currency was under pressure even though there were no major market catalyst until this Friday. The dollar got a boost from strong Retail Sales figures that surprised to the upside, rising more than expected when the market was betting on a soft reading, and an uptick in Consumer confidence in April, up to 95.8 against previous 89.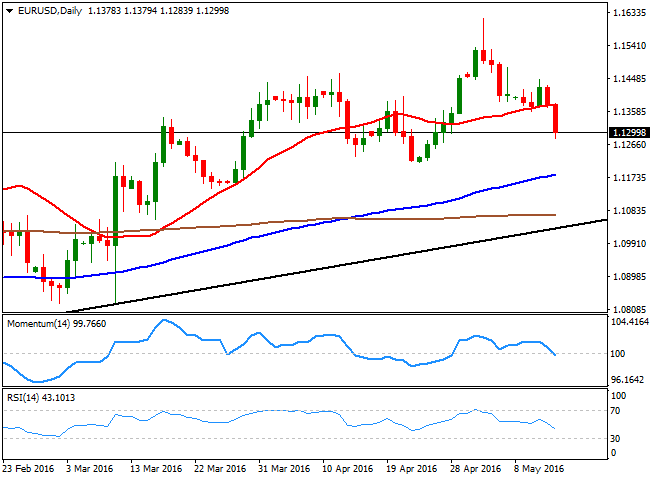 The dollar gained in an uncertain market, as uncertainty was the one and only reason behind these days' moves. Will the FED raise rates in June? or the BOJ ease, or Britain leave the EU? Has the worldwide economic slowdown ended, or is it just worsening in the Q2? None of those questions have a clear answer, and none will get an easy one any time soon. All eyes are now in June, with hopes that things will be clearer then.

The upcoming week will be quite interest anyway from the fundamental point of view, as several major economies will release employment and inflation data, which can begin to clear the clouds, but don't bet too much on it. Overall, worth noticing that most of dollar gains have been not because of a strong self macroeconomic background.

From a technical point of view, the risk remains towards the downside for the EUR/USD pair for this upcoming week, as in the daily chart, the price has accelerated below its 20 SMA, whilst the technical indicators have crossed below their mid-lines, although some additional follow-through would confirm the decline. Nevertheless, the pair is well above a daily ascendant trend line, while the 100 DMA, stands around 1.1180, above the 200 DMA and with a nice upward slope, being the probable bearish target on a break below 1.1250. The decline can extend down to 1.1120, the probable bottom for next week, if the dollar keeps rallying.

The 1.1400/20 region is the immediate resistance, followed by 1.1460 a strong static resistance level. Gains above this last are unlikely, but if somehow market enters in dollar's sell-off mode, the rally can extend beyond 1.1500.