Elliott Wave Analysis of EUR/NZD for May 6 - 2016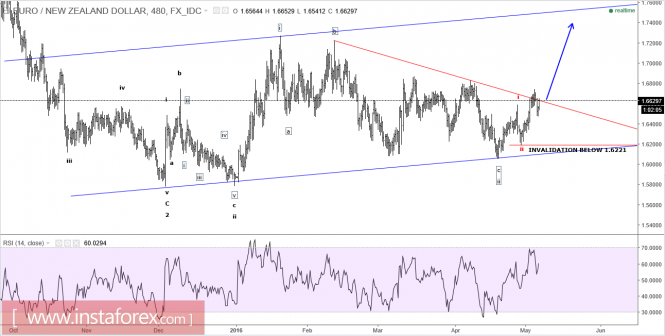 Wave summary:

EUR/NZD is still trying every dirty trick in the playbook to wipe us out. With a quick and deeper than expected correction to 1.6479, the next strong rally should now be expected for a break above minor resistance at 1.6745 for a continuation higher to 1.7220 and 1.8405 in the longer term.

In the short term, we will ideally see strong support at 1.6575 protect the downside for the break above 1.6745 confirming a continuation higher.

Trading recommendation:

We are long in EUR from 1.6315 and will move our stop higher to 1.6475. If you are not long in EUR yet, then buy near 1.6575 or upon a break above 1.6745 and use the same stop at 1.6475.

The material has been provided by