Elliott Wave Analysis of EUR/NZD for May 4 - 2016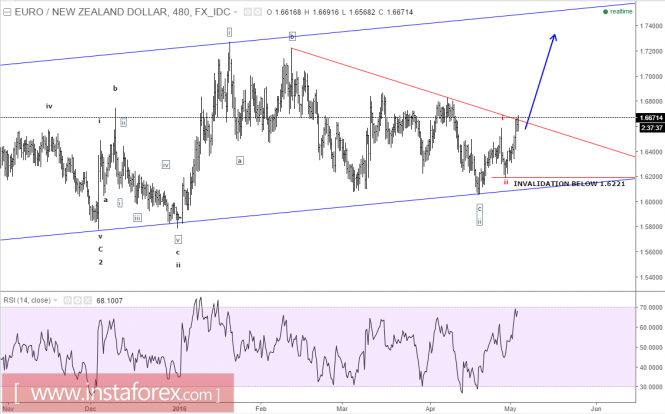 Wave summary:

We are finally seeing some upside acceleration. We are still and have for a long time now been looking for this acceleration. We do expect much more upside acceleration to be seen but have been disappointed so many times now that we will like to see the real proof. This comes in the form of a break above resistance at 1.6874 and, more importantly, upon a break above 1.7273 that would call for a continuation towards 1.9567 in the longer term.

In the short term, we expect minor support at 1.6560 will be able to protect the downside for a test of resistance at 1.6874.

Trading recommendation:

We are long in EUR from 1.6365 and will move our stop higher to 1.6415 securing a profit no matter what happens. If you are not long in EUR yet, then buy near 1.6560 or buy a break above 1.6692 and use the same stop at 1.6415 expecting to move your stop higher soon.

The material has been provided by