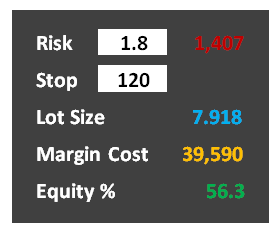 Panel inputs and calculations explained:
1] This panel includes common forex calculations in one easy to use panel.
2] User inputs are shown in the two white boxes: Risk and Stop.
3] Based on those two inputs the panel automatically calculates items shown in red, blue, orange and green.
4] All calculations are given in the denomination used by the account.
Risk
risk percentage; input the percentage (please allow for decimals: eg., 0.5,1.2,1.7,1.8 etc) of
account balance to be risked for the trade and the panel shows the dollar value in red (
without
cents).
Stop
the distance between the open price and the stop loss; entered in points not pips
Lot Size
using risk percentage and stop loss points, the lot size is calculated in blue
Margin Cost
shown in orange ( withoutcents) and based upon the lot size and accounts leverage ratio
Equity %
this tells me that the Margin Cost of the trade (in the panel example) uses 56.3% of the account equity
*the calculation does not need to consider trades already queued or filled
*please include decimals in this calculation
*if the Margin Cost happens to be greater than the account equity, perhaps leave Equity % blank or show the percentage, for example 112.6%
Panel functionality and design:
The remaining specifications can be found in the pdf at this link,
https://drive.google.com/file/d/1Obzyv9PD_7A08J0ulvibKKEouoo5Fjq-/view