Interesting script?
So post a
link
to it -
let others appraise it

INDICATOR Breakout Strength Meter - MT5 - indicator for MetaTrader 5
Views:

14625

Rating:

votes: 19

Published:

2021.02.02 17:44

Updated:

2021.03.13 11:07
You are missing trading opportunities:

Free trading apps
Free Forex VPS for 24 hours
Over 8,000 signals for copying
Economic news for exploring financial markets

If you do not have an account, please

register
REMARK: For this to work perfectly, you must have high speed internet and a high quality Computer. Otherwise, it will not work for you.
INTRODUCTION :
The breakout strength meter is a trading tool that is used to identify which currencies are the strongest to breakout, and which currencies are the weakest to breakout.
Don't hesitate to send all your comments and I would appreciate rating this trading tool.

HOW TO USE IT :

You can check the following video that will explain how to

define and see how a breakout strength meter works.
use this trading tool to confirm real and fake breakouts (the most important part)
compile the script in MT4 or MT5.
You can also check the following video. It is about Currency Strength Meter
SCREENSHOT :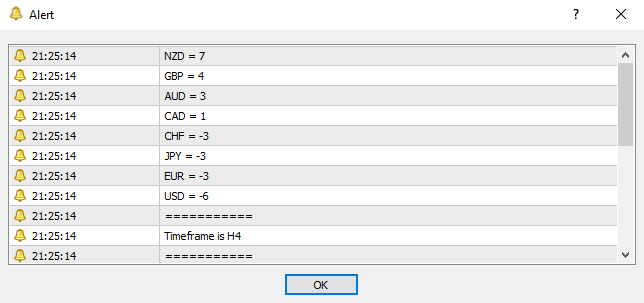 Spread data collector
This EA collects information about the spreads and Shows the number of spreads in the specified range based on the ticks that occur each year.
Database Wrapper
This is a wrap for using databasexxx
gnome sort - array sorting algorithm
gnome sort is based on the technique used by the dutch garden gnome
introsort - array sorting algorithm
hybrid sorting algorithm that provides both fast average performance and (asymptotically) optimal worst-case performance