I want to share with you this story. When I started trading, I learnt the scalping strategy in a volatile market. I really loved scalping especially when I see the price is moving fast. However, scalping for a long period of time is exhausting to me especially in a volatile market; volatile market requires fast analysis, actions and reactions; that is why I always reach a point that I loss concentration, focus and I start making those really stupid mistakes.
That is why I created this indicator that helped me to automatically identify these potential entries (based on the formation of candlesticks) instead of doing all the work myself. I know there are plenty of Metatraders who also suffer from this and that is why I would like to share this indicator with you, hopefully it will be beneficial.
Do not forget to send you comments as well as rate these scripts. Happy trading!
Click here to watch how to compile the indicator and test it
P.S. This indicator is for free, and I would like to kindly ask you in return to follow me on MY INSTAGRAM since it has plenty of useful information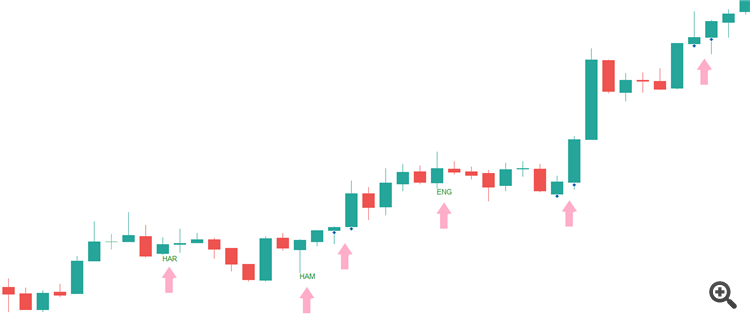 This indicator:
* has one input that will allow you to specify if you want to identify potential entries on bullish or bearish trends (i.e. it is up to you to choose bullish trend or bearish trend).
* If you choose bullish trend, this indicator will identify potential bullish entries based on the formation of these candlesticks:
Bullish Hammer (HAM),
Inverted Hammer (IVH),
Bullish Engulfing (ENG),

Bullish

Harami (HAR),
Morning start (MOS) and
Bullish Building Momentum
* If you choose bearish trend, this indicator will identify potential bearish entries based on the formation of these candlesticks :
Shooting Star (SHS),
Hanging Man (HGM),
Bearish Engulfing (ENG),
Bearish Harami (HAR),
Evening Start (EVS) and
Bearish Building Momentum)