check full version with no EA termination and ALL pairs:
https://www.mql5.com/en/market/product/35230
https://www.mql5.com/en/market/product/35229
(this EA can be tested ONLY FOR BUY SIGNALS in EURUSD)
Pls leave a review if or not like it with an explanation.
Thank you in advance!

WHAT a trader thinks when he start trading?
What should i do if it goes against me?
If it goes in my favour when it is time to close it?Is it now a good time or i miss a good ride?
These questions i tried to answer-solve with this EA.
FIRST you need to do something manual.
We all know some basics,,right?
OPEN a chart and attach two indicators in the 30min TF,
(STOCHASTICS 500,50,75 and MACD 12,26,9).
Spot when the stoch is equal or lower the 10 level,
Then look for a divergence in MACD(a lower point in the chart but the MACD is getting higher)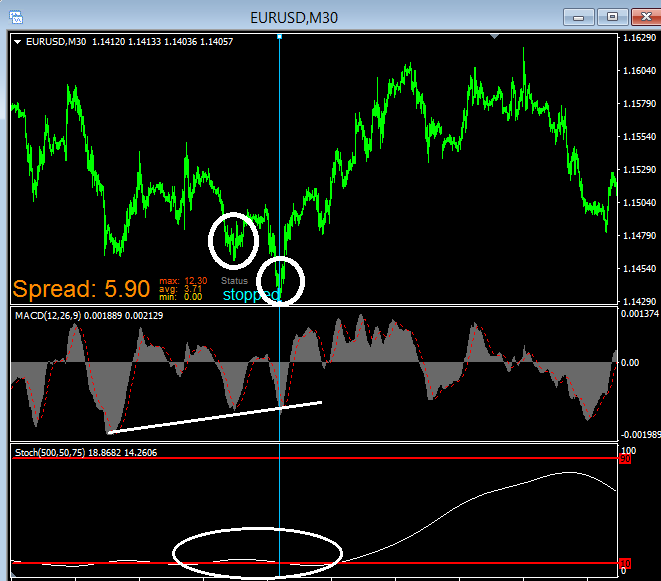 NOW attach the EA in the 1min or 5min chart,

change the value 3 to 50

and the rest it is his job.
It will open a position when the conditions are met and then it will take it as much higher as it can based on a number of factors.
IF we are wrong,it will open a second one and if we are much more wrong a third one etc...BUT it will search the right time to close the positions with no loss and with a small profit.
AFTER that it will start from the beginning to find the right spot to RIDE the wave.
IF there is no need for a second position,it will ride it as much as it can and THEN THE EA will STOP,so you can search manually again and you will not have to worry if the trend changed.