This Guide solves 95% of the problems encountered with Technical Indicators and Expert Advisors.
These are the steps I personally take when a user contacts me and writes: "The EA don't open trades" or "The indicator does not appear on the chart" or "The EA is removed from the chart immediately"
Note: If you have yet to install the Indicator or Expert advisor, you must first go to the "Installation Guide"
Checklist

1) Wait: The EA needs to find a signal and this can take 24-48 hours
The indicator may take a few seconds to appear on the chart for the first time
2) Autotrading button: must be On to allow trades

moreover, your EA's face must be happy, if it is not happy, you must remove and insert your EA in the chart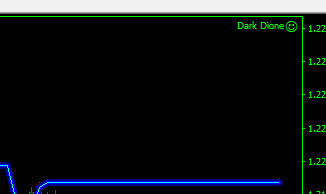 3) Check the "Experts" and "Journal" tab for error messages. (bottom of MetaTrader)
Find the list of error codes here. Some errors can be caused by the user or broker.
For example, the EA may have failed to trade because your broker receives a requote, which means it is not accepting trades. Maybe you are logged in with the investor password.
These logs will inform you why the EA is not behaving as expected.

4) Do you have active internet? Remember that an internet connection is required to work on MetaTrader platform
5) The platform appears to be frozen: try restarting it
6) Insufficient balance: check if you have entered a lot too high for your amount of capital
7) Spread is too high: with a high spread, max spread could prohibit the EA from opening trades, so you have to increase Max Spread amount, or use a broker with better spreads
RECOMMENDED BROKER FOR OUR EA AND INDICATORS
8) Rare trading conditions: Check carefully the settings you are using, in fact the conditions you have set may be too strict, so the EA could open for example only 1 trade per week or per month.
Check also the timeframe and pairs are you using.
9) Your MetaTrader must be On 24H a day to run an EA
For this reason I recommended you to rent a Vps.
The Virtual Private Server is a sort of PC, located in a datacenter, always on and online.
Inside this PC you can install the trading platform and enter anything you want.
I recommend you to use a reliable provider and with windows OS, like this: https://t.me/darktradingchannel/76
10) Check if you use Wrong Trading Instruments: Some brokers adopt EURUSD.ecn or other types of suffixes.
You can therefore have EURUSD and EURUSD.ecn in the same account.
Usually 1 can accept trade, the other 1 can't.
Right Click -> Show All (Above any Pairs)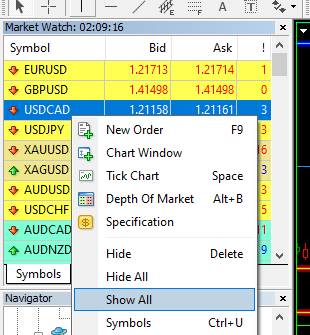 11) Delete the Indicator or EA from the platform and reinstall it: sometimes users carry the product file from one platform to another, or from the computer to another, this often does not work, the solution is to delete and re-install it from the mql5 site or from the platform you are using (logging on mql5 )
12) Invalid License: If you receive the "Invalid licenses" error, this means that the product has not been installed correctly. To fix, you need to delete the product and reinstall it from your platform. You can find my installation guide link at the top of the page.
If you still haven't found the solution to your problem, check out the Update Guide. In fact, your version may be outdated, and the problem you are experiencing may have already been solved. Thanks