THE NEW EA MONSTER VERSIONS REQUIRE ALL NEW SETTING FILES - DELETE YOUR OLD ONES
CONTACT ME FOR UPDATED SETTING FILES PLEASE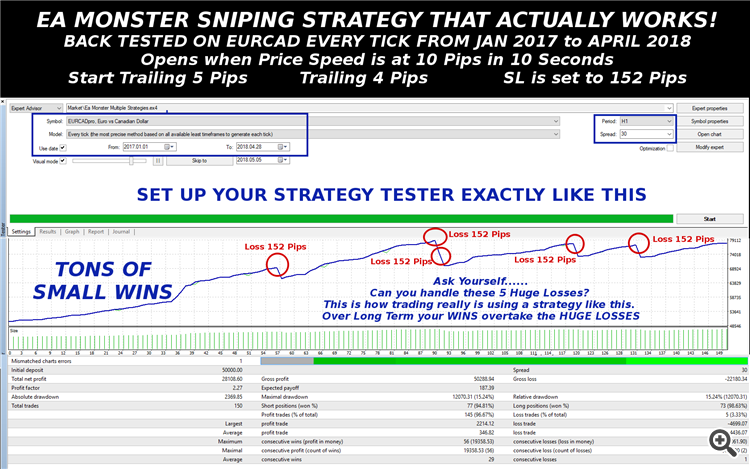 DOWNLOAD THIS EA AT THIS LINK:
https://www.mql5.com/en/market/product/21797

CLICK HERE FOR THE DESTROY THE ODDS AUTOMATED TRADING WEBSITE


AT THIS LINK DOWNLOAD TICKSTORY TICK DATA AND IMPORT INTO YOUR MT4 SOFTWARE FOR MUCH BETTER BACK TESTING
https://tickstory.com/download-tickstory/

I AM NOW OFFERING TO HELP YOU OPTIMIZE YOUR SETTING FILES THROUGH TEAM VIEWER AND SHOW YOU HOW TO MAKE YOUR OWN SETTING FILES
Private Message me if you want me to jump into your desktop and show you how to optimize and test for best results
DOWNLOAD TEAM VIEWER HERE: https://www.teamviewer.us/
IF THIS DOES NOT WORK WELL ON YOUR BROKER CHANGE 10 PIPS to 20 PIPS IN 10 SECONDS OR 30 PIPS IN 20 SECONDS ETC.
TEST DIFFERENT SETTINGS ON DEMO ACCOUNTS BEFORE USING A REAL MONEY ACCOUNT.

ATTACHED ARE SET FILES ALREADY MADE FOR YOU TO TEST. SPEED SPECIFIED IN FILE NAME.

EVERY BROKER WILL GIVE DIFFERENT RESULTS WITH THIS STRATEGY.
ALSO A NEW 20 PIPS PER 1 SECOND SETTING FILE ADDED HERE TO TEST ON ANY CURRENCY PAIR.
CHANGE IT TO MATCH YOUR BROKER LAG AND TEST TEST TEST ON DEMO FIRST!!!
20 PIPS IN 1 SECOND WILL ONLY BACK TEST WITH TICKSTORY TICK DATA