The newly exacerbated threat of the emergence of world trade wars provoked another decline in world stock markets. So, the US DJIA index lost 2.9% on Thursday, which was its worst one-day percentage drop since February 8, the S&P500 fell 2.6% and lost all growth this year, the Chinese Shanghai Composite Index lost 3.4%, while the Shenzhen Composite dropped 4.3%.
European indices are also under pressure. For example, the European EuroSTOXX50 opened today's trading day with a gap down after yesterday's sharp decline of 2.1%.
In Europe, the decline was led by the core resources sector. Shares of the steel company Outokumpu Oyj fell 4.8%. The decline in government bond yields led to a pullback in the banking sector.
So the world stock indexes reacted to the new restrictive actions of Washington. Restrictive measures were taken by China. On Thursday, US President Donald Trump signed a memorandum on the introduction of charges for the import of goods of Chinese production for a total of $ 60 billion. The restriction also concerns the access of Chinese business to American technologies.
Previously, the US imposed import duties on steel and aluminum at 25% and 10%, respectively. Today these duties have come into force.
Protectionist actions of the White House cause sharp criticism from the leaders of the world community. So, Japan's trade minister Hiroshige Seko said today that "This measure is extremely unfortunate". "If we respond to the steps taken by the United States by a series of retaliatory measures, this could indeed lead to the collapse of the free trade system", Seko added.
South Korea, the EU, Australia and some other countries, including those belonging to the NAFTA (Canada and Mexico), are temporarily exempted from these duties.
The US action was a response from China, which announced the introduction of duties on goods from the US, and alarmed markets in Asia. The Chinese Ministry of Commerce today announced that it will return duties on imports of American goods, including pork and processed aluminum, in the amount of $ 3 billion. On Friday, the Nikkei Stock Average closed with a decline of 4.5%, and the yen asylum currency rose against the dollar to its highs since 2016. Stock indexes of South Korea, China and Hong Kong decreased by more than 3%. Hong Kong's Hang Seng Index fell 2.8%. Earlier, the EU also announced the introduction of restrictive measures to import a number of American goods. In response, Trump threatened to introduce import duties on European cars.
Negative news will continue to rock the markets.
Today, traders will be focused on the publication at 12:30 (GMT) of important macro data on the US and Canada, which will increase the volatility of trading in financial markets.
However, investors will evaluate US protectionist actions against their trading partners. It is likely that in the foreseeable future, the mood in the markets is likely to be negative.
*)An advanced fundamental analysis is available on the Tifia Forex Broker website at tifia.com/analytics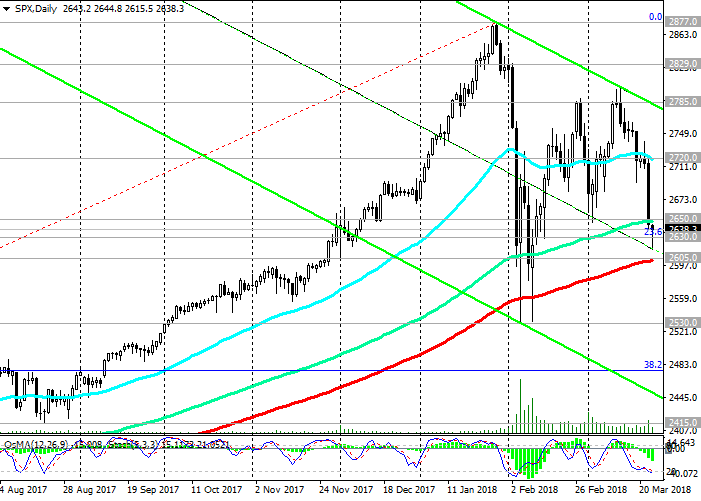 Support levels: 2630.0, 2605.0, 2530.0
Resistance levels: 2650.0, 2720.0, 2785.0, 2800.0, 2829.0, 2877.0, 2900.0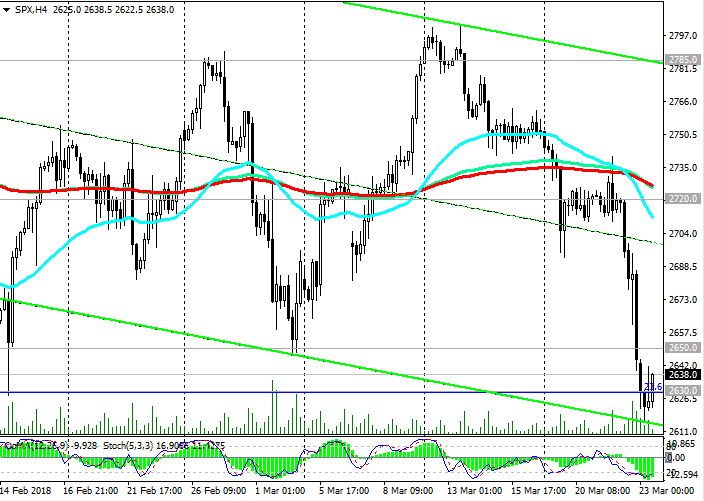 Trading Scenarios
Sell ​​Stop 2615.0. Stop-Loss 2660.0. Objectives 2605.0, 2530.0
Buy Stop 2660.0. Stop-Loss 2615.0. Objectives 2720.0, 2785.0, 2800.0, 2829.0, 2877.0, 2900.0
*) For up-to-date and detailed analytics and news on the forex market visit Tifia Forex Broker website tifia.com