On Tuesday, when the next meeting is held, the RB of Australia is likely to maintain the current level of the interest rate unchanged (1.5%).
After the previous meeting of the RBA (February 6), a number of macro statistical indicators worsened: inflation expectations and consumer sentiment deteriorated, and the level of retail sales decreased, the labor market deteriorated, and the trade balance deficit doubled.
In a recent speech to Parliament, the Reserve Bank of Australia Governor Philip Lowey said that he "would prefer a lower exchange rate". In his opinion, "there is no reason to raise rates in the short term". Lowey noted that "inflation remains low," although "business sentiment is improving".
The key rate of the RBA remains at a record low of 1.5% for the RBA since mid-2016, and economists believe that the central bank will not change it after 2019.
The Reserve Bank of Australia predicts the retention of slow inflation and the inability to achieve full employment over the next few years.
According to Philip Lowey, "the strength of the Australian dollar reflects the weakness of the US dollar". The Australian dollar remains largely a commodity currency, and an increase in world commodity prices against the background of the weakening of the US dollar, contributes to the growth of the Australian dollar.
The reasons for changing the current monetary policy in the RBA do not see. The RBA's decision on the interest rate, in practice, will not have a noticeable effect on the Australian dollar. But data on China's foreign trade balance (in February) will be published on Thursday (00:30 GMT) may have a much greater impact on the Australian dollar. China is Australia's largest trade and economic partner and buyer of its primary commodities (primarily iron ore, liquefied gas, and agricultural products). The decline in Australian imports to China could have the most negative impact on the Australian dollar.
This week, investors will also follow the publication on Friday (13:30 GMT) of data from the US labor market (for February). The publication, as expected, of strong values will strengthen the position of the US dollar and give the Fed an extra trump card in the execution of the planned plan to further tighten monetary policy in the US. The different focus of monetary policy in the US and Australia will be the main most important long-term factor in favor of weakening the AUD / USD.
From the news for today, we are waiting for the publication at 14:45 and 15:00 (GMT) of indicators of business activity in the US services sector for February. Despite the expected slight decrease, the indices remain well above the 50 mark, which is a positive factor for the USD.
*)An advanced fundamental analysis is available on the Tifia Forex Broker website at tifia.com/analytics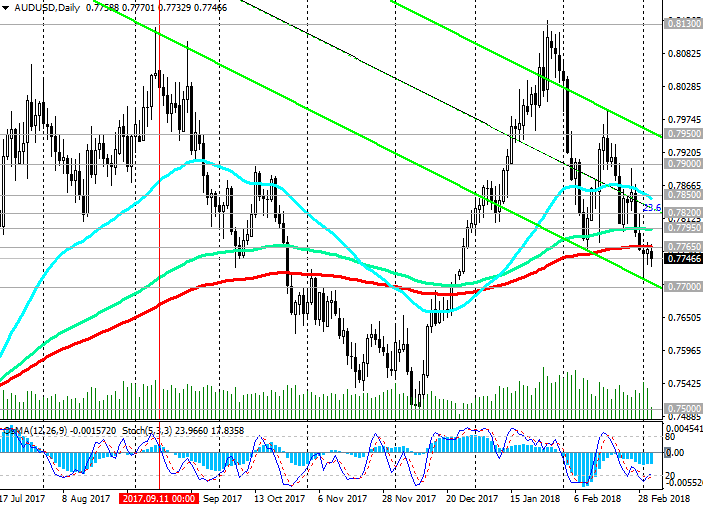 Support levels: 0.7700, 0.7620, 0.7500, 0.7330
Resistance levels: 0.7765, 0.7795, 0.7820, 0.7850, 0.7900, 0.7950, 0.8000, 0.8100, 0.8130, 0.8200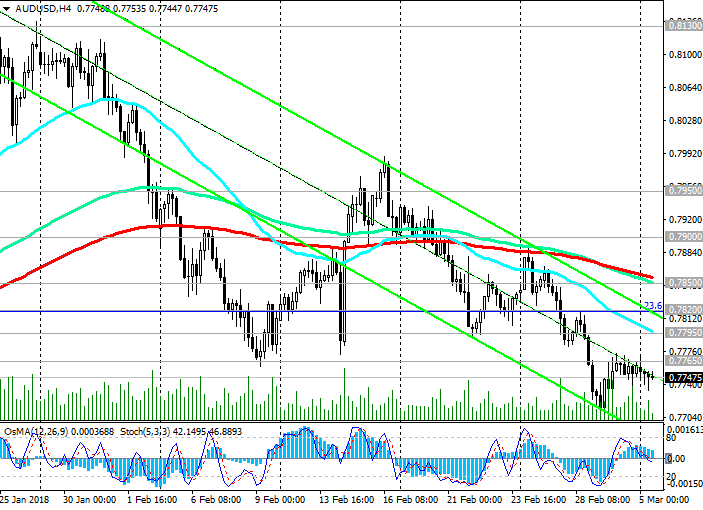 Trading Scenarios
Sell ​​Stop 0.7730. Stop-Loss 0.7775. Take-Profit 0.7700, 0.7620, 0.7500, 0.7330
Buy Stop 0.7775. Stop-Loss 0.7730. Take-Profit 0.7795, 0.7820, 0.7850, 0.7900, 0.7950, 0.8000, 0.8100
*) For up-to-date and detailed analytics and news on the forex market visit Tifia Forex Broker website tifia.com