NightTriple v1.1
This Expert Advisor trades during periods of low market movement. During that period prices generally tend to make side ways movement, so the EA enters in the contrary direction of the identified trend.
Trades duration depends on many factors ranging from minutes to days. Trades can be exited either by Take Profit or by Stop Loss, trailing stop can also be used.
The only currency recommended for this system is EURCHF and it is designed for M5 and M15 timeframes.
It is also very important to have a broker with good spreads specially during the night. ECN accounts are recommended since they help with periods of low market activity like the nights.
Disconnecting the related pairs in the days with major events is also recommended. For instance, the drawdown depicted on the chart could be avoided if the EA had been stopped during the news release.

You can download the demo version here:
https://www.mql5.com/en/market/product/20926#full_description
Parameters
Moving Average Period (1, 2): Number of days used to calculate the Moving Average
Indicator Period: Period of the indicator used to find turning points
Hour to Start: Time to begin trading
Hour to Stop: Time to stop trading
Stop Loss Market (1, 2, 3): Stop Loss for market orders
Take Profit Market (1, 2, 3): Take Profit for market orders
Trailing (1, 2, 3): Trailing stop
Points to Activate: Points to activate trailing stop
Distance Between Orders: Distance between orders
Account Percent: Account percent used in each trade
Fixed lotsize: Set to 0 if you want to use account percent
Magic Number: Magic Number. If you want to use multiple currencies in one account, set different values for each currency
Spread Filter: Spread filter for market orders
Points to Pass: Used to adjust the order distance from prices
Trend Filter: use or not trend indicator to filter out trades
Trend Period: in case "Trend Filter" is set to true, this parameter defines the indicator period
Trend Deviation: in case "Trend Filter" is set to true, this parameter defines deviation limit to be considered a trend. Default = 0.02
ATTENTION: The hour to start and hour to stop parameters are adjusted to GMT+1, so you have to adjust to your broker's GMT.
If you want to replicate the results of this backtest, just use the MetaQuotes-Demo. The GMT is the same. Just remember to download the new data, just like on the picture below. You can access this window by using the shortcut F2, or clicking on Tool > Historical Center. Select the currency on the left (EURCHF) and click on Download or recalculate timeframes.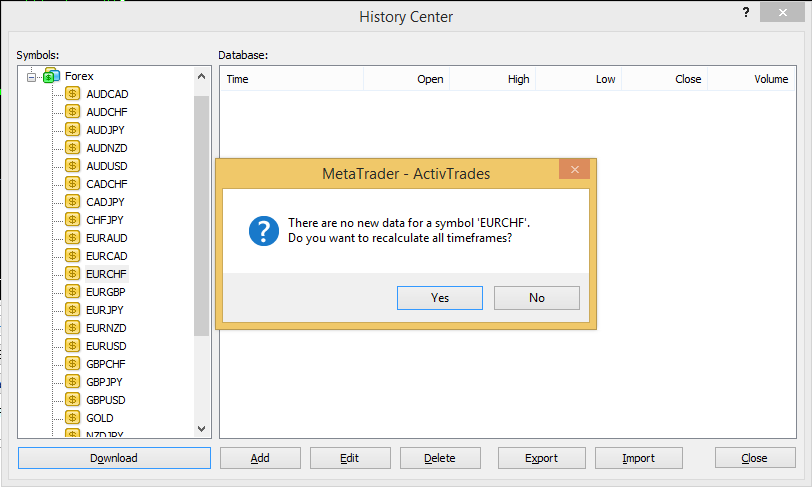 GMT +1
Hour to start: 9
Hour to stop:12
On the GMT 0 the parameters would be:
Hour to start:8
Hour to stop: 11
Recommended Pairs:
EURCHF
Timeframe: M5 and M15
In case the input parameter "Points to Pass" is bigger than zero, the EA will make use of pending orders instead of market orders.
The "Trend Filter" parameter also added so now periods of strong trends can be, to a certain extent, avoided.

You can download the demo version here:
https://www.mql5.com/en/market/product/20926#full_description