Weekly Trading Forecast: NFPs Versus Stimulus Changes the FX Market's Standings
The cumulative pressure between BoJ and BoE stimulus upgrades along with a strong US NFPs these past weeks has revived risk appetite and monetary policy advantages. Yet, can these themes survive slipping confidence?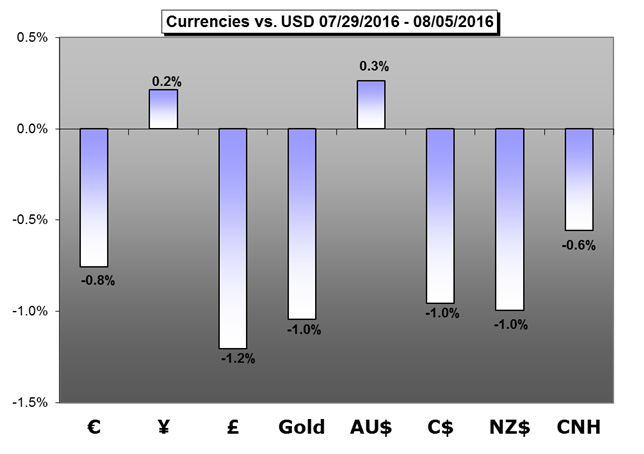 US Dollar Forecast –USDollar Resuscitated by NFPs but Bulls Difficult to Keep Satisfied
The Dollar recovered from an initial slip this past week to close the period in the green. However, the fundamental cost to lift the Greenback was remarkably high. It will be difficult for the currency to keep buoyant – much less maintain the pace of the rebound – heading into the coming week.
British Pound Forecast – Post-BoE GBP/USD Weakness to Persist; Downside Targets in Focus
GBP/USD stands at risk of giving back the rebound from the July low (1.2788) as the Bank of England (BoE) reverts back to its easing cycle, while positive data prints coming out of the U.S. economy boosts bets for at 2016 Fed rate-hike.
Japanese Yen Forecast – Japanese Yen May be Days Away from a Significant Break Lower
The Japanese Yen finished the week almost exactly where it began, but notable financial market volatility meant that USD/JPY price action was anything but straightforward. Yen volatility will likely continue on a highly-anticipated communique from the Bank of Japan in the days ahead, and indeed traders should exercise caution amid choppy price action in the USD/JPY.
Australian Dollar Forecast –RBA's Lack of Dovish Forward Guidance Provides Support For AUD
The Australian Dollar touched its highest level against the U.S. Dollar on Thursday at 0.76632 since July 15 before the Statement of Monetary Policy provided little forward guidance that caused traders to take their profits.
Chinese Yuan Forecast - Yuan Volatility Elevates During Heavy Week of Data
This week, both the onshore and offshore Yuan weakened against the US Dollar following the advances of the prior week. As of 10:30am EDT, the onshore Yuan (USD/CNY) dropped by -0.23% to 6.6520 while the offshore Yuan (USD/CNH) lost -0.65% to 6.66831.
Gold Forecast – Gold Prices Move Lower After Blowout NFP Stokes Dollar Strength
Last week ended with another bump higher in Gold prices as an abysmal U.S. GDP print brought to question the prospect of any near-term rate hikes out of the Federal Reserve.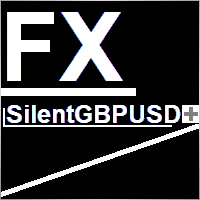 https://www.mql5.com/en/market/product/16143