Could There be Further Upside Potential on the Horizon for the GBPCHF?
Whilst the Cable is presently taking a bit of a thrashing, the GBPCHF could be setting up to perform a final leg of an Elliot wave which could have some significant upside potential. Although the pair still has some retracement to perform prior to surging higher, EMA activity could be hinting at just where the reversal point will be.
As shown on the daily chart, the GBPCHF has already performed two impulse waves and now looks to be retracing to perform a third. However, there remains room to move lower before another change in momentum takes place. Specifically, it is expected that the pair remains bearish in the short-term due to highly overbought stochastic oscillator readings.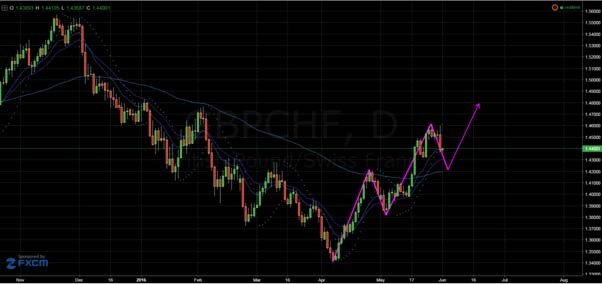 The pair should retrace to around the 1.4205 zone of support prior to making the move higher. Importantly, support around the 1.4205 level is very robust and has been tested multiple times historically. As a result, this level is likely to be the point where the GBPCHF reverses. Moreover, this price aligns with where the 100 day EMA is forecasted to provide dynamic support for the pair.
Whilst looking at the daily EMA's, it is evident that the pair's recent slips run contrary to the 12, 20, and 100 day EMA activity. The current position of the EMAs is strongly bullish which suggests that the recent tumbles are set to be short-lived. Therefore, another impulse wave could very well be ready to send the GBPCHF soaring once again.
Also confirming that the pair is likely to retrace before making the move higher is the Parabolic SAR indicator. As shown on the daily chart, if the GBPCHF follows the illustrated pattern, the strong upwards trend should resume after rebounding from the 1.4205 support and breaking back through resistance at 1.4406. As a result, this should be where the final wave begins in earnest.
However, it is worth keeping any impending fundamental indicator result releases in mind as strong outcomes could cause the pair to surge earlier than expected. Specifically, both the UK House Prices and Manufacturing PMI results are due out later today and could send the pair climbing if improvements are posted. Consequently, keep a close watch on the news to avoid missing the start of the final wave.
Ultimately, this pair has been relatively bullish as of late and it's reasonable to expect it to resume the recent trend in the near future. Technical indicators seem to be in agreement that there remains some upside potential to be had and that this pair isn't out of momentum just yet. However, watch out for fundamental indicator releases as they could cause an upset in the interim.