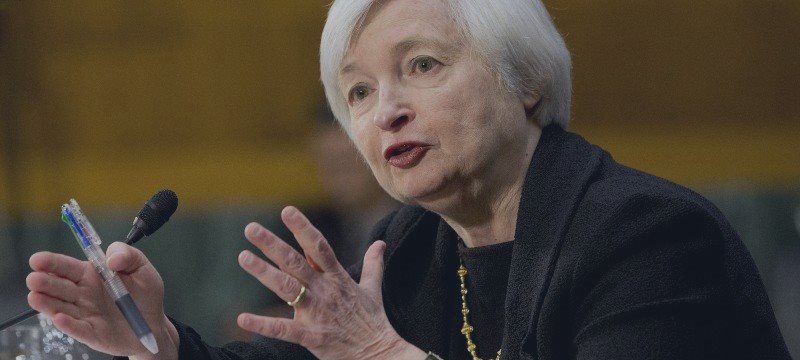 Yellen Maintains Outlook for First Rate Increase in 2015
Federal Reserve Chair Janet Yellen, speaking after weeks of financial-market turmoil over China and Greece, maintained her call for an interest-rate increase this year as the U.S. economy improves.
"I expect that it will be appropriate at some point later this year to take the first step to raise the federal funds rate and thus begin normalizing monetary policy," Yellen said in her first public remarks since the June meeting of the Federal Open Market Committee.
Yellen added a note of caution, saying that "the course of the economy and inflation remains highly uncertain, and unanticipated developments could delay or accelerate this first step." In her only mention of Greece in a 14-page speech delivered Friday in Cleveland, she identified that nation's debt crisis as one cause of uncertainty.
Yellen, 68, is moving cautiously toward the first rate increase in almost a decade as the economic expansion enters its seventh year and unemployment falls. In a generally upbeat assessment of the economy, though, she said the job market "still has not fully recovered."
"Given the level of market consternation surrounding Greece, Yellen could have been much, much more dovish," said Jacob Oubina, senior U.S. economist at RBC Capital Markets LLC in New York. "What this speech did was put Greece into context," he said. "What she basically told us is that the fundamentals in the U.S. matter much more."
Stocks Rise
Stocks remained higher after her remarks on optimism Greece will clinch a bailout deal. The Standard & Poor's 500 Index rose 1.2 percent to 2,076.56 at 4:01 p.m. in New York. The yield on the 10-year Treasury note was up eight basis points, or 0.08 percentage point, to 2.40 percent.
Fed policy makers in June forecast two quarter-point rate increases this year. The pace of tightening next year will be more gradual than they expected in March, the latest forecasts show. Since the June meeting, the labor market has shown further gains, along with housing and manufacturing, adding to evidence the economy is overcoming a first-quarter slump.
Yellen said her outlook for the economy and inflation is "broadly consistent with the central tendency of the projections submitted by FOMC participants at the time of our June meeting."
The Fed chair devoted a large section of her speech to explaining how labor markets still haven't met her criteria for full employment. The unemployment rate stood at 5.3 percent in June.
Seeking Work
"A significant number of individuals still are not seeking work because they perceive a lack of good job opportunities," she said. "While the labor market has improved, it still has not fully recovered."
Yellen said the share of workers in part-time jobs who would prefer full-time work "remains higher that it would be in a full-employment economy."
She said there have been "some tentative hints" of a pick-up in wages that "may indicate that the objective of full employment is coming closer into view."
In her overall assessment of the economy, Yellen was similarly cautious but upbeat.
"Many of the fundamental factors underlying U.S. economic activity are solid and should lead to some pickup in the pace of economic growth in the coming years," Yellen said in her address to the City Club of Cleveland. "In particular, I anticipate that employment will continue to expand and the unemployment rate will decline further."
Dollar, Oil
She noted two specific drags on the U.S. economy: the strengthened dollar's impact on exports and the decline in business investment linked to lower oil prices.
"We expect the drag on domestic economic activity from these factors to ease over the course of this year, as the value of the dollar and crude oil prices stabilize, and I anticipate moderate economic growth, on balance, for this year as a whole," she said.
Greece moved closer to a deal with creditors Thursday after the government of Alexis Tsipras submitted a new set of proposed spending cuts and tax increases that was well received by some European officials.
The Fed has said it won't raise rates until it is "reasonably confident" that inflation will move back toward 2 percent over the medium term and sees further improvement in the labor market.
Employers added 223,000 workers to payrolls in June, and the unemployment rate fell to the lowest level in more than seven years.
Still, wage gains have lagged behind, indicating that slack remains in the labor market. Average hourly earnings rose just 2 percent in the 12 months ended in June, matching the pace since the start of the expansion six years ago.
Next week, Yellen will deliver her semiannual testimony to Congress. in
https://www.mql5.com/en/signals/111434