Quick Pips Dear traders.

MQL5 Market 🗸 Please note that renting for a month will only give you an idea of

★ ★ ★ ★ ★ ​​the work of the expert. Since this is a medium-term approach and

Here you can track market activity Market Charge the investment period is at least 3 months for the disclosure of the
Follow EA entire EA patent. ✏
All tests can be trusted as this is not scalping and the expert does not care about strict quotes and a narrow spread. The expert trades on trend reversals. This means that the expert will not make 10 transactions per day. 3 - 20 transactions per month with one currency pair. I use 9 currency pairs to trade with Market Charge. Namely: EURUSD, USDCAD, XAUUSD, AUDUSD, NZDUSD, USDJPY, GBPUSD, USDCHF, DE30.
All settings you can download below.

Professional tool for trading in the medium-term style on reversals and trend reversals.

Fully automated trading system.

Market Charge is used both in forex and in the stock market.

Any currency pair and spread.




Standard options for EURUSD H1
The main advantage of the system is its accurate analysis and support of orders.
An expert trades with a risk / reward of 1 to 1, 1 to 2, 1 to 3 of your choice.
The expert makes the order replenishment to the market after it opens the main order and intuitively accompanies it.
There is the possibility of overclocking orders. The expert reinvests profits from the last profitable trading session into the market (if allowed).

System filter news and no loss .
The expert will not be allowed to trade at the exit of important news - if you do not approve by pressing the "OK" button in the alert window. If orders are already in the market at the exit of the news, then the expert will transfer all orders to no loss on a competent tracking strategy.

The expert is equipped with advanced money management .
It takes into account the commission and the spread on the risk of the transaction. Each type of order has its own money management system. Money management is done in such a way that in the worst case you will receive one Stop Loss, but in the best case, you will receive an impressive increase in the deposit.

Market Charge - has a dynamic stop loss and take profit with a ratio of 1 to 1 or higher. In this trading method, such Stop Loss is from 20.0 to 80.0 points, but the profit will naturally be 80.0 points and more. This is a mid-term approach, not scalping. The system automatically knows where to set Stop Loss and where to move it, as well as with Take Profit.
🔔 Alerts is an alert system for important expert events.
Trend change, profit and loss.
Opening orders (main, additional and overclocking orders).
Exit important news with your permission to admit to trade.
Move order to no loss.
Exceeding the stop loss rate - the expert will not enter the market, only will notify the trader.
Error opening an order if the system deems a trade with a bad transaction potential.
Report for the trading month for each trading pair.
Features:
Competent market analysis. (finds turns and trades by trend)
Trading with a ratio of at least 1 to 1 risk / profit, no less.
Filter news. (The expert will not enter the market without your confirmation)
Without loss. (In case the news is out and our orders are in the market)
Charged money management. (Management of risks)
Topping up orders in the market and overclocking. (Opens additional orders in the direction of the main order to close more impressive profits (not the grid))
Adaptive stop loss and take profit. (The system itself knows where to set stop and take with the maximum allowed value specified by you)
Smart tracking of positions.
Alert system of important expert actions.
Informative panel. (Trend status, spread, total yield, real-time yield from the current order, position tracking status.)
News filter setting:
Tools -> Options -> Expert Advisors.
Put a tick in the window "

Allow WebRequest for listed URL

".

Insert this link in the window: https://sslecal2.forexprostools.com/?columns=exc_flags,exc_currency,exc_importance,timezone&calType=day&timeZone=18

Click on the

ok

button.

Set your broker's EA GMT settings.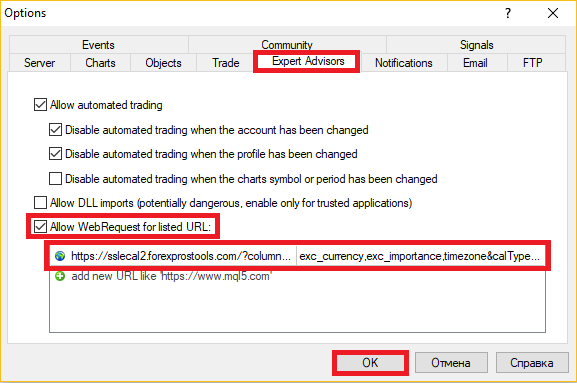 🛠 Output Parameters:
Risk Manager: true/false
Activation of the automatic calculation of the trading lot and the accounting of all other expenses on the broker.
Risk Percent: 2
What percentage does the expert take to calculate the trading lot? It takes into account when calculating the spread and broker's commission on a standard lot.
Commission: 7.0
broker's commission for a standard lot. (You can leave unchanged. This function is needed to accurately calculate risks.
Lots: 1.0
Fixed lot for trade. Does not take into account the risk and does not take into account other costs of the broker.

Tp Manager: true/false
Calculation by an expert automatically take profit. Risk Reward option affects. I recommend using this option.
Risk Reward: 1 to 1, 1 to 2, 1 to 3.
The ratio of risk and reward when trading Market Charge. This option sets take profit to 1, 2 or 3 times more than the current stop loss. I recommend to use.
Take Profit: 40.0
Fixed take profit. It is not used by an expert if the automatic calculation of take profit is active.
Sl Manager: true/false
Automatic calculation of stop loss. The expert knows where it is better to set a stop loss. Active sites where there is a market maker activity.
Stop Loss: 40.0
The maximum allowed stop loss to enter the market if SL Manager is true, or just a fixed stop if SL Manager is false. I recommend automatic calculation by an expert.

Recovery Mode: true/false
System to recover from losses. This algorithm uses the grid without increasing the lot and not in the usual places, but by filtering the market reversal towards our main order. Uses TP as a percentage of balance. The maximum unload will be no more than 20% of the total deposit, while the remuneration is from 1% and above

No Loss: true/false
System without loss. Mainly used during the release of important news. Filtered by news. If our profit has already been protected by the escort, then no loss is ignored by the expert.
No Loss Points: 3.0
The number of points for 4 characters to protect profits from the sudden activity in the market. I recommend to use.
Double Entry: true/false
Search for entry point on the same trend movement. I recommend to use only those who do not like to wait. But I warn you that such entry points may not always be profitable.
Overclocking Order: true/false
Activation of the boost order. This type of order uses the previously received profit to reinvest in the market. This option will help to get high returns with a risk of $ 0. There are many restrictions on this type of order. Since we risk losing profits earlier. This type of order is very carefully processed and goes the most likely entry point for processing with success.
Overclocking Percent: 50.0
This option determines what percentage we will reinvest in the market from the calculation of the last profitable trading session.
Overclocking TP: 10.0
Take profit of the boost order in points of 4 characters each. Do not expose high take profit as we risk losing the profit gained from the last profitable session.
Additional Order: true/false
Activating this option allows the expert to add volume to the market to get the most profit from the trading session.
Additional Percent: 30.0
Lot calculation for additional orders. This option takes the calculation as a percentage of the profit of the previous order opened in this trading session. There are restrictions on these types of orders.
Fifo Mode: true / false
This option is intended for brokers who require first in, first out. If your broker does not require Fifo, leave this option by default. (default - false)
Order Support: true/false
Automatic tracking of orders to protect profits. this option correctly accompanies the order(s). I strongly recommend using this option.
Stealth Mode: true/false
This option is intended for brokers who manage the market. And they are trying in any way to fake a quote and close your trading session at stop loss. (default - false)
News Filter: true/false
Option to filter news. It monitors the calendar and activates the algorithm of actions for further manipulation of the expert.
News Strength: OneBull or TwoBulls or ThreeBulls
Choose the power of news. I believe that news is required to search only with great potential (the power of bulls). These kinds of news can turn the market against us.
Spread: 2.5
This option is not only for the spread filter and opening orders. But we have secret algorithms with stop loss and take profit manipulations. An expert as tears off orders for this filter and closes at certain points.
Slippage: 0.1
A very simple filter that protects your entry into the market at an unprofitable price. It seems a trifle, but at a distance in terms of experience, we lose a lot at this event.

Close Orders Friday: true/false
If you do not trust the weekend. You can activate this option. All orders will be closed at the time you specified on Friday. (on the day before the market closes.) I assure you that you shouldn't be afraid of the weekend, as our algorithm for manipulating orders and transferring open orders through the weekend will protect your profit and most likely increase it with the algorithm for breaking the price. Closing orders at 22:59 (default - false)
Trade Time Friday: true/false
This option allows you to prevent an expert from searching for entry points on Friday after a certain time by you.
End Hour Trade F: 23
hour on locked analysis and search entry point
End Min Trade F: 59
minute on locked analysis and search entry point

Alerts: true/false
I recommend using this option. You will always be aware of all the important events in the work of an expert.
Alerts Sound: true/false
It is not always pleasant to hear the sounds of the terminal =) This option will allow you to turn off the sounds of the expert when the alert exits.
User Panel: true/false
Trader Information Panel. This panel is very informative and detailed. I recommend to use.
Language: English
Language support expert. Not everyone knows foreign languages. And we decided to make work with Market Charge as comfortable as possible for all the inhabitants of the planet =) In developing
GMT: 0
This option should be set by your broker's time. This is a very important parameter and should be properly configured. Choose your broker's GMT. If you do not know, contact the support broker and check.
Comment: Market Charge
Comment to each open order from the expert. You can specify any value of this option.
Magic: 777
This option must contain no more than three characters. If you are trading multiple currency pairs with Market Charge, then this parameter should be unique for each currency pair. This is a very important parameter for multicurrency trading. If you do not understand how to specify it correctly, contact me and I will be happy to help you. (For each trading tool your magic)
You do not need to optimize and configure the expert. It is enough to download all the set files for any currency pair which you want to trade.

💾 Download set files Currency Pairs

💾 Download set files Metals

💾 Download set files CFD (minimal deposit $5000, lot 1.0 volume)

Couples will be supplemented and sets updated every half year.

Optimization of individual assets forex, stock market, crypto currency. On request.
We strongly recommend that you follow my recommendations for working with an expert.
The deposit must be at least the minimum specified in the recommendations for one pair.
Do not attempt to trade

9

currency pairs at once with a small deposit.
If you are a beginner and do not know how to trade in the medium term - write to me and I will try to explain to you what it is.
If you do not understand which parameter is responsible for what, write to me and together we will examine every aspect of the trade expert.
Do not try to optimize the ready-made settings, I already did it for you.
If you want to use a new currency pair, please do not exceed the risk level of your morale.
For any questions regarding Market Charge, please contact at any time and I will help you. I'll optimize, pick up more currency pairs (

9

pairs are more than enough).
Stop Loss and Take Profit
The MarketCharge has a system for automatically installing stop loss and calculating the correct take profit for money management. You can limit the maximum allowed stop loss in the settings. I believe that setting the stop loss system gives a successful effect. As a fixed stop loss, we need to customize the market. Our system is automated and does not require optimization. As the market changes, the expert adapts constantly to the market. The system showed excellent results with the installation of stop and take. Take take is always equal to stop loss or more than two or three times.
Risk / Reward
This option works in conjunction with automatic take profit. The ratio of risk and reward in this trading strategy is at least one take profit equals one stop loss. Thus, if we are working 50% / 50% even, then we get an increase in the deposit. This feature provides stability and a long-term perspective in trade.
Additional order
This type of order works according to the scheme of additions to the market of trading volumes in order to realize the maximum increase in the deposit. How it works? Very simple ... After opening the order, we are in the market. Further, if the expert sees the prospect of future growth or decline (depending on whether BUY or SELL is our execution), the expert opens an additional order to the market in the same direction as the first order. Do not confuse with the grid, this is an addition. Close more profit. We supplement the volume in our bid.
Overclocking order
The system works very carefully with this type of orders. Looks for the most accurate market entry for complete development. How does this type of order work? The EA closes the last session with a profit. The expert begins to think about the dispersal of the last profit. The risk already takes the entire profit from the last profitable trade and enters the market with an increased lot. Not martingale, not to be confused. In the worst case, we will lose the previous profit, without risking the profit earned earlier. At best, we will double or triple our last trade.
Restrictions on such orders naturally exist. And very strict:
The expert cannot use this type of order if the last trade was at a loss.
The expert cannot use this type of order if the balance is less than last week.
The expert cannot use this type of order if the expert considers the entry point is no longer liquid.
The expert cannot use this type of order if the expert tried to recover the loss due to the past loss.
Recovery System
Unique loss recovery strategy. Here you can write an entire article on this stage.But we have our own secrets for recovery. The system is designed for a maximum free margin load of only 10%. At the same time shows excellent results of recovery. Do not be afraid of it, the system is not afraid of trend movements and flat. The system is made so that you do not have to experience the emotional barrier. The system will not drag you into a margin call. In the future, we will improve the strategy to restore the deposit after losses.
There is no need to use this option.

Notification system
The expert has a very informative embedded system. It helps us to analyze the liquidity of a particular currency pair or stock, futures, and so on. This option is for informational purposes only. And does not require special attention. Let's say this option gives us information about important events and expert actions.
Position Maintenance
We all want to make as much profit as possible and how less to get from this loss. Is not it? So this is about tracking positions. In each competent strategy there should be competent support of positions. Although this option will sometimes prevent us from closing what the market gives us, it will also help us maintain the current profit on open orders.
Unique MarketCharge Capital Protection System
Competent transfer of transactions over the weekend with the probability of closing the price gap on Monday or getting a stop loss calculated by the system and no more. Competent maintenance of open positions through the holidays when the market is asleep. And much more with the system of capital protection in Market Charge.
Attention!!!
Dear traders, users of our beloved Market Charge! I urge you not to interfere with the work of EA, Market Charge does not need to be turned off during the news release, does not require shutting down or closing all orders before the holidays or the weekend. Market Charge does not require optimization, as it is fully automated and knows what to do in the future.

EA Performance
The expert does not need an ECN environment. He does not care about working conditions.
Any spread. The EA is not sensitive to spread expansion.
Does not require installation on a VPS. Execution even with a high ping value will do.
Our blog, dear friends, will be supplemented with screenshots of your trades posted in the discussions on the product page. As well as the FAQ column will continue and we will try to help everyone to make out every aspect of the trading system within the confidentiality of our trade secrets invested in the Market Charge.

Next update v1.1:
1. Language:
Support languages ​​added
Add languages on request

English
German
Italian
Spanish
French

Russian
2. Select the strength of the news filter:
We filter the power of news

OneBull
TwoBulls
ThreeBulls
3. Improved market entry system
Entering the market has become more accurate and without delay with the analysis.

4. Unique MarketCharge Capital Protection System
Two hidden additions that can not be tested on history. This update can be felt only in the real market.
Refers to important events (news, holidays, transfer of orders through the weekend)

✓

Rubric - my trading week with MarketCharge



This will include screenshots from "comments" on the product page, of every trader who uses MarketCharge

🔎 FAQ
With what minimum deposit does the expert feel comfortable?
The expert needs at least $ 100, but to comply with money management and the full potential of the expert, $ 300 + is required.

Does the expert use dangerous trading methods for depositing?

The expert does not use dangerous trading methods. RecoveryMode function is designed very strictly for money management and will not give you a big drawdown. This option is used very rarely. (If the option is active. In this EA there is no need to use it.)

What style of strategy is embedded in the expert?
In this EA, the medium-term approach to the market. Positions are held from days and more. This type of trading is not scalping and take profit here at 800+ pips

To be continued :)