The Expert Advisor allows to trade using the keyboard. The Buy, Sell and Close trade operations are supported. It allows to set/change: Trade Volume (lots), Stop Loss, Take Profit, Slippage.
After launch of the Expert Advisor, it will show the current parameters (Lot, StopLoss, TakeProfit, Slippage) and list of available commands (Fig. 1):

b - buy,
s - sell,
c - close,
i - parameters menu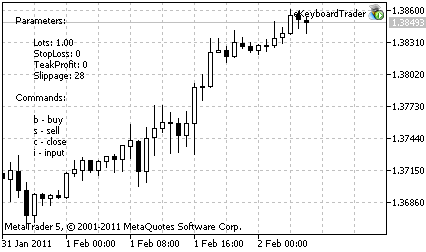 Figure 1. Main menu

In parameters menu the following commands (Fig. 2) are supported:
l - Lot,
k - StopLoss,
j - TakeProfit,
h - Slippage,
i and Esc - return to main menu.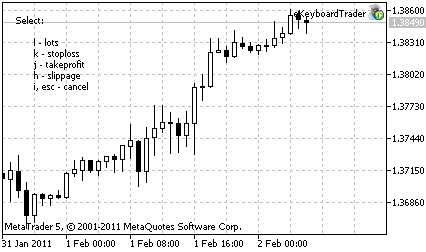 Figure 2. Selection of input parameter

When input parameter is selected, it will work in the input mode (fig. 3).
In input mode the following commands are available:
i - apply, if the value isn't specified, the result of "apply" is equal to Esc,
Esc - cancel (return to main menu),
BackSpace - delete last input char.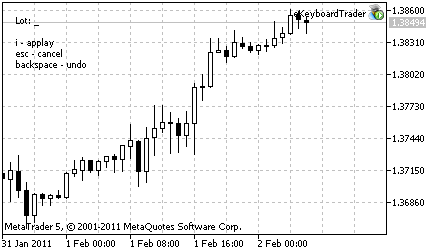 Figure 3. Input parameter value