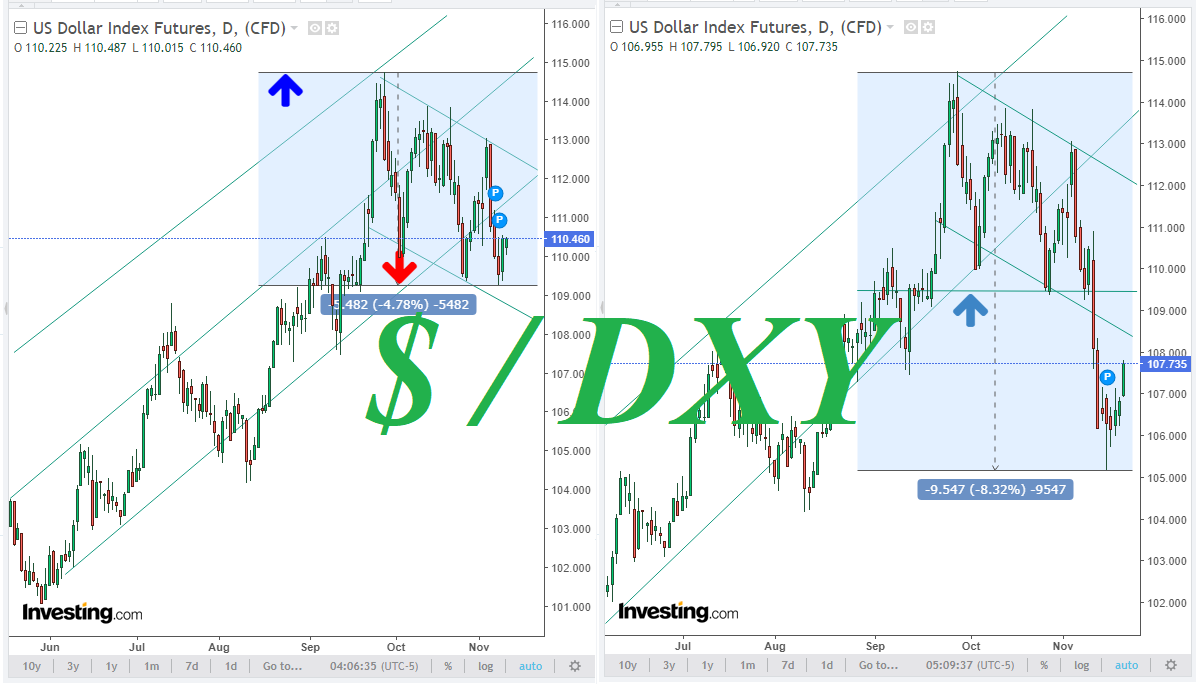 As we noted in our DXY review today, today's trading day began with the onset of the dollar. It is growing today against all major currencies, including raw materials, such as the New Zealand, Australian, Canadian dollars.
Futures on the DXY dollar index also opened today's trading day with a small gap up after an uncertain growth in the previous 3 trading days. At the time of this article's publication, DXY futures were trading at 107.74, up 79 pips from today's open and 88 pips from last Friday's close.
Today's economic calendar is not rich in the publication of important macro statistics for the US, and this entire trading week in the US will be shorter than usual: on Thursday, November 24, banks and stock exchanges in this country will be closed on the occasion of Thanksgiving Day. This day marks the start of the holiday season. It includes Christmas and continues until the New Year. November 25 is a shortened working day in the United States as part of the continuation of Thanksgiving Day celebrations.
From a technical point of view, for calmer purchases, it is better to wait for the USD/CAD to rise to the zone above the resistance levels of 1.3450, 1.3488.
Sales can be resumed after the breakdown of the important short-term support level 1.3376 with targets at the support levels 1.3200, 1.3100.
*) For upcoming events of this week, see Key economic events of the week 11/21/2022 – 11/27/2022
Support levels: 1.3376, 1.3300, 1.3200, 1.3100
Resistance levels: 1.3450, 1.3488, 1.3500, 1.3570, 1.3600, 1.3640, 1.3685