Ofir Notify is a tool which send alerts on trades to Telegram
Alert on any event concerning a position : Opening, Closing, modification (SL, TP)
Send alerts to Chats, Groups and Channel
Alert on Equity change
Display Risk, Reward and progress of profit/lost for each position
Customization of alerts
Sending charts screenshots with alerts
Send signals from your indicators or experts
Multi-lingual
This application is 100% based on Telegram in order to be managed and set up from your mobile.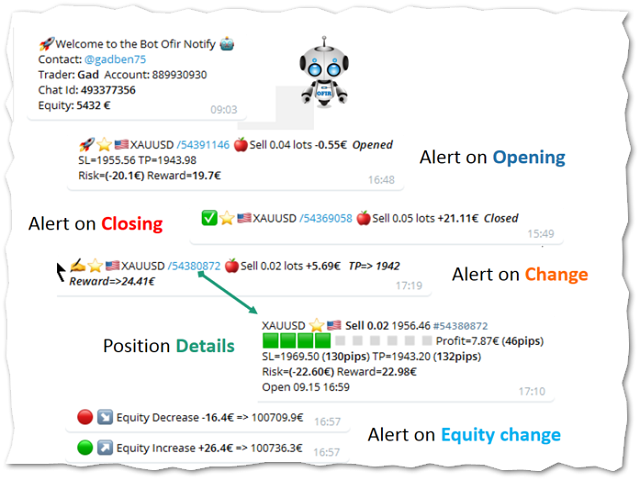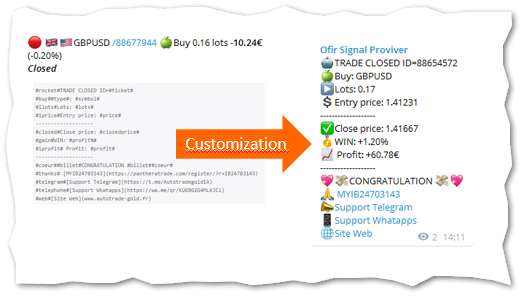 Getting Started
1) Create you Bot in Telegram

Open your Telegram Application and search for " BotFather"
Type /start and click/type /newbot to create a new bot
Give your bot a nickname and username
(e.g., nickname:

My Notify Bot *and username: *MyNotifyBot)
Congratulations! You have created your Telegram bot.
Save your bot

API

token (e.g. 1324115883:….).





2) Install the Expert Notify in MT4

Back in MetaTrader 4, go to Tools > Options > Expert Advisors > tick 'Allowed WebRequest for listed

URL

' and add

https://api.telegram.org
Open data folder (Menu File/Open Data Folder)
Copy the file OfirNotify.ex4 to the folder MQL4/Experts
Copy the content of Zip File (Templates and Icon files) into the directory MQL4/Files/Ofir/Docs (create the sub folders if they don't exist)
Attach Ofir Notify to a new chart in MT4
Enter the Telegram Bot Token (from Bot Father)
Enter your Chat ID (if you don't have, access the Bot UserInfoBot in Telegram)
Ofir Notify is now running
In Telegram open the Bot (search Bot username and start a chat with it)
In MT4 In Ofir Notify Panel, press button

Test Chat

to check the connection. You should receive a message in Telegram.
Congrats!! Ofir Notify is now ready to work for you





3) Settings

Open a chat with your Bot in Telegram.
Press the Start button.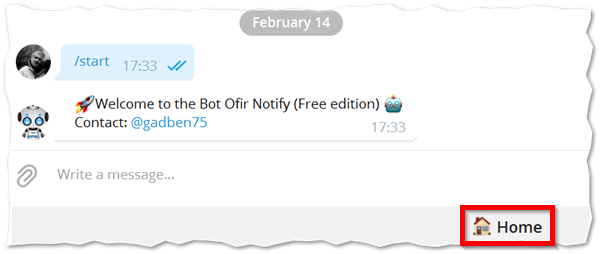 Press the Home button to access Ofir Notify home page.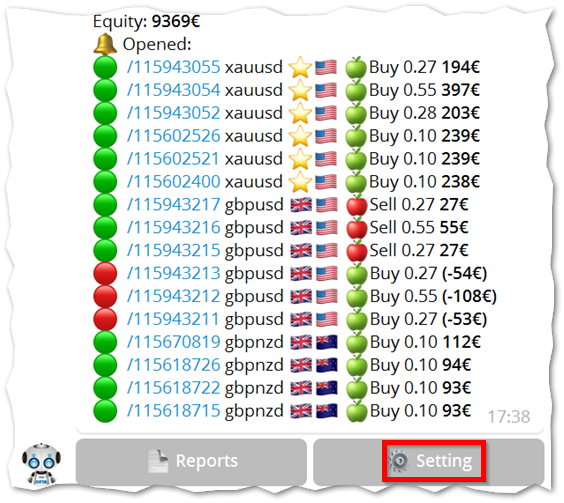 Press the Setting button and select what needs to be changed.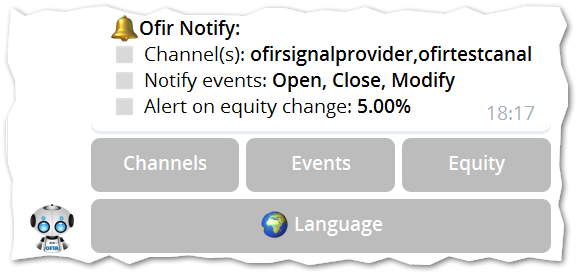 Select which events should be notified

Enter the % of equity change to be notified (0: no notification)
If you want to be alerted when Equity changes, enter the percentage (e.g 1 for 1%) of Equity variation