Magic Channel Free is a channel indicator for the MetaTrader 4 trading platform. The indicator searches for high-probability trend reversal points.
In contrast to most channel indicators, Magic Channel is non-redrawable.
The alert system (alerts, email and push notifications) will help you to simultaneously monitor multiple timeframes.
Attach the indicator to a chart, and the alert will trigger once a signal emerges.
With our alerting system, you will never miss a single position opening signal!
Advantage of indicator
Perfect for scalping.
Excellent for identifying trend reversals.
Suitable for beginners and experienced traders.
Works on all timeframes.
Does not repaint/redraw.
Flexible alerting system.
Chart customization (the size and color of lines).
Use suggestion
Buy when the price crosses the lower line upwards (see screenshot 1, entry points are encircled).
Open Sell orders when the price crosses the upper indicator line downwards.
The indicator is best suited for intraday trading, on the timeframe from M5 to H4.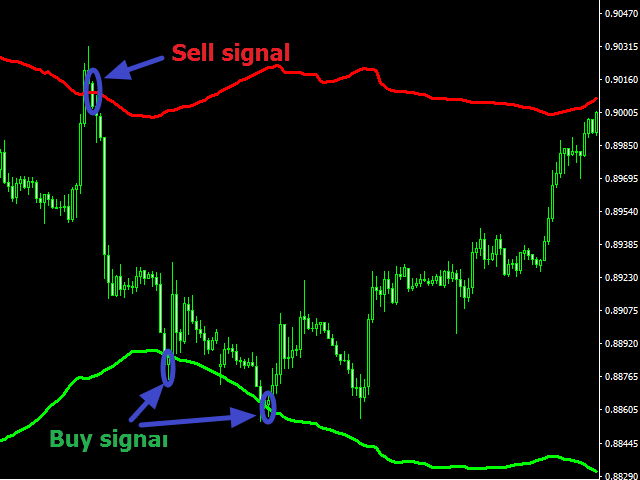 Settings
Period

- key parameter responsible for the averaging period for calculating the indicator.
PRICE

- price for the indicator calculation, OPEN or CLOSE can be selected.
Coefficient

- channel width ratio. Higher values draw wider channels.
Alert

- enable or disable Alerts. True - enabled, false - disabled.
Email

- enable/disable sending e-mails. True - enabled, false - disabled.
Push

- enable/disable sending messages to the mobile terminal. True - enabled, false - disabled.
clrUPPER

- the color of the upper indicator line.
clrLOWER

- the color of the lower indicator line.
Width

- line width.