Estimated levels for today:
Support (S1 / S2 / S3 = 45.65 / 24 / 44.58), resistance (R1 / R2 / R3 = 46.17 / 47.38 / 48.04).
The key resistance levels (1 st from 47.38 to 46.55 at the end of the day, 2nd from 47.51 to 46.77).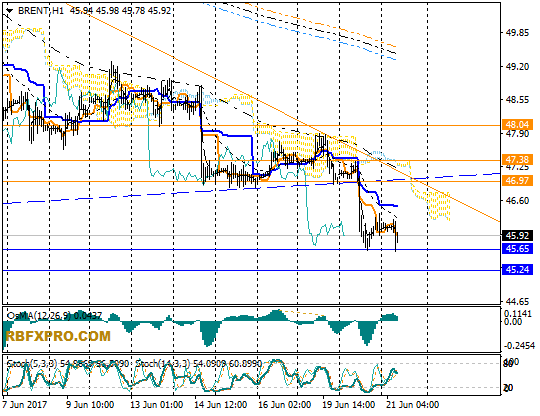 The OsMa indicator marked the corresponding increase in the activity of the bearish side, which gives preference to the planning of trade corrections and to date.
Given the neutral state of Stochastics oscillators, expect a test (S1), and in case of growth - key levels, where it is necessary to consider the activity of the parties on the charts of smaller timeframes.
For alternative short-term purchases of correction, with the condition of forming reversal signals from the levels (S1), the target levels are the calculated levels (R1, up W1 broken, down H4), and under condition of breakdown to R2, R3.
For sales, subject to the reduction of the rate below the S1 targets is S2, and with the condition of breakdown to S3.